"This isn't just about a hospital, it's about how we're an anchor institution keeping the east side of Indianapolis a vibrant area for business and for the people who choose to live here."
Scott L. Teffeteller
East Region President, Community Health Network
Landlocked on a 28-acre campus in a neighborhood too often misjudged because of crime and unemployment, the simplest option would have been to relocate to a zip code with a higher median income. But Community Hospital East wasn't about to abandon the community and neighbors they have been serving since 1956. According to Paige Dooley, the hospital's chief nurse, "Our goal is to be a beacon of hope for the people of the east side." Hear more about the hospital's commitment to invest in the east side of Indianapolis, and how that investment is becoming a catalyst for community revitalization.
Renovate

or replace?

A conversation with Scott Teffeteller, East Region President, Community Health Network
Envisioning
tomorrow
The decision to stay on the same campus meant Community Hospital East had to completely rethink the way it serves its neighbors. Technology and utilities will be modernized campus-wide. The current Emergency Department, which was designed to serve 30,000 patients per year, now handles more than 90,000, so it will relocate and double in size. Inpatient and outpatient procedural areas will be centralized to greatly maximize efficiencies of staff and equipment. The patient discharge area will be transformed to streamline the process while providing greatly enhanced patient services. Of course, accomplishing this massive renovation without interrupting an extremely active hospital is no small challenge. But the partnership of Community Hospital and Pepper Construction is up to the task.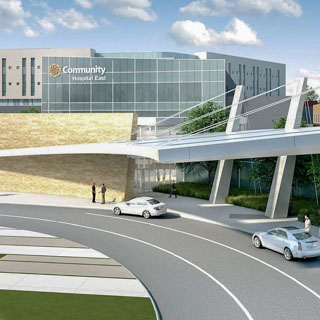 Revitalizing
$175 million investment in the community by the State and local businesses since Community Hospital East announced its commitment to stay.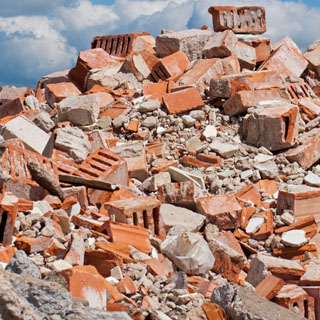 Reusing
The existing five-story building was demolished and the concrete debris was run through a rock crushing operation so the aggregate could be used for backfilling the existing basements.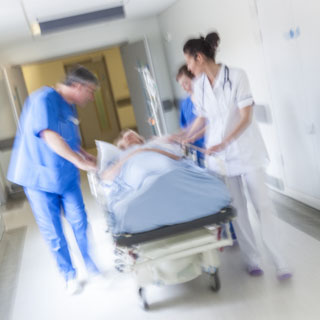 Reliable
The hospital has experienced no construction-related Emergency shutdowns or patient care interruptions to date.
Community Hospital East
Location: Indianapolis, IN
Owner: Community Health Network
Architect: TEG Architects, CallisonRTKL, BSA LifeStructures