Meet Corey
Corey has always been interested in the details of how work is accomplished. It's this interest, along with his desire to make our entire industry better, that led him from architecture to a career at Pepper - where he helps both architects and contractors understand the science of construction. His goal is to facilitate behavioral changes. So as he helps teams plan how the work is done, he takes time to explain why, with the hope that they will learn and help each other.
Why is Corey's perspective important? It's not just about ensuring the work is installed correctly. As director of quality management, Corey works on more than 70 buildings over the course of a year, which exposes him to more construction techniques and products, from air barriers to windows to screws. While architects tend to gravitate toward what they know and what works, Corey also sees what doesn't work. He speaks with different manufacturers and acts as a resource to them, offering them feedback based on our experience.
To keep quality top of mind on our jobsites, Corey developed the Quality App. The app shares Quality Bulletins, which he authors, along with information about his AIA Presentations, an event calendar and more.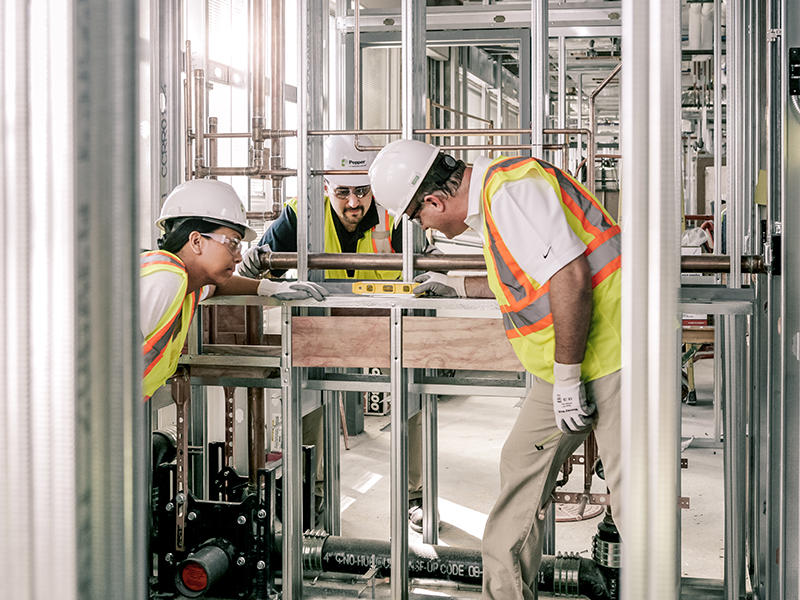 Thought Leadership
Corey's is a contributor to Pepper's blog - as an author and an adviser to other authors.
Corey specializes in building envelope, forensic building review, plazas, restoration, preservation, life safety, waterproofing, roofing & interior finishes. He is one of only 51 in the country (3 in Illinois) to hold a Registered Building Envelope Consultant certification from IIBEC. Areas of practice include:
Building Envelope Review / Assessment
Construction Observation and Assessment
Forensic Building Review / Assessment
Life Safety / Fire Safety Review / Assessment
Interior Finish Review / Assessment
Waterproofing, AVB and Roofing Review / Assessment
Plazas and Parking Decks
Curtainwall Review / Assessment
Restoration and Preservation Review / Assessment
Level 1 Thermographer
Speaking Engagements
In addition to regular Architectural office lunch and learns, Corey is a frequent presenter and educator at industry events across the country: 
ABAA - National Conventions [2015-2019] - regular presenter throughout the country

ABAA – Reston [2017], The Air Barrier Pre-Installation Meeting; Air Barrier and Shelf Angle Design, Detailing and Lessons Leader

ABAA - Baltimore [2016], The Air Barrier Pre-Installation Meeting

ABAA – Dallas Convention [2015], Air Barrier Preparation, Installation and Review

American Contractors Insurance Group (ACIG) [2012-2019] - Member

ACIG - Peer Groups

ACIG - Subcontractor Quality Management & Construction Quality Metrics

ACIG - Air Barrier Preparation, Installation and Review
Advancing Construction Quality Conference [2019]

AIA - Educational series

AIA - Chicago [2015], Head of Wall Fire Joint

AIC - [2019], The use of Drones for Project Inspections; Firestopping Installation, Inspection & Maintenance Process; AVB Considerations with Prefab Construction, Spec & Drawing Tips for Better Buildings

AIC - [2017 & 2018], The Subcontractor Quality Plan – A Design and Road Map

ALA - National Conventions [2015, 2017, 2018]

ALA - Webinar [2019]

ALA - Illinois Panel Speaker [2018]

ALA - Illinois Design Competition Judge [2017]

ALA - Chicago [2015], Understanding Critical Transitions of Air, Vapor and Moisture Barriers

American Society of Professional Estimators [2016], Avoid Catastophic Estimating Errors Through a Proactive Quality Program
Architects and General Contractors (Nationwide) [2015, 2016, 2017], Air Barrier Boot Camp, MEP & FP Boot Camps,Fire Protection Boot Camps

BEC - Chicago [2014, 2016, 2018, 2019]

BEC - Indianapolis [2019]

BEC - Cleveland [2017]

Chicago-Builds [2019]

CSI Construct - National Conventions [2016-2019]

CSI Construct - Educational Committee [2017-2020]

CSI Construct - Chicago [2015-2019]

CSI Construct - Northern Illinois [2019]

CSI Construct – National Harbor [2019], Contractor's Perspective on Specifications

CSI Construct – Long Beach [2018], Quality MEP/FP (Mechanical, Electrical, Plumbing, Fire Protection) Constructability Concerns: A Guideline for BIM & The Building Envelope; Lessons Learned - Building Envelope; Construction Observation
CSI Construct – Providence [2017], Constructability and Critical Transitions of Air, Vapor, and Moisture Barriers

CSI Construct– Austin [2016], Head of Wall Fire Joint

COAA - Chicago [2019]

Cold-Formed Steel Engineers Institute - National Convention [2019]

CRCA - Trade Show Panel [2020]

FCIA - National Conventions [2017-2019]

FCIA - St. Louis [2017], The Value of the Specialized Firestop Contractor – Panel Member

ICRI - National Convention [2019]

IMI – Chicago [2019-2020]

IMI - Pittsburg [2019]

RCI – CAC [2014, 2019]
Published Articles
Construction Tech Review: Impact of Newer Technologies on Construction Projects, page 1 [February 2020]
Life Safety Digest: Proper MEP-FP Coordination with Non-Bearing Fire-Rated Walls, page 6 [Fall 2019]
CoatingsPro: Having an Effective Coating Preinstall Meeting, page 24 [March 2019]
SMART | Dynamics of Masonry: Constructability Mock-Up, page 50 [April 2019]
D+D Magazine: Facade Maintenance Industry Roundtable [2018]
Pepper blog: The Science of Building Codes and Climate Zones 
Pepper blog: Preventing Moisture Issues in Your Building
Credentials
Education
Masters in Business Administration, specialization in Quality Management; Illinois Institute of Technology, Chicago, IL
Bachelor of Architecture, Minor in Construction Management and Business Management; Illinois Institute of Technology, Chicago, IL
Architectural Registrations:
Illinois
Indiana
Wisconsin
Professional Associations
Accredited Commissioning Authority + Building Enclosure (CxA+BE)
American Institute of Architects (AIA)
American Licensed Architects (ALA)
ASQ Member
Building Enclosure Commissioning Process Provider (BECxP)
Certified Documentation Technician (CDT)
Chicago BEC Member
City of Chicago Registered Energy Professional
Corp of Engineers Construction Quality Management Training (CQM)
Construction Specifier Institute (CSI) Member
ICRI Member
IIBEC Member
LEED AP BD+C
Level 1 Thermographer
NCARB Certification
NRCA Member
Registered Build Envelope Consultant (RBEC)
Registered Exteriors Wall Consultant (REWC)
Registered Roof Consultant (RRC)
Registered Roof Observer (RRO)
Registered Waterproofing Consultant (RWC)