Beyond a Regional Destination

The Corners of Brookfield - Brookfield, Wisconsin
"Unparalleled access to I-94 and the Bluemound Road corridor makes The Corners a regional destination. But smart design, good tenants and people are making it a community."
Robert Gould
Vice President - US Operations
IM Property Investments
The Corners is a 750,000 square-foot flagship development conveniently located between Madison and Milwaukee, Wisconsin. The unique design is a rich blend of retail, restaurant, entertainment and residential uses in a unified, planned destination. Given the wide variety within the mixed-use development, Pepper used virtually every type of building system in constructing The Corners, including precast concrete, post-tension concrete, structural steel and wood framing.
On top of all that, the site was designed for pedestrian circulation that includes nearly 1,500 weather-protected parking spaces, and an inviting Market Square at its heart. So what turns a large, mixed-use development project into so much more? According to Robert Gould, Vice President of US Operations at IM Property Investments, the answer is clear. "It's a rare combination of first-to-market retailers, open space and luxury living. The upscale atmosphere and progressive design have sparked new economic development opportunities in Brookfield and the surrounding areas. The Corners is the first development of its kind in Southeastern Wisconsin, and we are pleased to have worked with Pepper on this important project."
Under the Weather (and Loving It)
Drive through The Corners of Brookfield and you will quickly notice an impressive development. You will see 19 acres of new construction, including nine buildings of retail and residential use. You will also see a number of inviting open spaces, including a family-friendly "Center Park" and the apartments' outdoor courtyard terrace, complete with soft seating, a gas fire pit and grilling stations. But one of the development's most impressive features won't be visible at first glance. Hidden beneath the heart of this regional destination, protected from the wide range of extreme weather for which Wisconsin is famous, is a world-class parking area, complete with 20-foot ceilings and nearly 1,500 brightly lit, weather-protected parking spaces. And with plenty of convenient access to the ground level, shoppers, diners and residents can safely, warmly and dryly access their final destination while their cars are protected from the elements.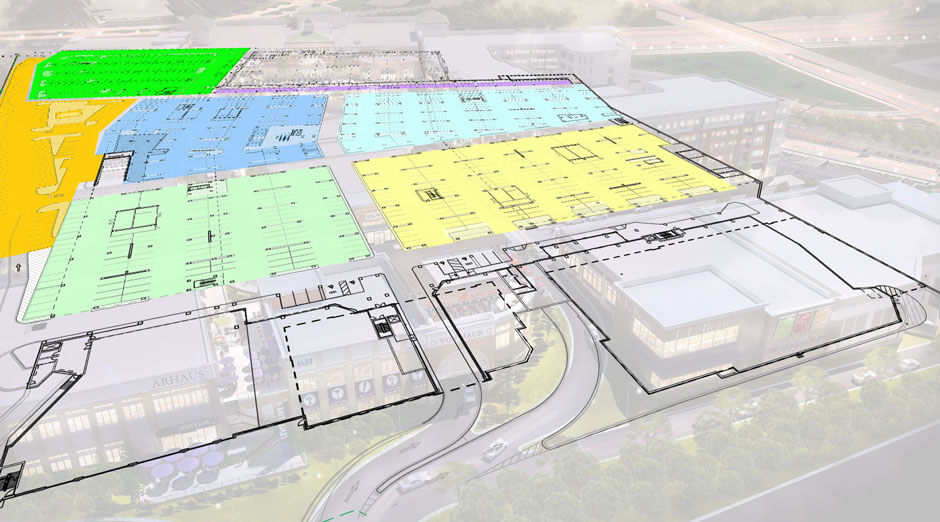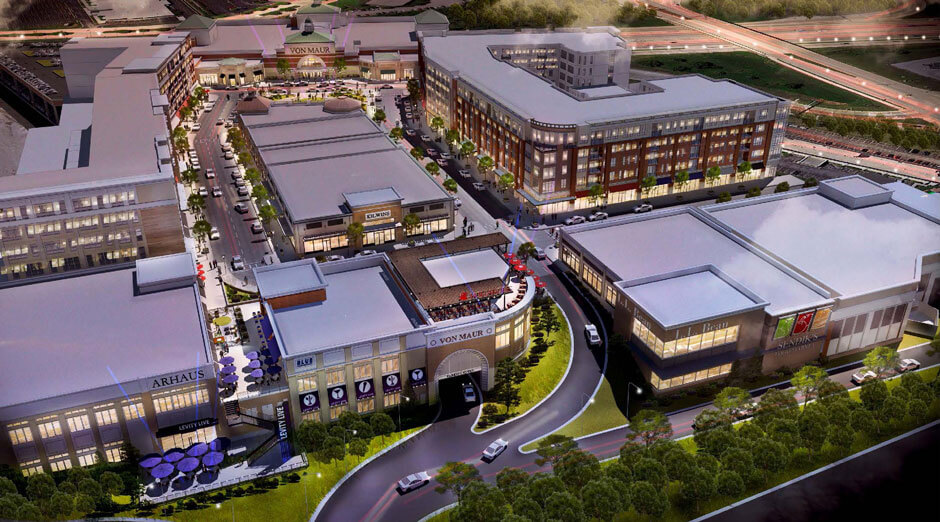 Unwavering Commitment to Meet an Unmoving Deadline
Even though the unpredictable weather and the inevitable hurdles that accompany a project of this size continually threatened the timeframe, the Pepper team, together with our joint-venture partner, Tri-North Builders, never gave up. Instead, we found creative ways to work through the challenges and complete the massive project right on time. This two-minute "flyover" video shows the status less than 90 days before completion.
The Corners… By the Numbers
While facts and figures alone certainly can't capture the complexity of a project like The Corners, the story would not be complete without a few notable numbers.
0
workers on site during the peak of construction
0
square feet of post-tension concrete used in the underground parking unit, making it the largest in the U.S.
0
square feet of new retail and restaurant space in the development.
0
luxury apartments at The Corners. Amenities include upscale finishes, such as granite countertops, stainless steel appliances and walk-in closets, as well as a movie lounge, fitness center, green roof and areas for grooming pets and washing cars.
$0
total cost of the project
The Corners of Brookfield
Location: Brookfield, Wisconsin
Owner: Bradford Real Estate
Developer: IM Property Investments
Joint-Venture Partner: Tri-North Builders
Architect: Eppstein Uhen Architects
Photography: Mark Ballogg Photography
Videography: Courtesy of Corners of Brookfield