The Future of Better Living

Ikea – Columbus, Ohio
This summer, one of the most iconic retailers in the world, IKEA, opened in Columbus, Ohio. The Swedish home store's impressive growth is underpinned by a belief in efficiency, quality and constant improvement. Pepper also completed construction on the IKEA in Fishers, Indiana, and broke ground on a store in Oak Creek, Wisconsin.
The Pepper team quickly became IKEA furniture assembly experts and transformed set walls into a unique room spaces with windows, brick facades and wood floors.
Lighting the Future
IKEA lives their commitment to sustainability. The company has allocated $2.5 billion to invest in renewable energy through 2020 and almost 90 percent of their U.S. locations have a renewable energy presence.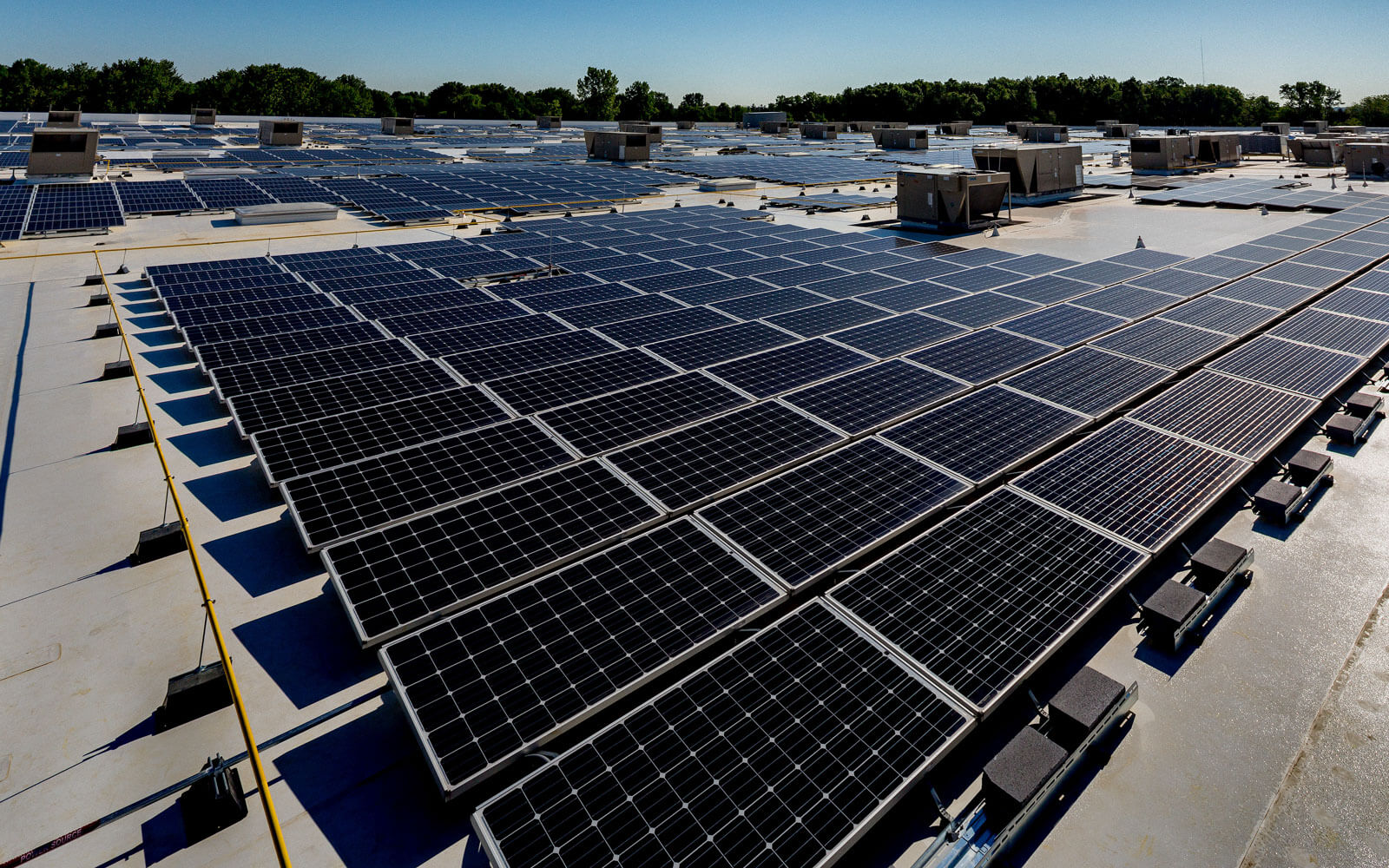 The Columbus store features a 213,000-square-foot solar array on the roof, one of the largest solar rooftops in Ohio. The 1.21 MW system, built with 3,546 panels, will produce approximately 1,447,700 kWh of electricity annually for the store, the equivalent of reducing 1,017 tons of carbon dioxide (CO2). That's equal to the emissions of 215 cars or providing electricity for 150 homes yearly.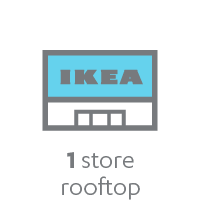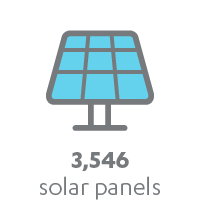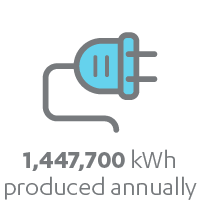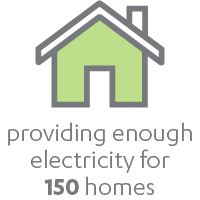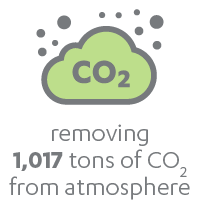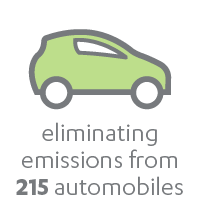 "Pepper's pull-planning process created a proactive mindset. Getting everyone from subcontractors to material suppliers collaborating early on created accountability and strengthened the scheduling process. Through the process, all team members study the connection of their activities to those performed by others. The end result is a collaborative approach to project execution."
Terry Profita, PMP
Engineering Manger, IKEA Group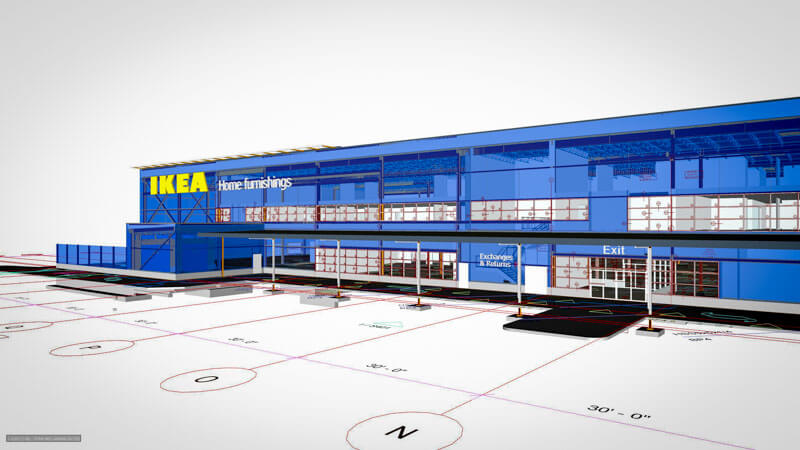 Pepper is one of the first contractors to successfully use lean principles and pull planning throughout construction for IKEA. The team accelerated the efficiencies of lean construction by integrating quality and virtual teams into the process. The team used 3D visualization tools and leveraged the coordination and pull planning efforts to identify project constraints, eliminate duplicate conversations and meet the project's aggressive 14-month schedule.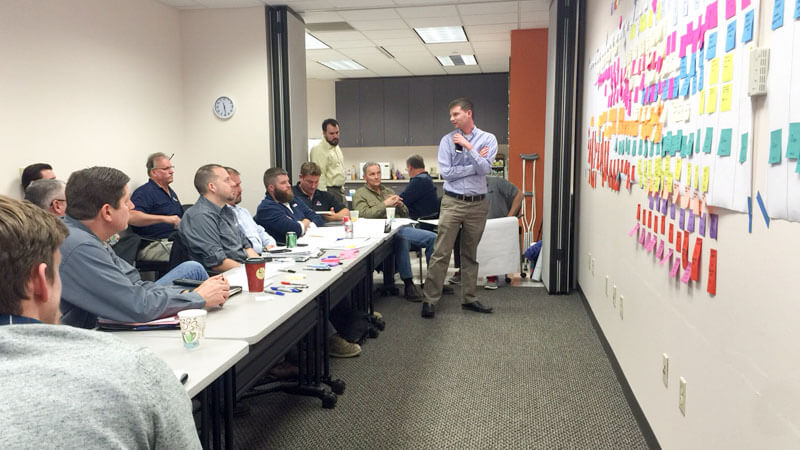 Pepper took everything we learned and shared it with the other IKEA jobs that were coming on line – including the durations for schedule. Teams often visited work in progress to get a personal understanding of the project so they could apply it to future work.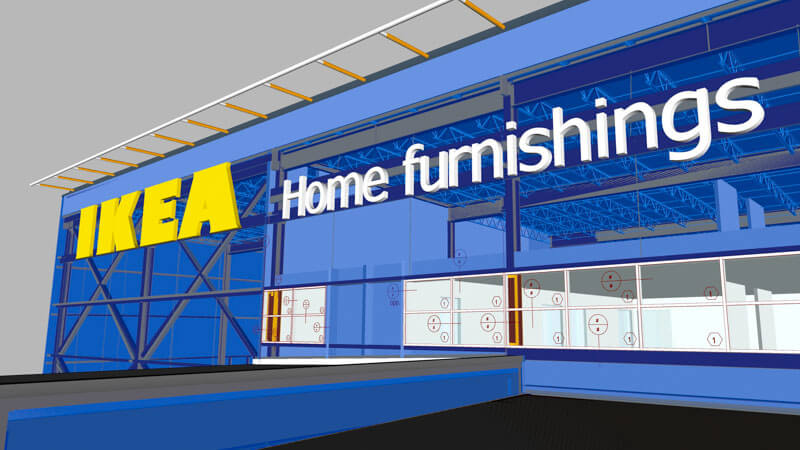 The project's entire storefront package was released into bid packages based on the BIM and shop drawings. This eliminated the need for field measuring because discrepancies were flagged and eliminated in the model. Shop drawings for areas like curtainwall and the storefront were overlaid onto the architectural model to confirm accuracy and identify dimension discrepancies.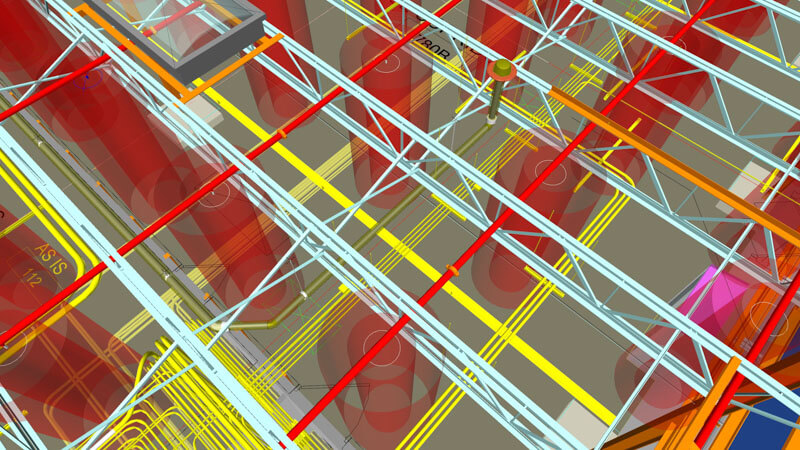 Because the IKEA warehouse area shelters a large volume of flammable materials, it incorporates sophisticated Early Suppression Fast Response (ESFR) systems for fire protection and siphonic roof drainage systems. ESFRs require the precise placement of sprinklers and strict radius clearance zones.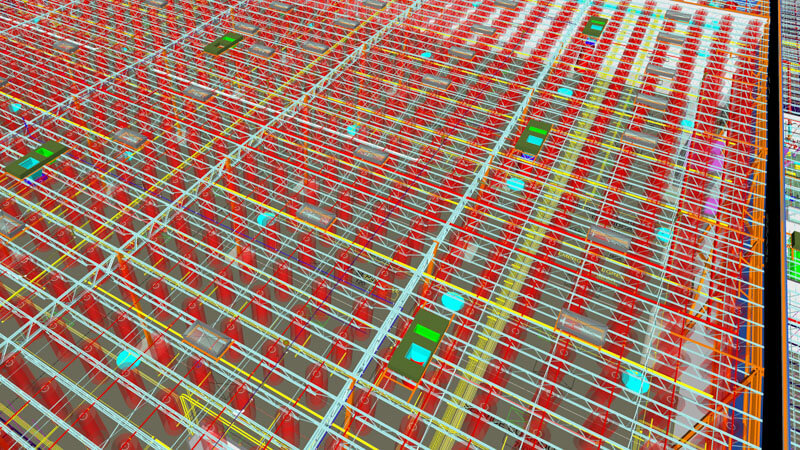 Depending on the size of the elements passing under the system (such as steel beams, joists and joist bridging) each element can require a unique clearance. Unlike typical storm systems which are gravity-fed, siphonic drainage systems are intensely engineered and every adjustment affects the complex system. Any time a pipe is moved to make room for something else, the entire siphonic system requires re-calculation. Each move must be thoroughly documented and communicated. By coordinating everything virtually, the team was able to limit the number of changes that occurred, limiting the need for recalculations and ensuring seamless communication.
Local Impact
As a destination retailer, IKEA has a tremendously positive impact on the communities they serve. On average, construction of a store creates 500 construction jobs. Once open, a store hires approximately 250 employees. Pepper is privileged to have worked with IKEA throughout the West and Midwest regions of the United States.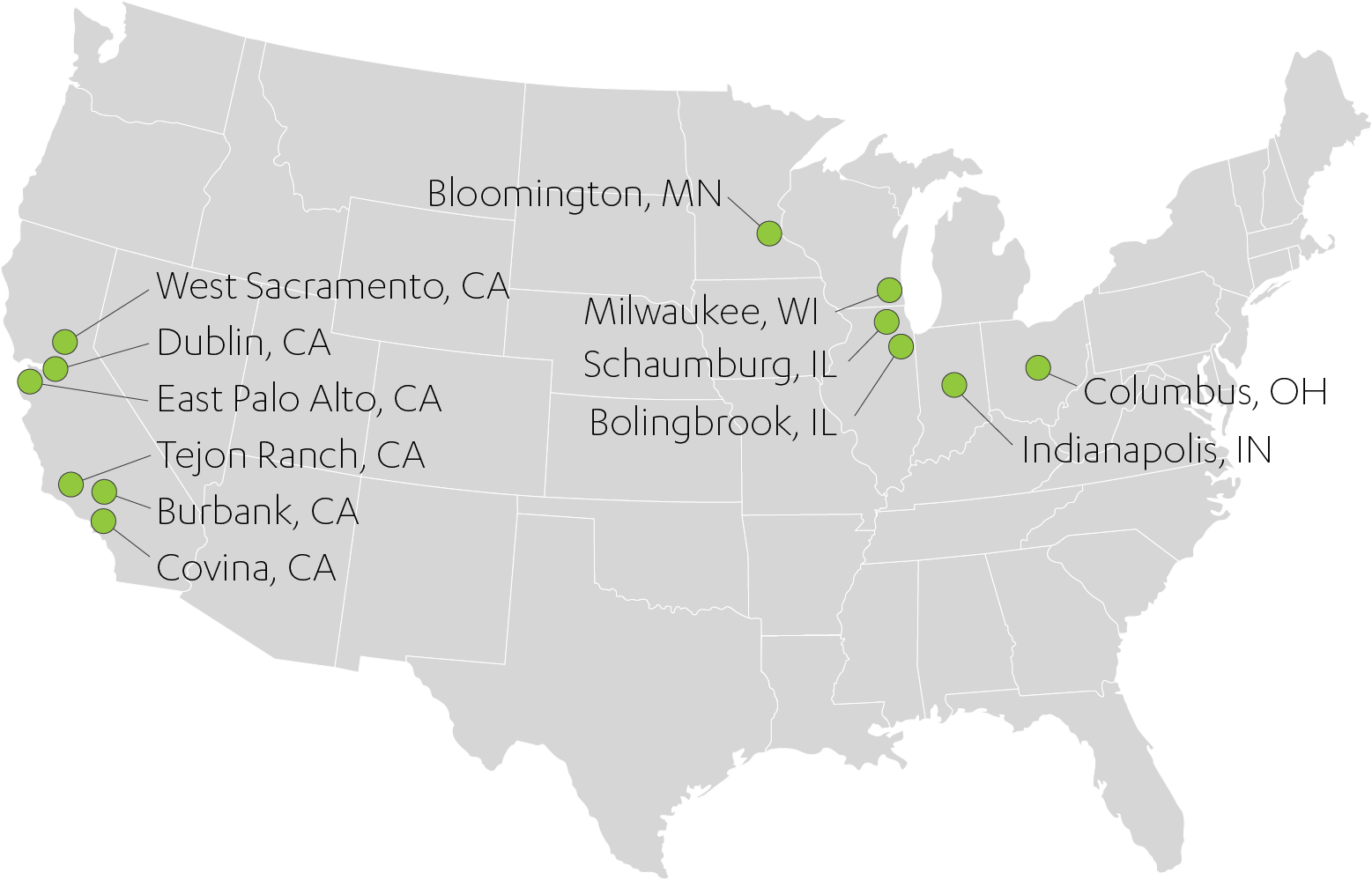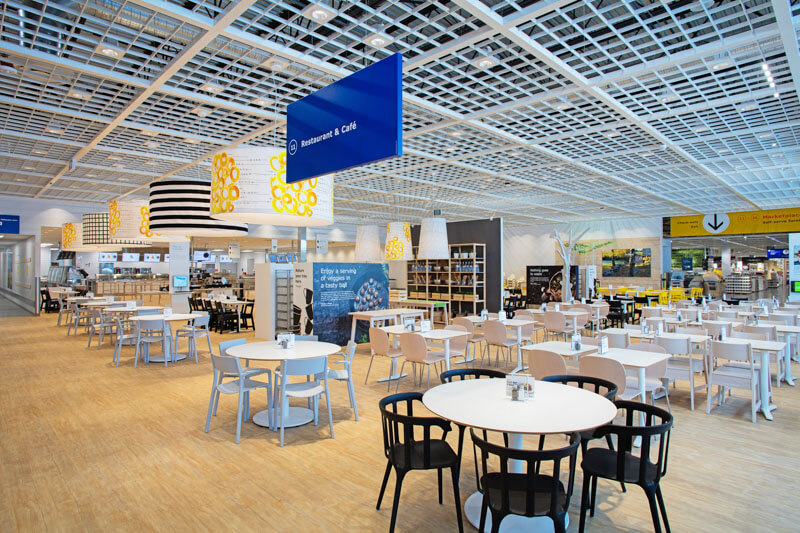 The first IKEA store in Indiana opened in October 2017. The 289,000 square-foot store is located on 35 acres on the northeast side of Indianapolis in the suburb of Fishers. Boasting all LED lighting, the Fishers location also features three Blink® electric vehicle (EV) charging stations. IKEA Fishers also sports one of Indiana's largest solar rooftops, spanning 3,888 solar panels, enough to power 182 homes year-round. The panel installations on the 289,000 square-foot roof are the size of five football fields.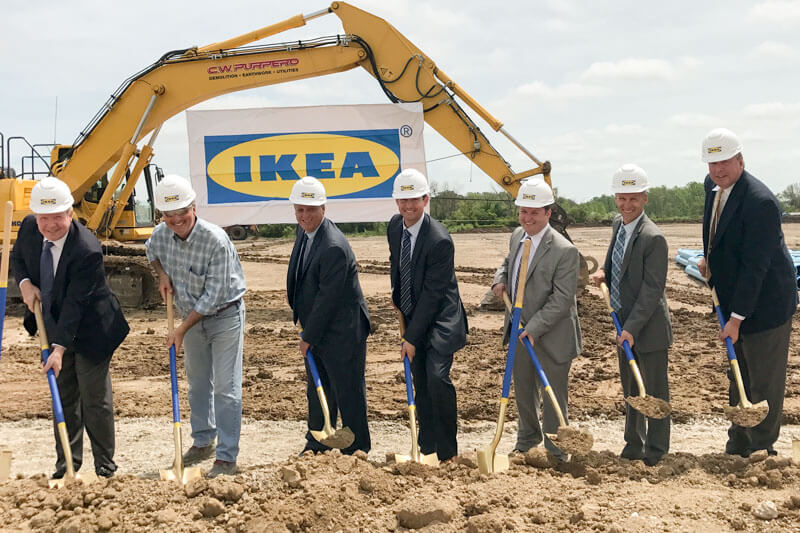 In late June 2017, IKEA broke ground in Oak Creek, Wisconsin, just outside of Milwaukee. The 29-acre plot allows construction and operation of a single-level, 291,000-square-foot store with approximately 1,000 parking spaces. The store plans reflect the same unique architectural design for which IKEA stores are known worldwide. IKEA also is evaluating potential on-site power generation to complement its current U.S. renewable energy presence.
Ohio
Project Name: IKEA Columbus
Location: Columbus, Ohio
Owner: IKEA Property, Inc.
Architect: Greenberg Farrow Architecture Engineering
Photography: Michael A. Foley Photography
Indiana
Project Name: IKEA Fishers
Location: Fishers, Indiana
Owner: IKEA Property, Inc.
Architect: Greenberg Farrow Architecture Engineering
Photography: Studio 13 Photography
Wisconsin
Project Name: IKEA Oak Creek
Location: Oak Creek, Wisconsin
Owner: IKEA Property, Inc.
Architect: WD Partners