A Building for the Future

UA Local 440's new facility accommodates the industry's latest technology, and was built with 100% union labor.
Recognizing how technology is propelling the construction industry forward, and with the desire to be best in their field, UA Local 440 (plumbers, pipe-fitters and HVACR technicians) is building a new, 70,000-square-foot, state-of-the-art facility using 100% union labor. In addition, the union's goal is to use this project as an opportunity to expose apprentices to the latest technologies of modern construction sites. Pepper helped them develop a plan to execute on that goal.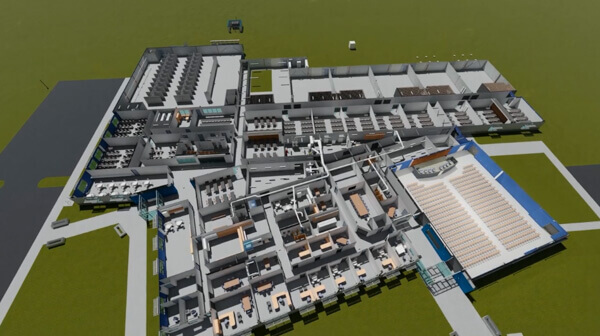 At the start, Pepper created an orientation video shared with everyone working on the project. In it, Business Representative Don Bough explains the reason and goals for the project.
"As the industry changes, we change and grow with it – to keep up with changing times, technology, and materials."
Donald Bough, Senior UA Local 440 Business Representative
The team has used 4D scheduling, in coordination with pull planning and weekly meetings, to manage the project. The visualization that 4D offers provides clearer communication and more reliable outcomes because everyone understands expectations and where they are supposed to be working. A video update was sent to members following the meetings.
A multi-user Virtual Reality experience with avatars allows representatives from the Union, Pepper, and Studio 3 Design to become immersed in the model all at the same time. Providing a realistic visual of how two people may interact in the space makes the virtual experience more impactful.
Once completed, the new facility will include a Revit lab, where students will be taught how to use the Revit software. Using Augmented Reality, students will walk through the building as building systems are explained and demonstrated.
Indiana UA Local 440 (plumbers, pipe-fitters and HVACR technicians) knows the value of their own. During the recession, 2 million skilled workers left the construction industry to retire or find other work, leaving a hole in our workforce that we've been working hard to shore up. That's what makes their new headquarters and training center so important and why we consider it a privilege to be part of it. As the future of our own workforce, this project hits close to home!