A High Performance Habitat

High performance strategies and advanced technology enable the Cincinnati Zoo & Botanical Garden to gain higher levels of accessibility and sustainability.
Project Name

Roo Valley at the Cincinnati Zoo & Botanical Garden

Location

Cincinnati, Ohio

Owner

Cincinnati Zoo & Botanical Garden

Architect

Gregory Gates Architecture

Civil Engineer

IBI Group

MEP Engineer

Motz Engineering

Structural Engineer

Schaefer Engineering

Aquatic Life Support Services

Satchell Engineering and Associates
The Cincinnati Zoo & Botanical Garden set their course to become the first Net Zero zoo by 2025. What they needed was a partner with the same tenacity to achieve a higher level of sustainability, as well as the right technology to help them get there.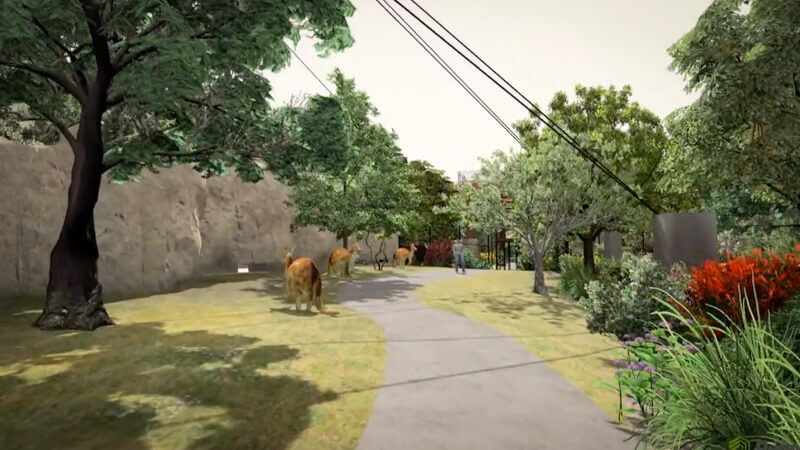 The mission and vision of the Cincinnati Zoo & Botanical Garden are dedicated to creating adventure, conveying knowledge, conserving nature and serving the community.
This past year, we've been carefully planning for the construction of Roo Valley to make the work as straightforward as possible. To achieve this, we employed the use of the latest technology, including drones and photogrammetry, virtual reality, augmented reality and energy modeling. Working closely with the keepers, horticulture staff, architects and engineers, we've helped them envision the space and fine-tune the design from every possible angle.
Rainwater System
In addition to a unique and more accessible design for the habitat, the zoo has even bigger plans to drastically reduce its consumption of potable water from the city by capturing and reusing 100% of the rainwater that hits the ground. This "never been done before" idea will capture, clean and reuse approximately 4 acres of watershed. They also plan to install a geothermal well system for heating and cooling.
The team is pushing the boundaries on how technology brings these new ideas to life. They re-engineered the entire process of how exhibits are designed, estimated and constructed so that everyone from trade partners to the owner could integrate ideas sooner and visualize the results immediately.