Can One Dollar Make a Difference?

For one community on the Lower East Side of Milwaukee, Wisconsin, the answer is yes. St. Rita Square
Through a longstanding relationship with the Catholic Diocese, Capri Senior Communities purchased the aging St. Rita Church campus, which included a vacant school and adjacent convent, for one dollar. In return, Capri agreed to rebuild the church along with a senior living facility, and then sell the new church back to the Diocese for one dollar. 
With its rich history, this project is as much about maintaining a connection to the past as it is bringing it forward into the future. St. Rita is deeply rooted in Milwaukee's Italian-American community, with many parishioners coming from the Blessed Virgin of Pompeii Church, which closed more than 50 years ago. While St. Rita is thriving, the building had become costly to maintain and presented accessibility issues for the aging portion of the congregation.
"We're not just building a building.
There's a story we have to preserve."
Wayne Wiertzema, Senior Vice President, Capri Senior Communities
St. Rita Square's urban location enables baby boomers the opportunity for state-of-the-art living with walkability to local restaurants, shops and entertainment, along with a wide variety of ways to get connected to the community. St. Rita Square will maintain connections to the church and neighboring school through various intergenerational and socially responsible programs.
"For Capri, it's about building bridges. We have a synergistic relationship with the church and want to maintain that direct connection. We'll open the door that connects the two buildings and share our amenity spaces."
Amy Schoenemann, Director, Real Estate Development at Capri Senior Communities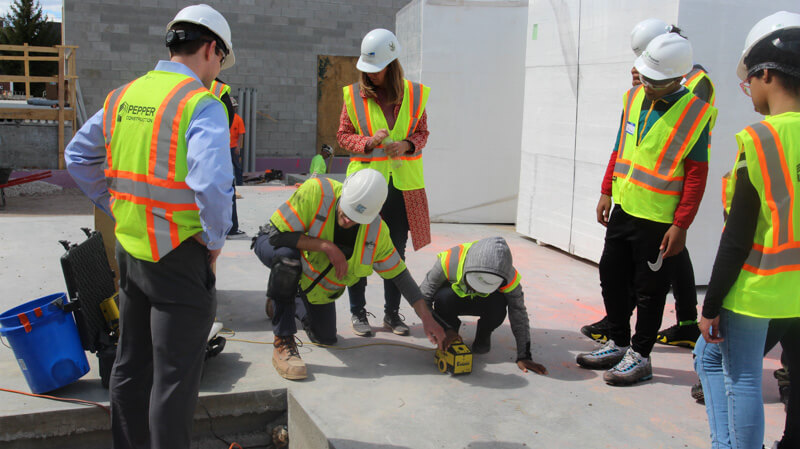 A true community project, students from Cass Street School, a Milwaukee Public School (MPS), have been watching progress from next door – and getting involved! Through the school's STEAM program, students joined the construction team on-site to learn about construction and the technology used in the building process. Students even got to weigh in on the interior design of a senior apartment.