Back to top
As the heartbeat of their local communities, new and renovated spaces within small and rural healthcare centers represent just how resilient they are, enabling our front-line workers to continue their personal care in a more comfortable and efficient environment.
---
Schneck Medical Center
Project: Schneck Medical Center Additions and Renovations |  Location: Seymour, IN  |  Owner: Schneck Medical Center  |  Architects: arcDESIGN; Cooler Design, Inc. 
Back to Top
Finding new ways to help after a century of care
Frequently recognized nationally for their level of care, Schneck Medical Center has been dedicated to filling the healthcare needs of their local community for the last 100 years.
In 2016, when a community assessment revealed there was a lack of access to certain types of care and local residents were traveling outside the community – sometimes more than an hour - Schneck launched a physician recruiting plan to attract both primary care providers and specialists. To accommodate the planned increase of physicians, Schneck decided a campus expansion was needed.
Former President and CEO Warren Forgey made it his goal before he retired in August of this year to leave the organization prepared to serve the community for generations to come. After a decade of strategic planning and saving, they had enough reserves set aside for the needed renovations and expansions.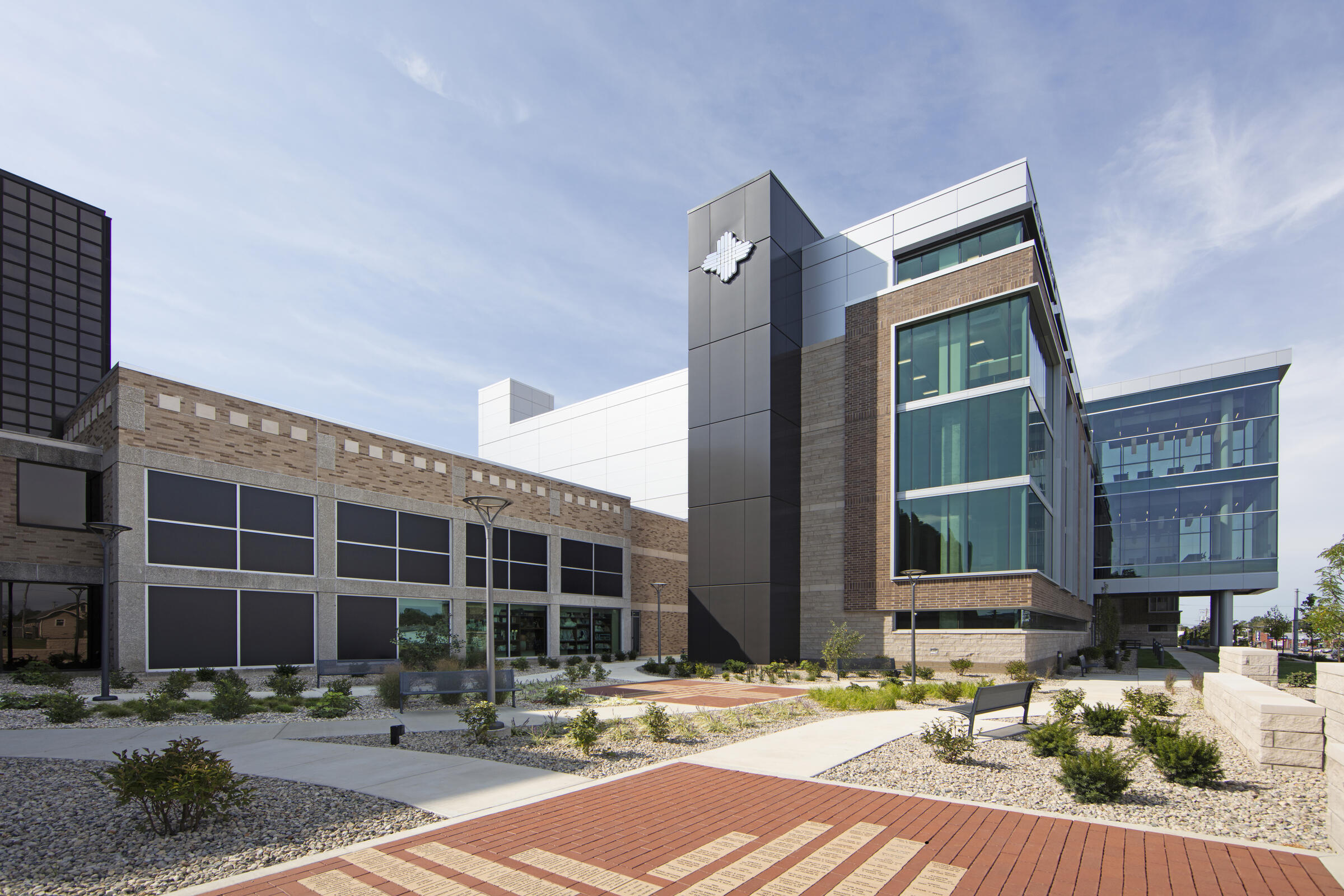 Helping to resuscitate a project with significant savings
As Schneck moved forward with a new $34 million professional building and parking garage, protecting their investment and maximizing their dollars were key priorities for the independent rural hospital.
For example, a Cobiax structural system was used on a medical office building addition because of its flexibility and lighter weight to match the low floor-to-floor heights of the existing building. Considered a voided slab, the system reduced the overall volume of concrete required, further minimizing the thickness of the slab required. In addition, foundation sizes were reduced significantly by eliminating additional dead load from multiple floors. This blog post on The Role of Quality Management in Innovation explains more about the Cobiax system.
"We realized early on that we had an issue with our project budget. Pepper stepped up and worked with us to create significant savings that had no noticeable difference in the project itself. Pepper really knew what our end plan was and brought that level of professionalism to the project."

Debbie Mann, Vice President of Finance and CFO, Schneck Medical Center
Schneck and Pepper have worked together on subsequent projects since the completion of the medical office building and parking garage. Additional work includes an Intensive Care Unit (ICU), Moderate Acute Adult Care Unit (MAACU) renovation and expansion, additional Operation Rooms (OR) and a new outpatient care center.
"When we were interviewing firms, we felt a connection to Pepper's culture of people, safety and wanting to provide the best service and product they could," Debbie Mann, Vice President of Finance and CFO, Schneck Medical Center agreed.
After state mandates suspended elective and non-urgent medical procedures in the spring, Schneck's volume is back to near capacity. The provider is confident, now more than ever, that it is prepared to serve its community well into the future.
Indiana University Health 
Project: IU Health Network Paoli Family and Internal Medicine  |  Location: Paoli, IN  |  Owner: Indiana University Health  |  Architect: Artekna  |  Civil Engineer: JPS Consulting Engineers  |  Interior Designer: DKGR, LLC  |  Structural Engineer: JPS Consulting Engineers
Back to Top
Raising the standard of care for a community in need
As the first rural community health clinic in the IU Health Network, the new Paoli Family and Internal Medicine primary care facility aims to improve the quality of life of Paoli's 3,600 residents. 
Improving vital signs 
Barriers such as a lack of resources or access to transportation make it challenging for people in rural communities to get the early evaluations and treatments that can help to prevent catastrophic health events. With Orange County ranked 58 out of Indiana's 92 counties in health outcomes, 61 in length of life and 67 in health behaviors, providing proactive care is essential to residents' survival.
The new 8,000-square-foot medical office building features 13 exam rooms, an X-ray facility, lab testing for bloodwork and other services and a nurses' station. Having these resources centrally located will significantly improve the treatment of minor injuries, illnesses and behavioral health issues. In addition, the center can provide educational programs that will benefit residents for generations.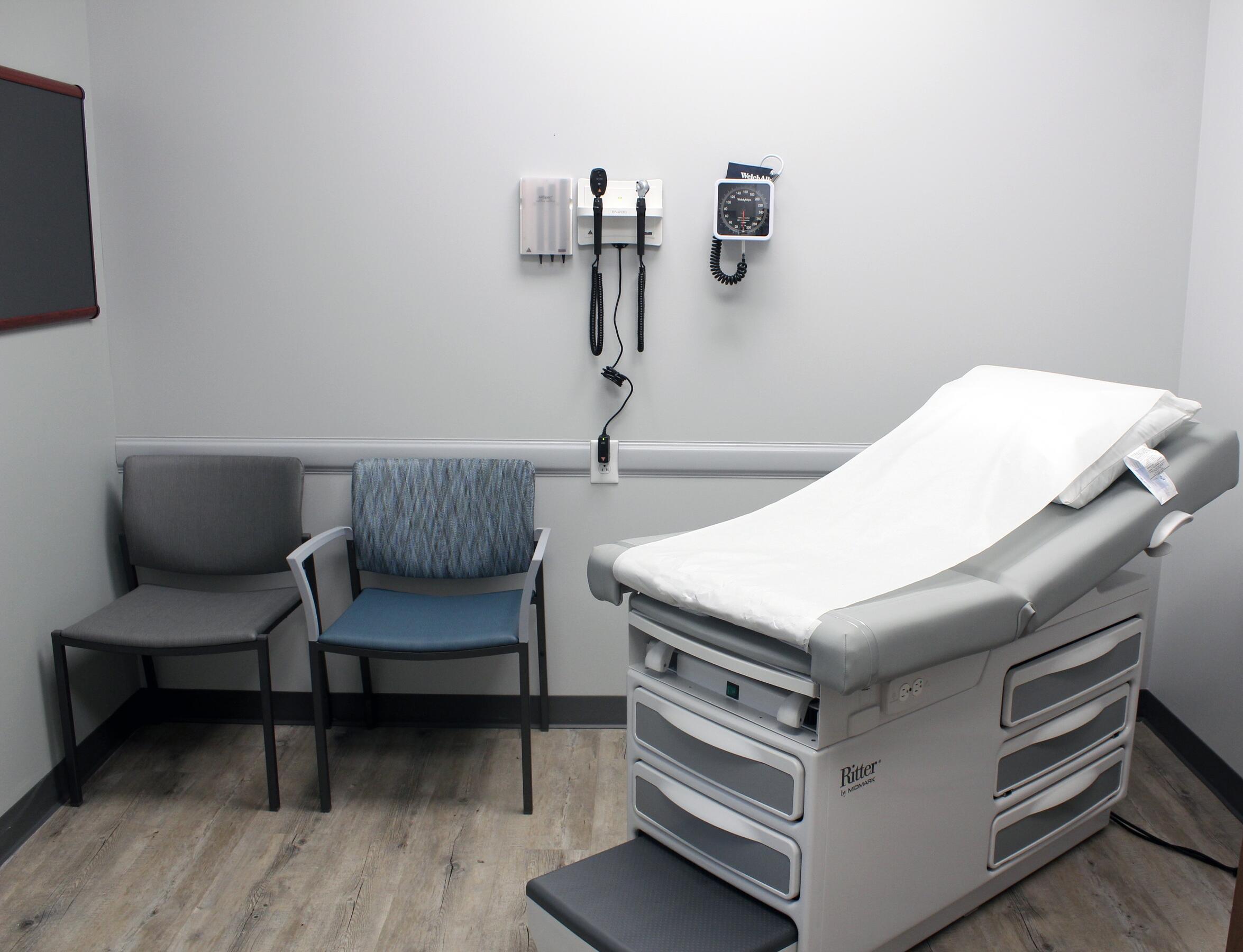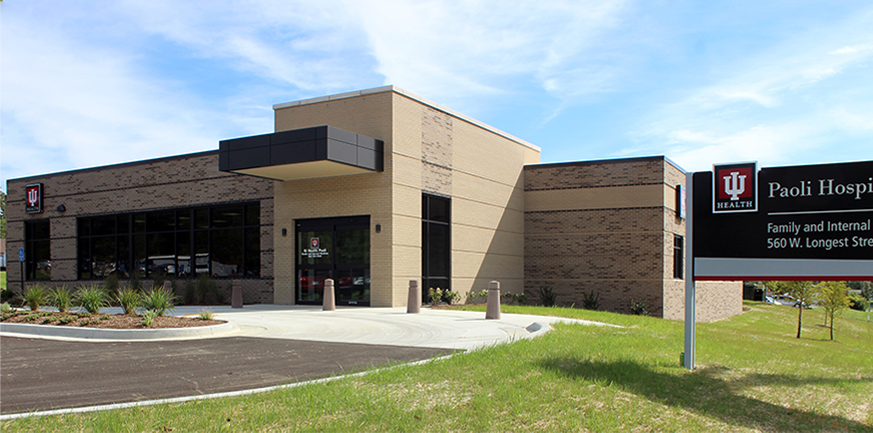 In addition to treating new patients, IU Health hopes the new clinic will also attract and retain additional doctors and medical staff, further increasing the quality of care available within the Paoli community. 
Highland District Hospital
Project: Highland District Hospital Addition and Renovation  |  Location: Hillsboro, OH  |  Owner: Highland District Hospital  |  Architect: TEG Architects  |  MEP Engineer: CMTA Consulting Engineers  |  Structural Engineer: TRC Worldwide Engineering Inc 
Back to Top
A hospital's vision pays off with more space, more staff and more community engagement
Highland District Hospital has served Highland County and the surrounding area for more than 100 years. Positioned as a rural, critical-access hospital, it has benefited from a collaborative relationship with the community, resulting in increased donations and volunteering.
Pepper was honored to partner with the Highland District team over the past two years as we completed their hospital expansion and renovation project. As a result of their vision, they've been able to provide additional services, increase staff support and extend their commitment to a growing patient base. This commitment also extends to the hiring of local contractors for the hospital's construction projects.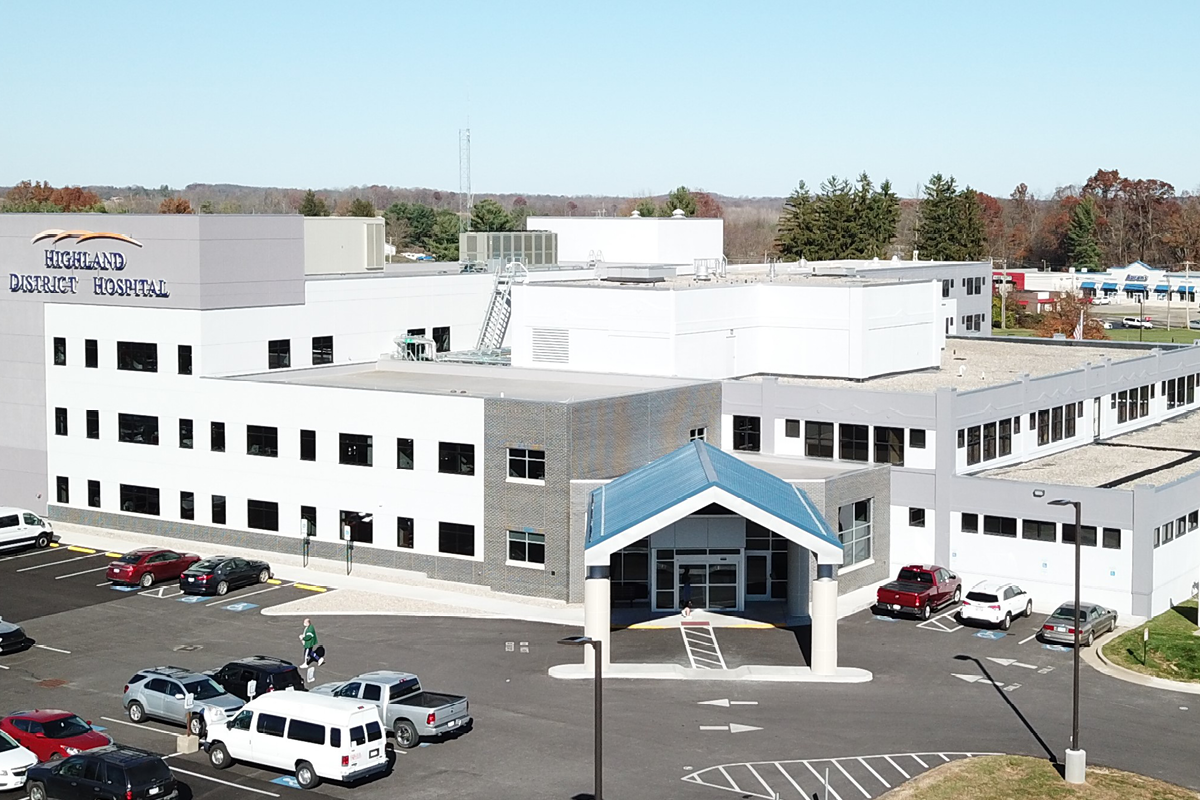 Morris Hospital
Project: Morris Hospital renovations - cardio-diagnostics, diagnostic imaging and infrastructure projects  |  Location: Morris, IL  |  Owner: Morris Hospital and Healthcare Centers  I   Architect: Design Group, Inc. 
Back to Top
Multiple renovations keep a hospital healthy
How do you keep a hospital going for more than 100 years?
Originally established in 1906, Morris Hospital has completed several additions and modernizations over time to better serve their local community. In addition to providing healthcare, they are their county's largest employer and a vital part of the community.
During phase two of the hospital's recent renovation (cardio-diagnostics, diagnostic imaging and infrastructure), Pepper needed to replace the above-ceiling piping in the kitchen. Though it is not a critical-care space, the kitchen is part of the lifeblood of the hospital's operations.
The time it would take to open the ceilings, perform the work and clean and sanitize the space to serve the hospital the next day would have meant extra measures to mitigate potential safety exposures and would have drawn out the construction schedule extensively. Plus, there was no room for error – the kitchen absolutely had to open on time each day. So they started exploring alternative options.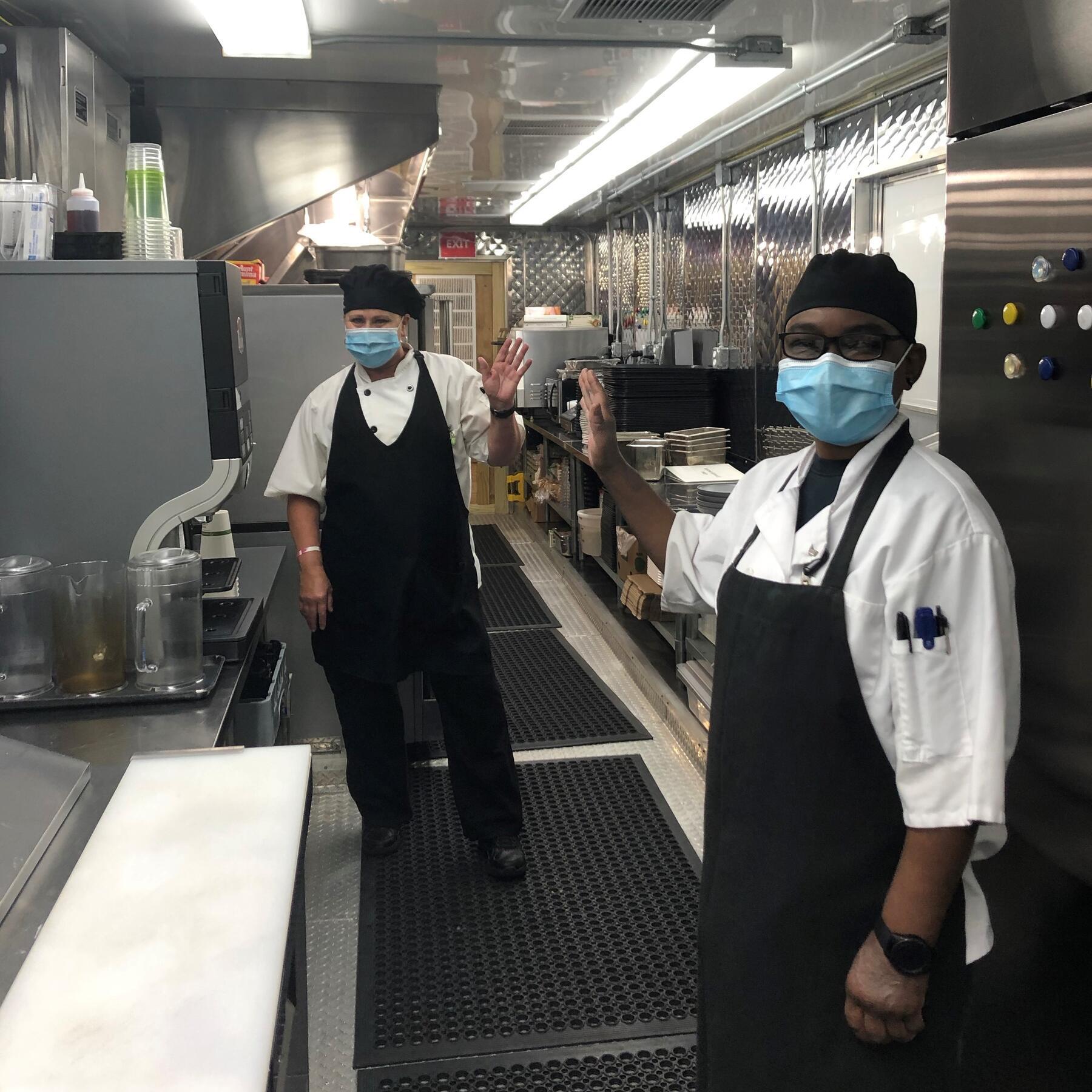 Maintaining a proper diet
During a construction huddle, the team came up with an "out-of-the-box" solution that has been used at other facilities: a mobile kitchen in the form of two connected trailers, with a vestibule. Pepper helped find a vendor and identified a location so that the Morris team could continue to provide meals for staff and patients. Morris Hospital took advantage of the open ceiling to complete a much-needed infrastructure upgrade to the oldest part of the structure.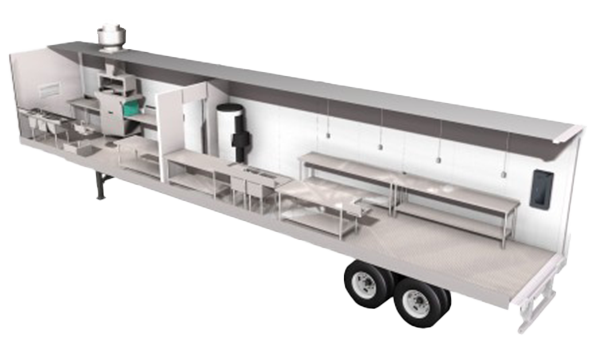 "We were concerned about continuity of operations and the ability to deliver meals in a safe and sanitary way. In addition to continuing food service uninterrupted, it turned out to be a cost effective solution as well."

— Thomas Dohm, FACHE, Vice President, Professional Services, Morris Hospital and Healthcare Centers
Community Health Network
Project: Community North Heart & Vascular Hospital ICU Expansion & Renovation  |  Location: Indianapolis, IN  |  Owner: Community Health Network  |  Architect: CannonDesign
Back to Top
At the heart of an addition to triple patient rooms
The eight intensive care rooms at Community Heart and Vascular Hospital's north campus location were regularly at capacity. Faced with a vital need for more space, the Community Health Network team began planning for a 31,809-square-foot addition and renovation to expand services for residents of Indianapolis and its surrounding communities.
However, the needs of current patients weren't simply going to go away – even temporarily – during the year-long construction process. Planned facility updates included additional patient rooms, nurses' stations, a lab and a decontamination area. Finding a way to maintain a high standard of care through a phased construction approach was essential, and it was facilitated by technology. 
Virtual models were used to develop a phasing plan that allowed us to build around the original space without compromising care or creating delays. The HoloLens was used for field verification.
A healthy dose of sunshine
To make the expansion work, Pepper had to ensure that at least eight patient rooms remained active and completely safe throughout Phases 1 and 2 of the project. 
This challenge was magnified by the fact that the existing rooms were located in the middle of the new addition, meaning construction activities could block natural light – with all its physical and psychological benefits – from reaching patients.
Pepper erected steel for the new structure around the existing facility, strategically configuring the amount of decking so that sunlight still reached the occupied rooms. Once new rooms were complete and patients were relocated, demolition and renovations on the existing space began. 
During the project, the hospital was faced with finding space for COVID-19 patients, and they asked us to help them convert some spaces into isolation rooms. We are grateful for our clients who are serving on the front-lines and are happy to do our part.