Back to top
The spaces they occupy are often designed to reflect the communities they serve, and we look to them to help us into the future. Learn how these select clients, both large and small, are forging ahead in this unprecedented time.
---
Irgens and BMO Harris Bank
Project: BMO Tower  |  Location: Milwaukee, Wisconsin  |  Owner/Developer: Irgens  |  Architect: Kahler Slater 
Project: BMO Harris Bank Interior Office and Retail Build-out  |  Location: Milwaukee, Wisconsin  |  Owner: BMO Harris Bank  |  Architect: Stantec
Back to Top
Earning a Class A spot on Milwaukee's skyline
Irgens quickly recognized the potential impact of their new office tower. For nearly five years, the city of Milwaukee hadn't experienced a major downtown commercial office development or new high rise, which had resulted in a pent-up demand for modern work space. As longstanding pillars in Milwaukee, Irgens and BMO were the perfect match to partner on a development that stimulates the vitality of downtown Milwaukee. The new Class A office space introduces the next generation of workplace and ushers in more opportunities for the city. Pepper was initially selected to complete the 125,000-square-foot retail and headquarter office buildout for the building's namesake tenant, BMO Harris Bank, and we were later involved in the completion of the 25-story base tower in December of 2019.
Raising the tower was a challenging climb
To facilitate the on-schedule completion, Pepper implemented our Pepper Planning Process, which capitalizes on Lean tools and a collaborative approach with all partners, including full participation from Irgens, to keep everyone aligned and accountable for what needed to happen each day.
Then COVID-19 hit.
Our tradespeople remained safe the entire time without complaint and without incident, and the project remained on track.
"Pepper's superintendent did a great job putting stringent safety measures in place. We were impressed when Mark Irgens toured a reporter through the project during an impromptu visit and came upon a jobsite meeting, with people standing 6 feet apart." 

— JACKIE WALSH, PRESIDENT/COO, IRGENS DEVELOPMENT PARTNERS
"The successful real estate deal is nothing more than a series of crises tied together by a critical path." – James Grasskamp – The Pepper, Irgens and subcontractors creating the long awaited for and much needed transparent critical path pic.twitter.com/MSeus9NOlu

— Mark F. Irgens (@MarkfIrgens) January 30, 2020
Through teamwork and innovation – and despite COVID-19 – the BMO Tower was delivered as promised.
"Our people have built their careers to be able to work in a space of this caliber. Navigating the challenging moments, whether finishing construction during a pandemic or opening in a world we could never imagine, pale in comparison to the pride of ownership in running a building like this. And Pepper was instrumental in making it happen."

— Jackie Walsh, President/COO, Irgens Development Partners
Building connections between coworkers, customers and the community
The timeless design gives a nod to BMO's history while incorporating modern elements that make occupants feel safe, secure and connected to the local community. It was also an opportunity to evolve their workplace to fit how they operate today. This includes fewer offices and more open work spaces for collaboration, as well as wellness and quiet rooms that offer privacy and independence.
Irgens' gleaming new tower stands as a welcoming environment for employees and opens a new era of opportunity for the city of Milwaukee.
Leading EDJE
Project: Leading EDJE Office Build-out  |  Location: Dublin, OH  |  Owner: Leading EDJE  |  Architect: Design Group  I  Furniture: Future Space
Back to Top
How Leading EDJE engaged their most challenging client — themselves
The timing of Leading EDJE moving into their new space as COVID-19 shut businesses down could have been defeating, but instead, they got creative. The team went to work finding new client opportunities and making the most of the situation. And they've succeeded, adding 11 new clients, keeping all of their team members busy on project assignments and even hiring more team members.
It's not surprising, because that's what they do. At the heart they're problem-solvers. They go inside organizations to understand their business, identify challenges and inefficient processes and build custom software platforms that solve those problems — to sustain their clients over the long-term.
Pulling their new rug out from under them
Leading EDJE moved into their new home in the middle of February. The first team gathering was held on March 9, where wide-eyed team members were excited to be together in one place. By the end of the week, businesses were shut down because of COVID-19, and the team has yet to be back together in the way that the new space was intended to be used. The company took another hit when half of their contracts were canceled by the end of the month. Many organizations have been in a similar situation.
Solving problems in a problem-solving space
Leading EDJE took the same strategic approach with their new office as they do with their clients. When they unexpectedly found themselves in need of a more permanent home, they embraced it as an opportunity to design the space they wanted, from locating it in the hot new area of Bridge Park Dublin, to a floor plan designed to accommodate all-team training and events, and features that showcase that fun side of work.
"We describe ourselves as real fun geeks. We're tech nerds but we don't take ourselves too seriously. So when we set out to build what we call our dream home, we knew we wanted an environment that reflects our culture of fun, teamwork, collaboration, and problem-solving." 

— Erica Krumlauf, COO, Leading Edje
Staying on the leading edge
Leading EDJE planned for how they wanted to evolve their services in the future, adding a large video conference room designed for live-streaming of, professional development, sessions and webinars. 
"Clients have approached us about working out of our space because there's a high positive energy, and it promotes innovation. They see it as a great opportunity for their team members to get away from their daily surroundings." — Erica Krumlauf, COO, Leading Edje
Leading EDJE has also used the space as a tool to help recruit the top tech talent throughout the country.  
This drone footage provides a virtual tour for potential employees and new team member to see their future workplace.
Leading EDJE knows how to keep businesses moving forward, and they've experienced growth as a result. As organizations make a shift in how they do business and respond to change, Leading EDJE remains committed to who they are and what they do. Their clients need them for their technical leadership and innovation. When it comes to their own future, the sky is clearing. As their mantra states: "Problem Solved."
Cboe Global Markets, Inc.
Project: Cboe Global Markets, HQ Relocation  |  Location: Chicago, IL  |  Owner: Chicago Board Options Exchange  |  Architect: CannonDesign  |  MEP Engineer: CannonDesign  
Back to Top
Embracing the past to engage a new future
The Chicago Board Options Exchange (Cboe) is often recognized for what they do rather than who they are. In fact, even their building was designed to serve traders more than their own associates.
Ten years ago, the business of trading was different with a majority of workers and time spent on the trading floor, but times have changed. As businesses have adjusted to working online, Cboe's mix of employees has also shifted, and they realized their current facility no longer worked for them.
They chose to relocate to the historic Old Chicago Main Post Office Building, a space closely tied to the history of Chicago. It had sat dormant for years until recently, and it offered a unique experience that the Cboe team could not pass up.
Designed by Graham, Anderson, Probst & White, the Old Chicago Post Office Building was originally constructed in 1921, followed by additions in the 1930s. As technology evolved the process of sorting and delivering mail, the post office kept up with the increasing volumes and demand for speed, until the decision to move was made and a new building was completed in 1996. The old building subsequently closed until it was purchased by 601 W Companies in 2016, with the intent of revitalizing it.
"There couldn't be a sharper contrast between our former space and this new one. Previously, our office was a traditional cube farm, with departments siloed on separate floors. Meetings and collaboration were deliberate. Our new space is designed for 'casual collisions,' where people can connect in the many public spaces. There is an energy and excitement that we didn't have before."

— Marc Magrini, Vice President - Administration, Cboe
To achieve the different finishes in a limited timeframe, the Pepper team turned to technology. Without as-builts for the space, we scanned the floor and ceiling to get a jump on coordination. The scan was also used to confirm that the floor was flat and level. 
Many historic features were retained.
Just as the Old Chicago Post Office Building has been given new life, Cboe has gone through a transformation of its own. After experiencing a merger and acquisition, they've transitioned from a company that lived and breathed Chicago to becoming Cboe Global Markets, with an international footprint.
"This project was about creating a different culture for Cboe and starting a new legacy. It's an opportunity to move forward, and what a cool place to start. We had a blank slate, and, man, we hit a home run!"

— Marc Magrini, Vice President - Administration, Cboe
Cboe is in the business of speculation, and now they're faced with predicting and shaping their own outlook - the future of trading. Before COVID-19, trading was still largely thought of as an in-person occupation. Through the pandemic, they've come to rely even more on different technologies. While the future is still taking shape, their new space makes them even better equipped to lead.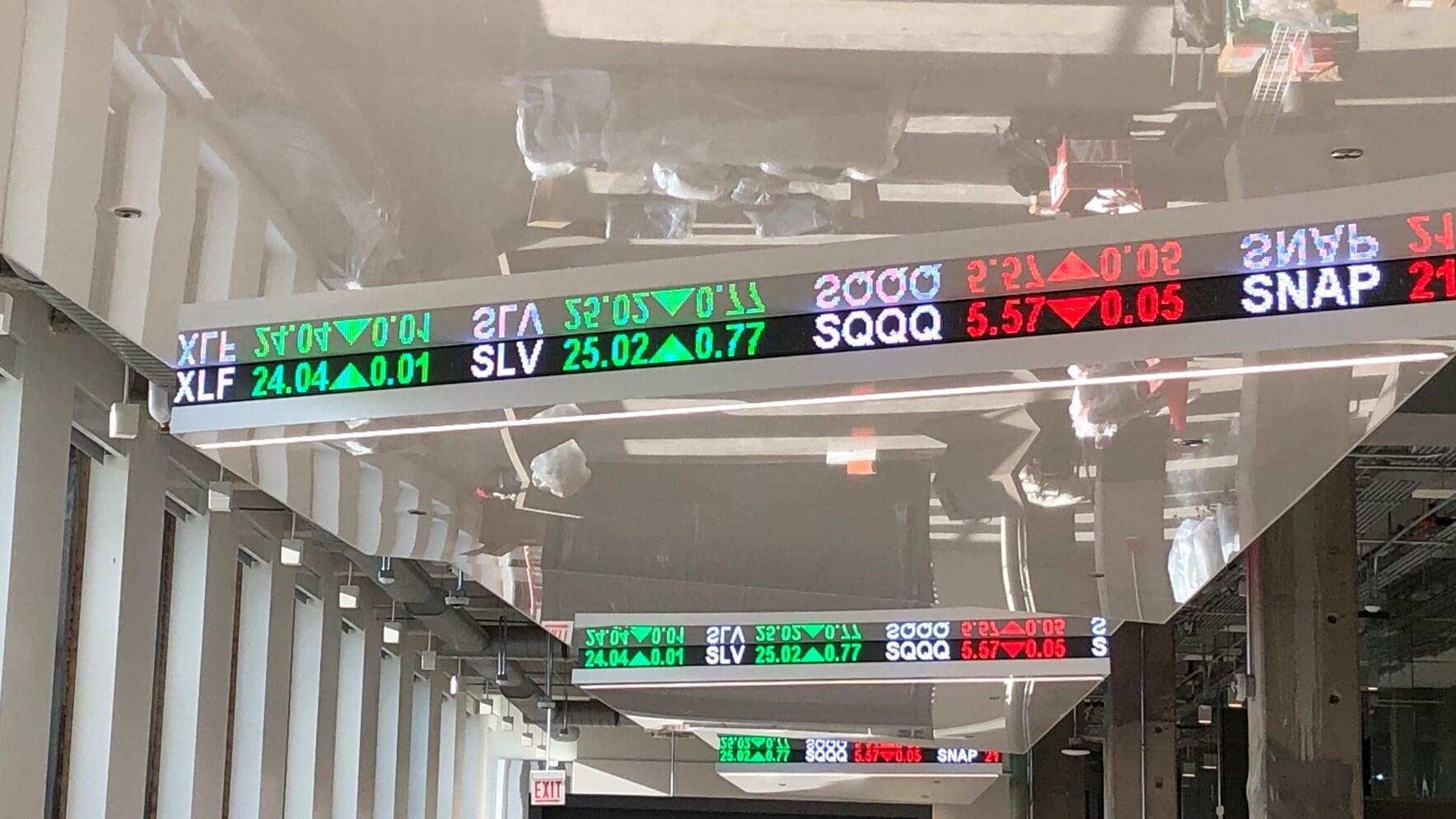 A Newmat ceiling with tickers visually associate Cboe with their space.
Erie Street
Project: Erie Street, 34th Floor Expansion  |  Location: Chicago, IL  |  Owner: Erie Street  |  Architect: Eastlake Studio
Back to Top
Smart growth leads to a smart move
Erie Street, an advisory firm that partners with companies to design and deliver next-level growth, had quickly grown its team and, as a result, had also outgrown its office space.
When they were designing the existing space, Erie Street leadership had the foresight to plan for the firm's growth, making custom features - including a wood feature wall, wood slat ceiling and light fixtures - removeable for the next move. The team thoughtfully took the same strategic approach in planning for growth with the newly expanded space, incorporating demountable partitions and pre-planning for the possibility of another expansion down the road.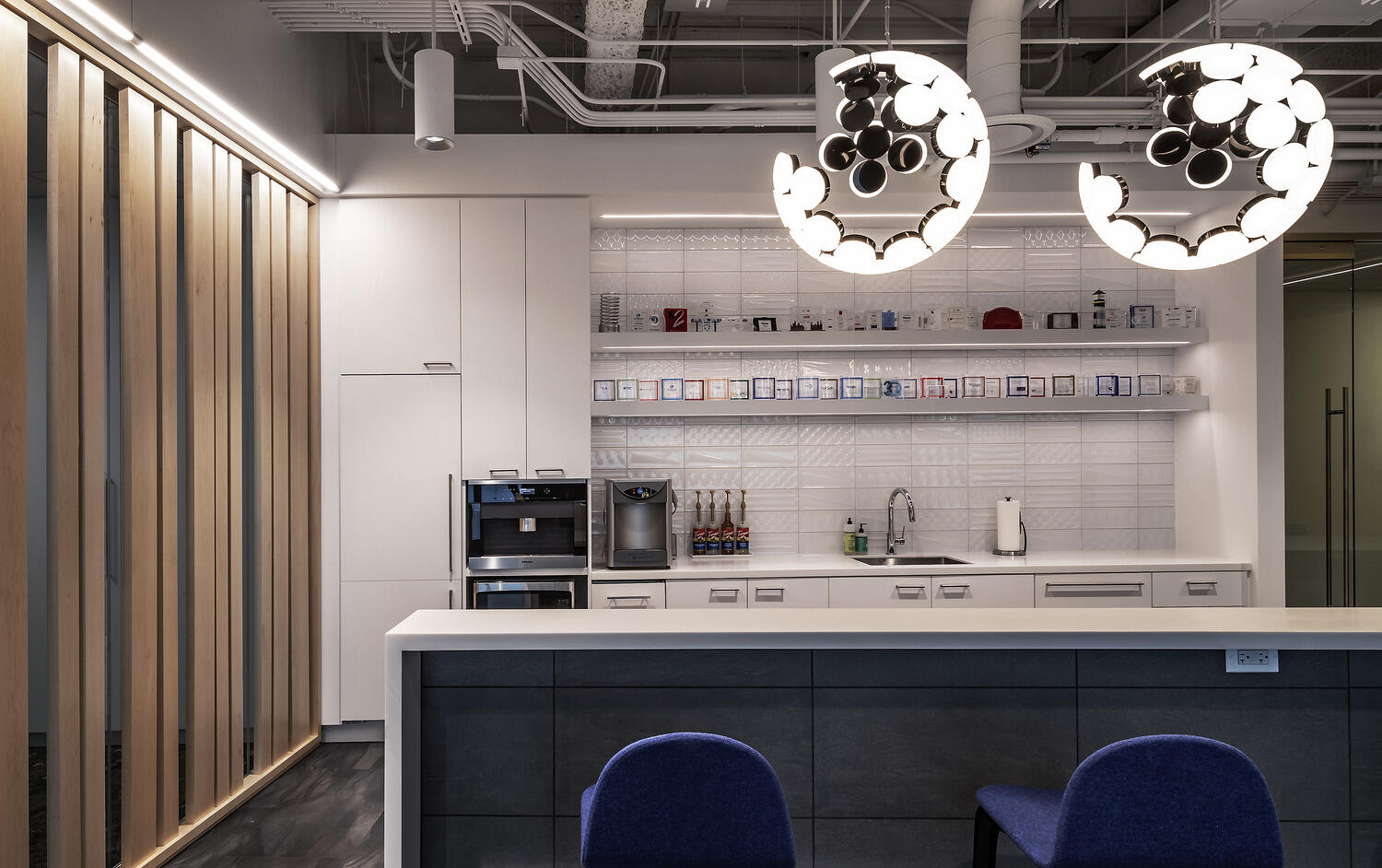 Erie Street's new workplace was also designed to incorporate the firm's growth-oriented and collaborative culture. For example, there is no formal reception area. Instead, an open café warmly greets visitors and staff alike.
"In this day and age, we don't need a formal reception area. Our clients and partners are our friends. We expect their visit and meet them when they arrive."

— jerry Graunke, principal, Erie Street