Back to top
Some organizations exist to create a healthier world for all – particularly those without equal opportunity. Their projects offer hope and are leading the way toward a better future. Pepper is humbled to be part of those journeys.
---
Green Era Digester
Project: Green Era Digester Facility  |  Location: Chicago, IL  |  Owner: Green Era Sustainability, LLC  |  MBE JV Partner: UJAMAA Construction  I  Architect: McBride Kelley Baurer Architects/Planners
Back to Top
Planting seeds for a hopeful harvest
Nutritious food is one of our basic needs, and yet it's not available to everyone. Urban Growers Collective (UGC) and their partners operate 8 urban farms in Chicago, creating community-based food systems where produce is grown, prepared and distributed within neighborhoods.
That's where the idea for the Green Era Digester Facility and Urban Campus was born, with the goal of supporting local food production through better management of organic, biodegradable waste and access to nutrient dense soil.
Located on vacant brownfield sites on Chicago's South Side, these urban farms require a lot of nutrient rich soil, which is a scarce resource in a landscape consisting of concrete pavement and buildings.
Located in the Greater Auburn Gresham neighborhood of Chicago, the project includes site improvements, such as the remediation of contaminated soil, and construction of a 35,000-square-foot facility to support an anaerobic digester system. The campus will also feature technology accessible greenhouse space and edible landscape elements that are projected to grow thousands of pounds of nutritionally dense food year round, providing additional food security and access in Auburn Gresham and the Southside of Chicago.  
What is an anaerobic digester?
Though uncommon in the Midwest, digesters are not a new concept. They can be found on farms in the United States where animal waste is converted to energy, and they have been widely used in Europe for several years to manage organic waste and to produce energy. The diagram [below] explains how it works.
A prized initiative
The project has received $2 million in grants from the State of Illinois. It also benefited from the inaugural Chicago Prize competition, which is aimed at identifying a compelling community investment for residents of the city's South and West sides.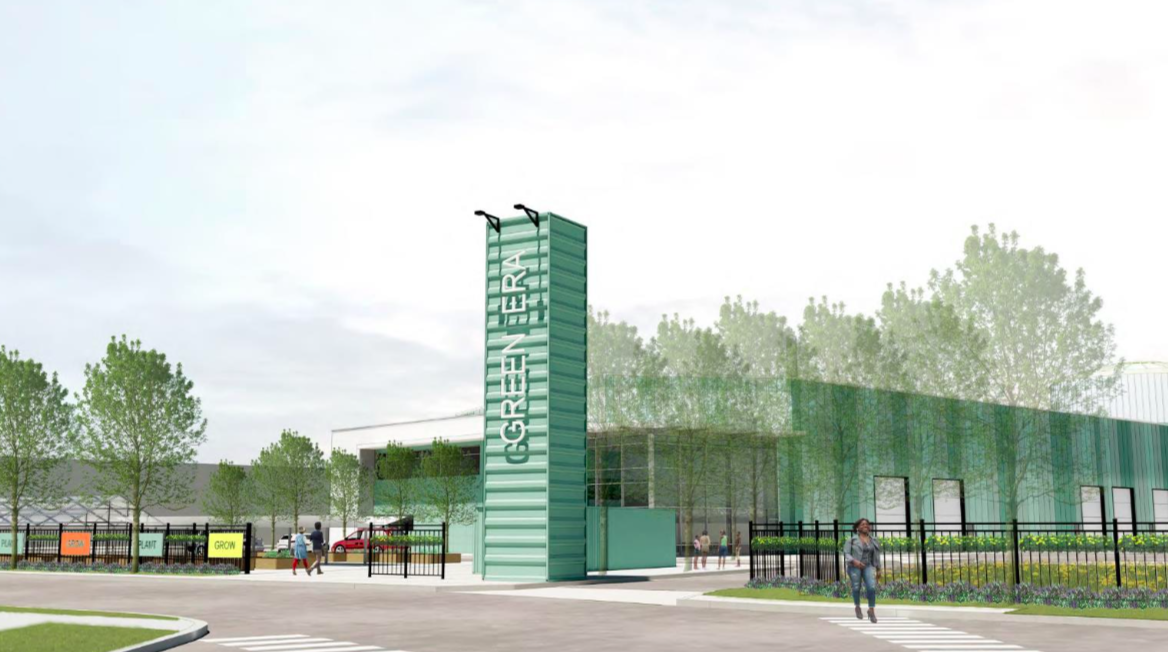 Pulling something like this together is not easy. It's been years in the making, and creativity and patience were critical in bringing our vision to life. Pepper took a leap of faith in supporting us before we had funding with no certainty it would happen. We are absolutely grateful for that.

- Jason Feldman, Founder, Green Era Sustainability
With inclusion as a top priority, Pepper brought Ujamaa on board as our MBE joint-venture partner, and established M/WBE participation goals for both trade contractor partners and the workforce. The project is projected to create 300 jobs, and the hope is that as many as possible will be filled by those in the surrounding neighborhood. 
"This is not a project where you come to a neighborhood, build and leave. Our partners are committed to establishing roots by giving those in the community equity in the project." - Ryan Huddlestun, Green Era Sustainability Partners
Additional bounty – community revitalization and a new green industry:
Several long-term growth opportunities are expected from the digester. It establishes accessible jobs and provides job training. Beyond that, it creates a new green industry of collecting organics that will, in turn, give rise to new entrepreneurial enterprises across the city. Finally, it offers a pathway for the next generation by offering STEM education so our future leaders can build on the progress that is being made. 
As Co-Founder and CEO of Operations for UGC, Erika Allen has been working to end food deserts for the past 16 years. She also serves as President and Co-Founder of Green Era. To her, this project is about solving the societal issues that are associated with inequality and climate change, starting at the community level, and solving a basic problem.
"If we're serious about ending food deserts, more aptly titled food apartied, especially now with COVID, food insecurity and climate change, we have to overcome the barrier of contaminated soils. With the digester, there's an opportunity to solve these issues simultaneously. We solve the problem of clean soil by producing compost to grow more food, thereby fueling our city with food waste. This circular mechanism and catalyst for economic development has activated development that is community-centered and balanced with strong economic opportunity. We're working on the first closed-loop solution that addresses all of these challenges and sets the stage for a different trajectory – for the local community, our city and for our world. All originating out of a black community, in the tradition of George Washington Carver and furthered by my father's work with Growing Power and other elders who reactivated sustainable agriculture in urban, peri-urban and rural communities."
Food for thought-and action
Projects like this, now more than ever are critical to our supply chains. The pandemic spotlights the need to strengthen our infrastructure and shore up our food sources. In addition to meeting the basic needs of hunger, urban gardens have the potential to help address other societal problems, like combating climate change and making our streets safer. The Green Era Digester brings hope to the most disadvantaged and signifies that ability to spur change is within our control.
The Green Era Digester project is just beginning. There are opportunities to get involved through fundraising, education, corporate involvement and events.