Back to top
In the midst of a challenging year, many of our clients have started or are completing projects that will help to sustain our communities by serving as economic drivers and points of connection.
---
Third Eye Brewing
Project: Third Eye Brewing Company  |  Location: Sharonville, OH  |  Client: BT4 Holdings, LLC  |  Owner: Third Eye Brewing Company  |  Architect: SMP Design 
Back to Top
Keeping three eyes on the ball...and the beer
Opening during a pandemic certainly wasn't part of the owner's plan, but with support from the city of Sharonville and local residents, Third Eye Brewery has become a lifeline for the community, offering a place to safely connect amid social restrictions and a respite from the stresses of 2020.
For the owners, it was about fulfilling a dream, and the timing has only compelled them.
"Don't ever give up on a dream. Twenty years ago we entertained opening a brewery and could never find the right time." — Tom Schaefer, Partner
The city of Sharonville had been waiting for the right business when the BT4 partners approached them with the idea for a new craft brewery in the Northern Lights District. Located on the outskirts of Cincinnati, Sharonville includes a mix of historic buildings, newer retail and entertainment and over 1,000 quality hotel rooms within one mile.
The site itself was a blank slate — an asphalt parking lot for more than 20 years — in an up-and-coming area that was once a vibrant hot spot for entertainment. The owners saw the regeneration that was happening with new hotels going up and the convention center across the street. For the city, the venue was just what was needed to help stimulate the area and keep visitors entertained.
Crafting the space
The brewery is large and open, yet flexible to create different spaces for different groups. Finishes of concrete, metal, exposed ceilings and garage doors create a modern, industrial vibe, while large windows, reclaimed wood and outdoor seating provide a warm and cozy atmosphere to gather with friends and stay a while. 
Business Partner Tom Collins has a background in design, and over the years, he would take note of different features, sketching concepts in the hope that someday his pencil drawings would become reality. So the process began with a must-have list as well as elements from the partners' wish list, which they shared with SMP Architects to help create an economical and functional design.
A toast to success
Leaning on a mix of artistry and science, Third Eye Brewery initially offered six different brews when it opened, with the capacity for up to 32. Unique to their operation is a full-service kitchen where Chef Steven Vanderpool has established a menu of distinct dishes to try.
Different brews have already been rotated in and out. Third Eye wants it to be a community experience, and as such, they're calling on their patrons to help them decide which brews deserve a permanent spot on tap.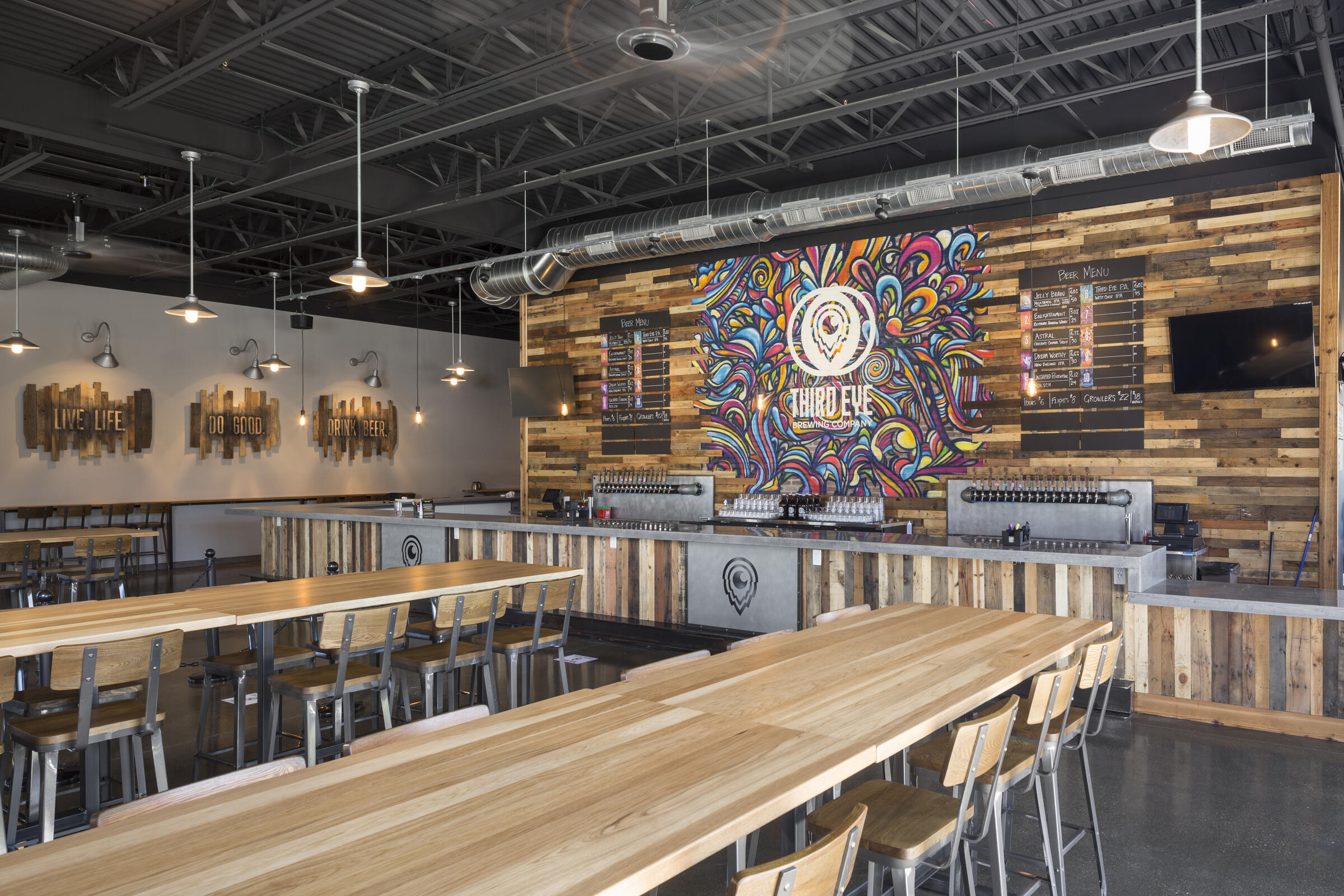 Eventually, they hope to distribute their beer to local bars and restaurants and even to the retail market. But for now, the partners are focused on creating a quality experience and building name recognition. They choose to keep things simple and focused on what matters most, as their motto says: LIVE LIFE. DO GOOD. DRINK BEER.
Building on an industrial spirit
Over the past year, Pepper has worked on industrial construction projects valued at more than $305 million. The industrial market has been on the front line and remained strong. The following stories show just how significant this market has been over the past year and how these clients are adapting to the future.
Xebec Realty
Project: London Groveport Logistics New Distribution Campus  |  Location: Columbus, OH  I  Owner: Xebec Realty  |  Architect: Ware Malcomb
Back to Top
X marks the spot for a logistics center
When Xebec, a national developer headquartered in Dallas, Texas, was searching the map to find an ideal location for its next project, Columbus, Ohio, stood out. A boom in e-commerce is leading the industrial market, and with Columbus located within 600 miles of almost half of America's population, it has become a hot spot for growth.
Major cities such as Atlanta, Chicago and New York are accessible within less than two trucking days. Columbus is also home to Rickenbacker International Airport, one of the world's few cargo-dedicated airports, and the Rickenbacker Inland Port, which is one of the largest freight hubs in the country with both rail and aircraft access. Overall, the city fit Xebec's strict evaluation criteria as an ideal spot to facilitate modern supply-chain solutions.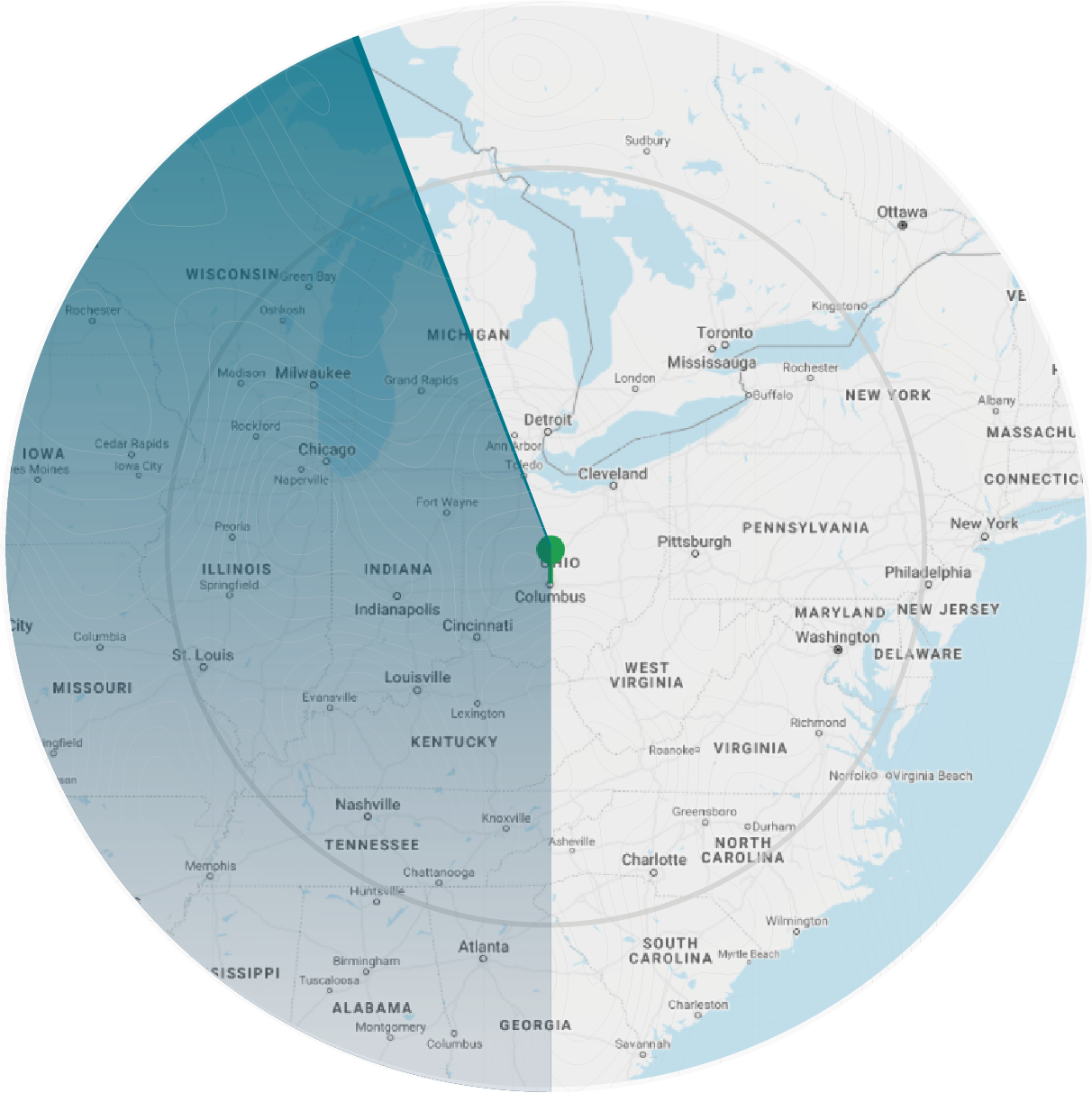 To capitalize on this opportunity, their first in Ohio, Xebec tapped Pepper's industrial expertise to create a new four-building logistics hub. Together, the buildings total just under 1.6 million square feet and are situated on a 105-acre site.
Four buildings are a lot to construct at one time, particularly amid a pandemic where delays, staffing resources and material shortages have thrown off schedules across the country.
How did Pepper stay on track?
"Pepper Construction helped us streamline the building process and remained efficient and on time throughout the build, which enabled us to get to market faster."

- Gretchen Kendrick, COO, Xebec Realty Partners
After evaluating the overall project and desired delivery date, we decided to focus on the three smaller buildings first so that we wouldn't need to accommodate winter conditions. With this plan in mind, we implemented the following strategies to stay on-schedule.
Shedding light on potential energy savings 
As a contractor committed to introducing high performance solutions, we completed an analysis of using solar panels to provide energy for the new buildings
We found that while it could have provided benefits if the concept had been addressed earlier in the planning and design process, the fact that we were further into construction meant that it was not the best option for Xebec on this project. However, they were impressed by the statistics and potential payback, and may consider investing in solar solutions on future projects. 
Technology — the next best thing to being there 
Since the developer was based out of Texas, we leveraged technology to keep them updated on the project status. Remote meetings were held online, web cameras were situated onsite to share real-time construction progress and regular drone flights provided a bird's-eye view of the entire development.
"Pepper was a great partner in enabling us to realize our vision of next-generation industrial buildings that are technologically advanced, increase inventory management efficiency, provide 'last-touch' infill and last-mile assistance to lower transportation costs and shorten delivery times, and complies with today's health and safety requirements."

- Gretchen Kendrick, COO, Xebec Realty Partners
Industrial Developer
Project: Speculative /Build-to-suit Distribution Center  |  Location: Indianapolis, IN  |  Owner: Confidential 
Back to Top
Creating a larger building with a smaller footprint
Construction of a speculative industrial building was well underway on the south side of Indianapolis, Indiana, when a tenant signed onto the project. At that point, it became a 815,000-square-foot build-to-suit project, changing the scope and work sequence dramatically. The building increased in square footage and height, which meant systems had to be redesigned and re-fabricated. The new equipment and conveyor design caused changes across the entire program, including re-sequencing slab pours a third of the way through the project.
A concrete approach to helping the environment
The team used CarbonCure on 2,500 cubic yards of concrete footings to reduce the concrete carbon footprint, without impacting quality, cost or workability. Pepper's team suggested CarbonCure as an option to the owner, who saw the value of the process and agreed to use it on the project.
What is CarbonCure?
Cement production comprises 5% or more of global carbon dioxide emissions. A typical cubic yard of concrete has a carbon footprint of approximately 600 pounds, of embodied CO2 that is produced when making cement. CarbonCure allows post-industrial carbon dioxide to be captured and recycled during concrete mixing and then embedded back into the concrete. It lessens the cement content, all while keeping the concrete strong and reducing the carbon footprint by 25 pounds of CO2 per cubic yard.
New building design, same aggressive schedule
If the design changes and increased building size didn't create enough pressure, the concrete pour turnover dates fell in the middle of the pandemic, which made it more difficult to secure labor and materials. So at the same time we were adjusting the program, we were also re-thinking how we build it. However, the completion date remained fixed. 
Since we couldn't afford to lose precious work time while options were reviewed and decisions made, we utilized bar charts, graphics, floor plans and site plans to navigate sequencing changes and create a more aggressive schedule. Technology also helped us collaborate and keep everyone updated. Drones captured real-time imagery, and the team met weekly to discuss progress.
Pepper successfully delivered on our commitments, which has allowed the distributor to fulfill its promises. In a year faced with many uncertainties, this kind of stability provides the momentum needed to get to the other side.