Back to top
Columbus has a landscape that is built for business, and we're helping to put it to work

Located only a 10-hour drive to 46% of the country's population and home to 16 Fortune 1000 headquarters, it is easy to see why so many are choosing Columbus for their distribution and manufacturing operations.
Columbus' industrial market continues to see unprecedented growth with over 16 million square feet of industrial construction currently underway. While the volume of industrial construction is at all-time highs, vacancy rates in manufacturing and warehouse distribution centers are at all-time lows. Our Columbus office is proud to be a key player in the rapid growth of the Columbus industrial landscape, helping to support the growing Central Ohio enterprises and creating more jobs and opportunities for the communities we serve and call home.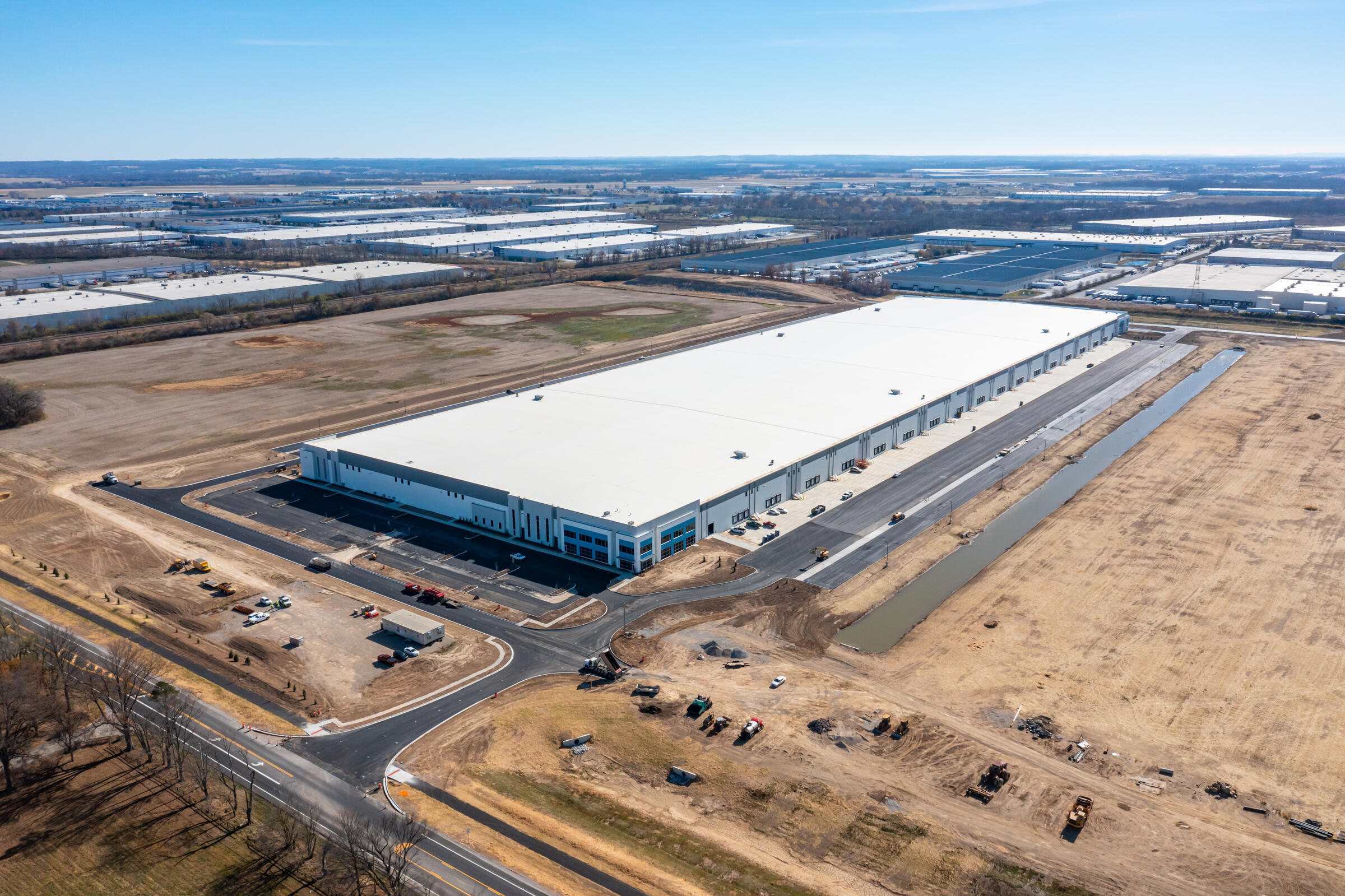 O'Connor Capital Partners Rohr Road Development Phase I project located in the Rickenbacker Global Logistics Park.
Our Columbus office is not alone in seeing a surge in industrial construction. Our Cincinnati office is currently working on three multiple-building industrial parks as well as other stand-alone facilities, adding another 3,000,000 square feet to Pepper's 2022 industrial footprint in Ohio. In addition, we had more than 8,700,000 square feet of Indiana and Illinois industrial work that concluded or was under construction in 2022. 
Re-framing how we procure work
Material shortages have been a common theme across the construction industry for the past few years from steel to roofing, storefront glass, paint and most recently aggregate products. At times, we were able to develop unique solutions to keep projects on track - like setting up concrete batch plants in the Rickenbacker area to supply concrete ready-mix onsite for our jobs.
But more often, the answer was simpler than that – as simple as establishing the right relationships at the right time. This year, strong connections with trade partners, design teams and material suppliers were more important than ever. The earlier the right partners were brought onto the project, the better.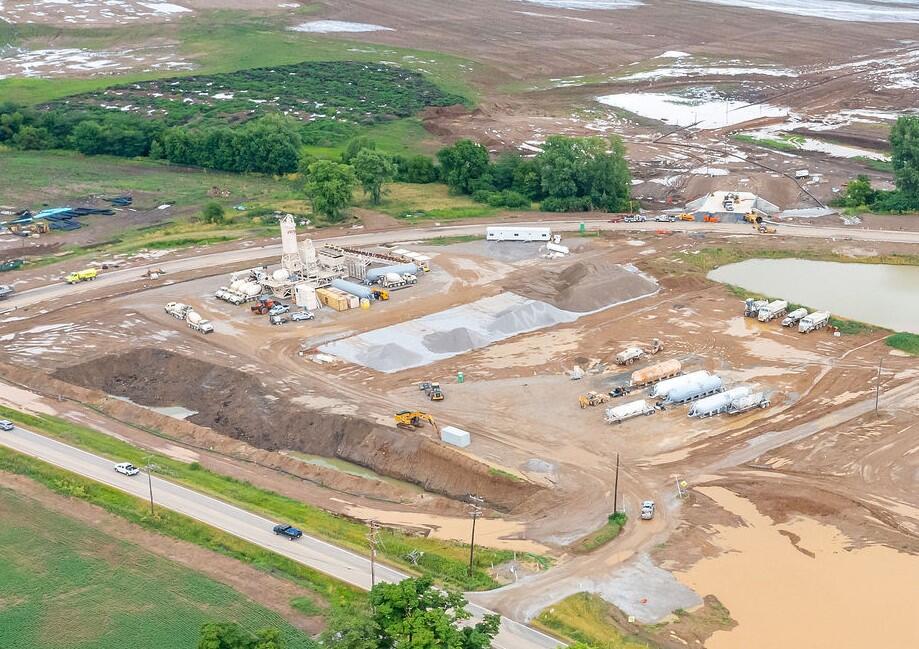 In partnership with Buckeye Concrete, Buckeye Ready Mix and Unlimited Concrete Solutions, we created a temporary concrete batch plant to service our jobs in the Rickenbacker area because of an anticipated allocation issue. This solution eliminated allocation concerns and reduced travel time and fuel costs.
Sharing our expertise
When material shortages began impacting our jobs, our team analyzed ways to help our clients and partners navigate the new reality. A common theme identified was the need for a more open approach to industrial pricing discussions. In response, our preconstruction team developed an Ohio Industrial Material Price Index compiled from data collected on each of our industrial jobs. Our partners use the list to set realistic budget expectations and a timeline for material procurement.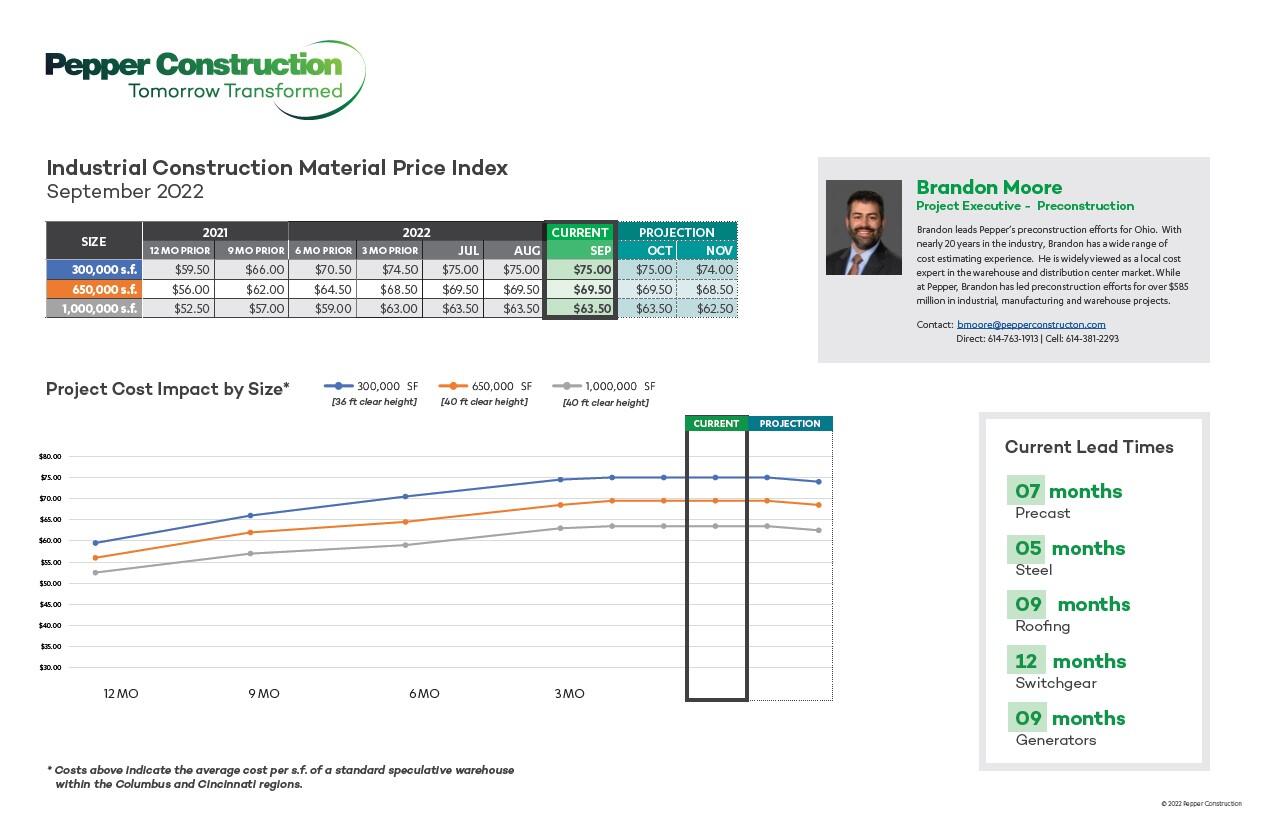 LEED & Sustainable practices gaining traction
With large footprints and open areas, Industrial buildings are primed for sustainable practices. Our team has seen increased recent interest by our industrial and manufacturing partners in high performance strategies and establishing sustainability goals across their projects.
Amidst the challenges that material shortages created, they also brought positive change to our procurement process. Our relationships with our trade partners and material suppliers are stronger than ever, and the industry is more proactive and collaborative. With a renewed focus on the importance of partnership, we look forward to continuing to transform the industrial landscape in 2023, together with our suppliers, partners and clients.