Back to top
People, Careers and Communities – Building blocks for our industry's future
At Pepper, respect and dignity have always served as the bedrock for our values. They impact who we hire, how our team members interact both in the office and on the jobsite, how we engage our partners and the ways in which we strive to continuously improve. As a leader in the industry our responsibility is to simply do the right thing.
However, to see tomorrow transformed, we must be better.
As part of our Diversity, Equity and Inclusion program, Pepper established five strategic pillars that demonstrate our commitment to create stronger partners and new opportunities. These pillars will move our company and our industry forward: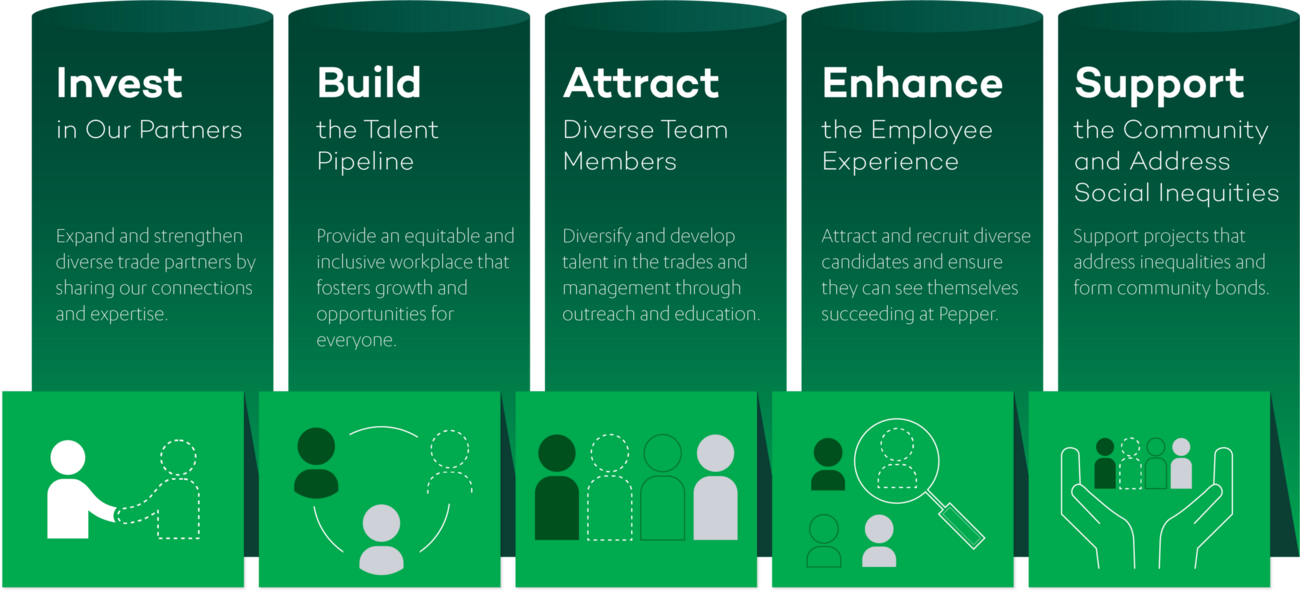 To learn more about our commitment to make Diversity, Equity and Inclusion an even more essential part of how we work and contribute to building our shared future, click here to visit the Pepper website.
Active listening leads to proactive support
Through the relationships we've built with our minority partners, we've gained insights and feedback that make us a better ally. One way our outreach events engage a broader audience is by becoming "virtual classrooms" that provide critical resources for smaller, diverse companies as they position themselves for future opportunities.
Additional efforts include making introductions to our own business partners and advocating for minority companies to ensure that they have support to fully capitalize on their potential. By helping them succeed, we know that they will be better positioned to successful serve our shared clients.   
Open Pop-up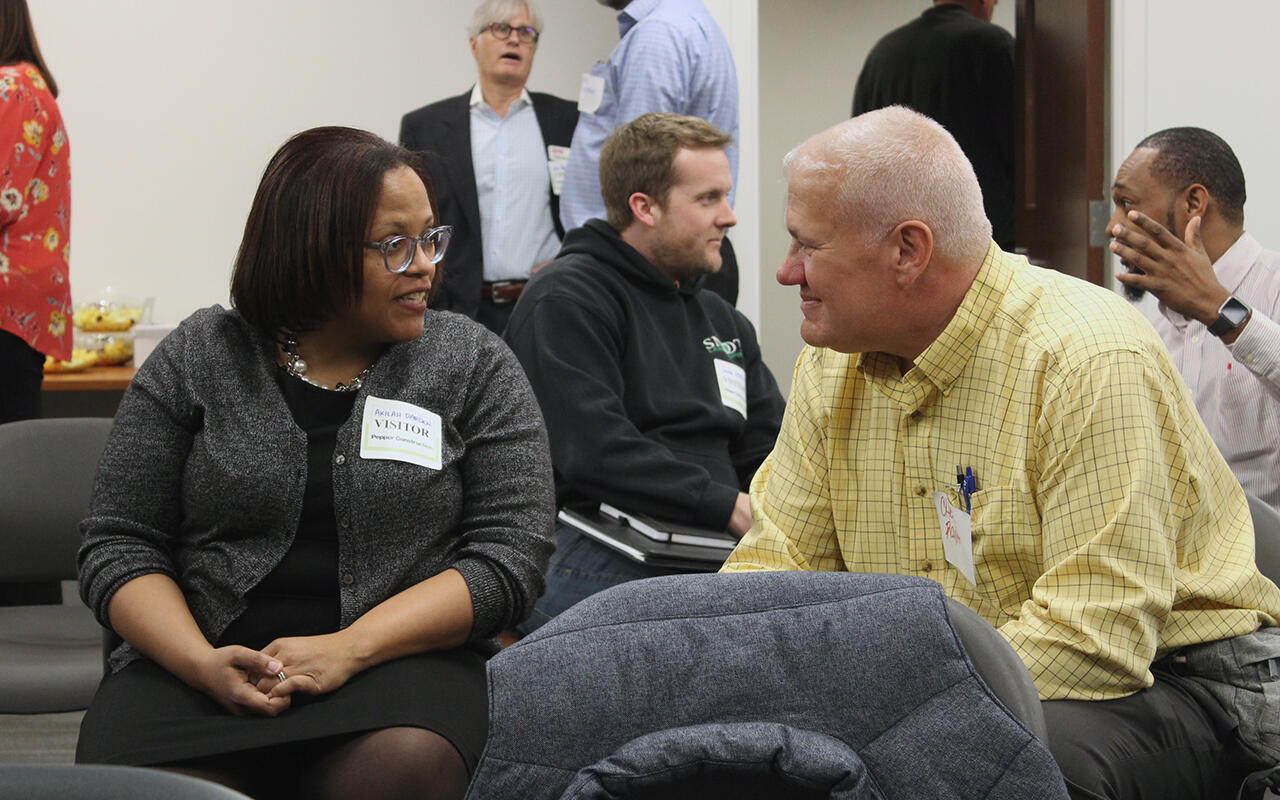 Helping diverse voices be heard
Meeting diversity goals is difficult if minority partners cannot successfully prequalify to participate on our projects. Pepper has invested in initiatives and programs to help these companies overcome the challenges they face so they can get what they want and need, take advantage of new opportunities and keep growing.

In the last several years national events have shined a spotlight on the differences in how people are treated. This has been a turning point for many, and we must keep building on that momentum. In Pepper's 2020 Annual Review, we share stories about three of our clients who have taken an active role in creating meaningful opportunities that will have a lasting impact.
At the time, Stuart Glenn, Senior Development Manager, Real Estate and Development at Apple Inc., captured the need perfectly:
"Our projects represent progress, and likewise, they can be a catalyst for change in our workforce. We're calling on our construction partners to consider the thought process of construction and to look deeper into how we can change the economic outlook for these minority organizations. It's not just how we achieve a specific goal but what we can do every day."
Our Commitment at Work
One year later, we're proud to say that our efforts have continued to grow. Our commitment to advancing diversity, equity and inclusion on the UI Health Outpatient Surgery Center & Specialty Clinics project demonstrates how our thoughtful, deliberate action affects positive change. With Brown & Momen, Inc., our joint-venture partner on this project, and the full support of our client, we are building on our approach to create a successful ripple effect across all our projects, which also impacts the industry at large.
Open Pop-up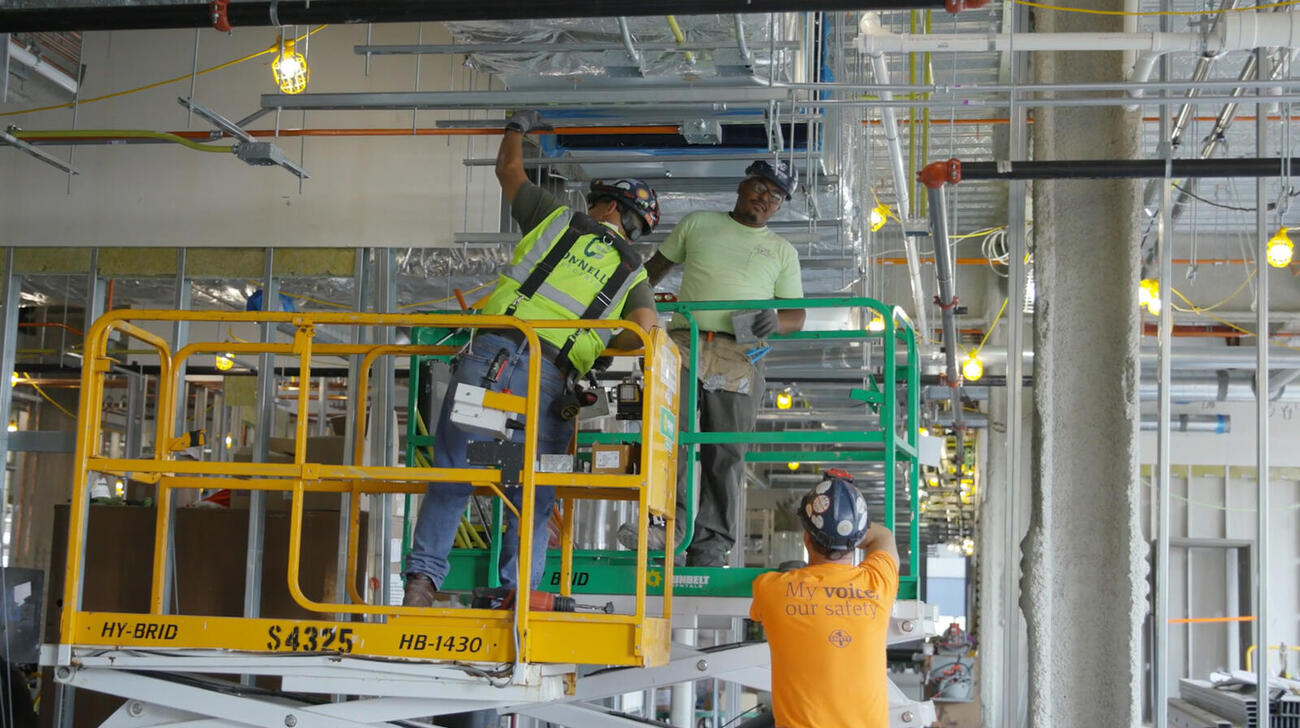 UI Health Outpatient Surgery Center and Specialty Clinics
The 200,000-square-foot clinical building currently under construction will provide six floors of patient care space that includes eight operating and eight procedure rooms, 48 pre- and post-surgery bays, clinic space for gastrointestinal, ophthalmology, otolaryngology, transplant and urology clinics, as well as a pharmacy, MRI and PET/CT imaging departments.
In this video, we've asked our team members to share their perspectives on how including a broader range of voices and perspectives on the project has enriched the experience and benefited the community.
With an understanding that real change often comes from within, we are continuously reviewing and improving our internal practices as well. Pepper is proud of the results of our concerted efforts to increase the number of women we count among our workforce and we plan to apply what we've learned to further diversify.    
Despite women making up nearly half of the United States labor force, only about 10% of the construction industry's workers are female. At Pepper, about 30% of our employees are women, but we still have work to do, as we are underrepresented in some key areas, including the field workforce.
That includes leaders who are making a difference in our industry, like Senior Superintendent Mary O'Malley, who was featured as one of Crain's 2021 Notable Women in Construction & Design.
Open Pop-up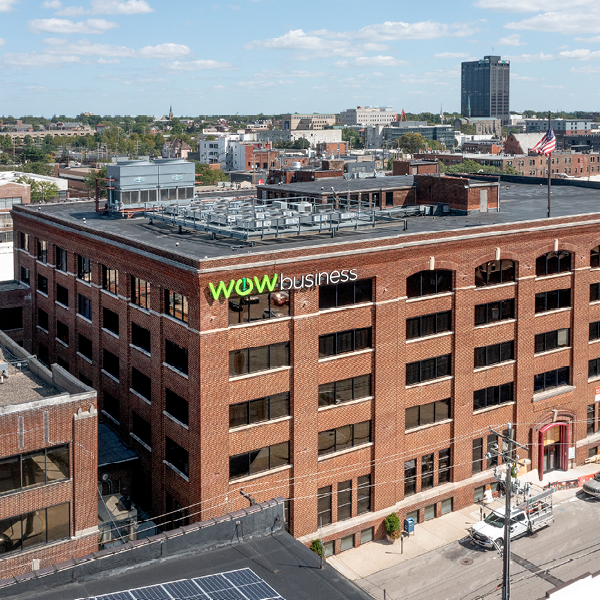 After more than 100 years, renovation attracts the next generation of innovators