Back to top
Helping Chicago Bring Back its Pride
Credits
Owner
Lincoln Park Zoological Society
Architect
Goettsch Partners
General Contractor
Pepper Construction
For more than a century, lions have reigned as the kings of their domain at Lincoln Park Zoo. Their "castle" was one of the Zoo's oldest structures – the original 1912 Lion House, which is a Chicago Landmark building. Unfortunately, after more than a century of use, the space had lost most of its majesty and everyone agreed that the lions deserved a better home.
If it's not good enough for the lions, it's not good enough.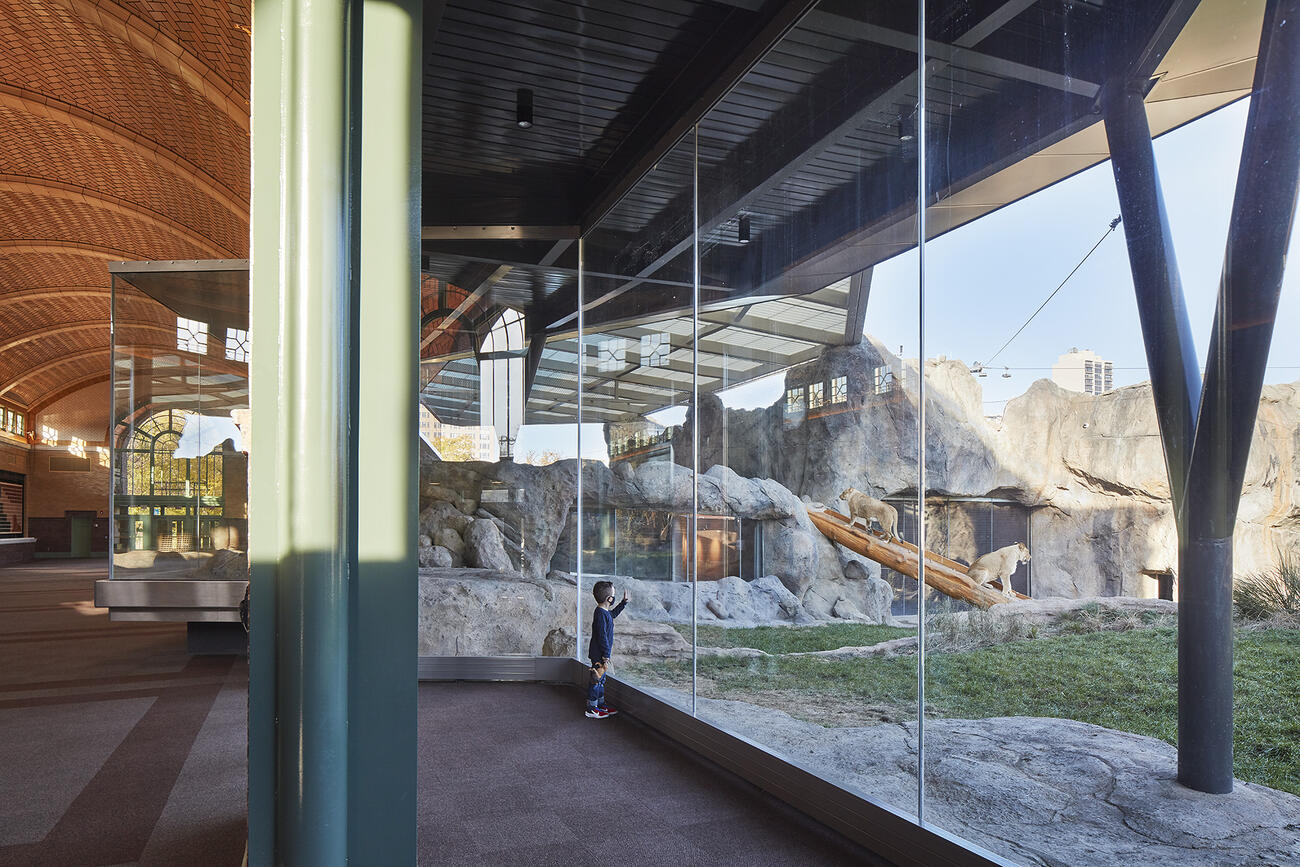 The Pepper team embraced this motto in every aspect of our work. For example, when what was described as clean soil was brought on to the site, the team knew that it needed to be checked. Lions like to dig, so it was essential that any new soil would pass the "good enough" test. Anything that didn't guarantee the lions' safety needed to be replaced without impacting the schedule or budget. 
Vice President of Animal Care and Horticulture Maureen Leahy set the bar high for the renovation project with a simple statement: If it's not good enough for the lions, it's not good enough. "I never had to 'sell' the Pepper team on this concept. After many years of partnership, they know what's important to the zoo and can predict what we're going to say," said Leahy.
Open Pop-up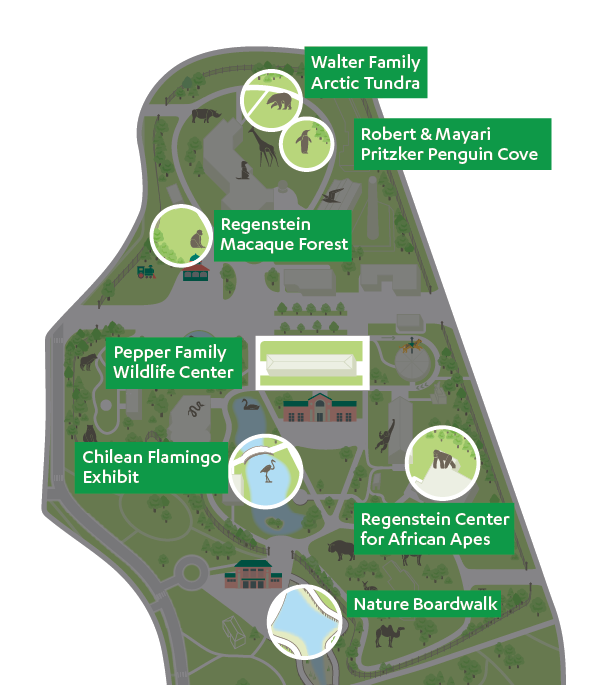 Technology made the Pepper Family Wildlife Center a "smart house"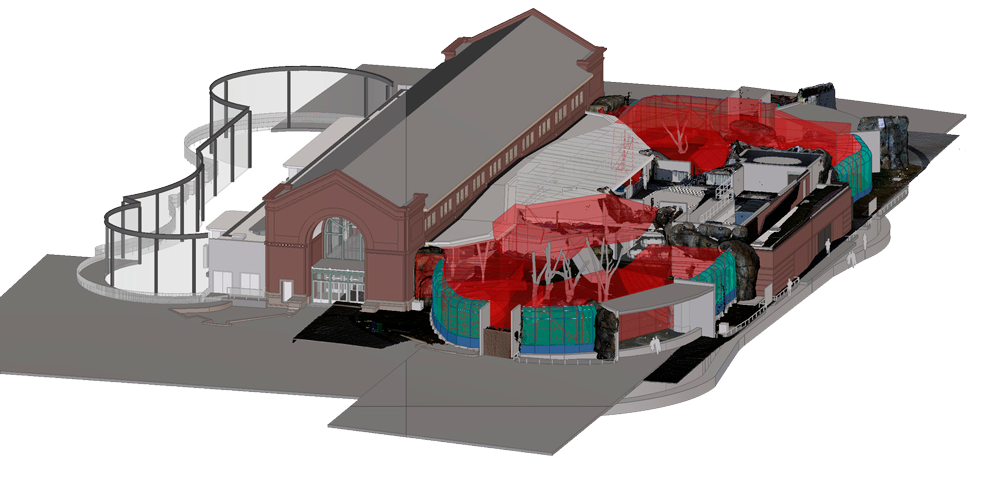 With quality and safety built in, the new facility has tripled the lions' usable space and almost doubled the size of the holding areas. Every critical decision made throughout the renovation process was informed using technology.

How technology was used to enhance the lion habitat's design and construction
Learn more about ZooMonitor, a mobile app developed by Lincoln Park Zoo to record and analyze animal behavior.
Open Pop-up

ZooMonitor is a mobile app developed by Lincoln Park Zoo to record and analyze animal behavior. This user-friendly app makes it easy to collect data and use this information to promote good welfare.
Zoos and aquariums regularly monitor animals to gain a detailed, science-based understanding of behavior, but this can be challenging to conduct without appropriate tools. 
ZooMonitor helps zoological professionals initiate ongoing standardized monitoring programs. With ZooMonitor, anyone can easily record what animals are doing and where they spend time in their spaces. Animal Care staff can then use this information to gain data-driven insights from built-in graphs and reports. 
To learn more about ZooMonitor, click here: Lincoln Park Zoo (lpzoo.org)
Learn more about how Pepper used virtual construction tools, including 3D modeling and laser scanning, to inform everything from faux rockwork to ensuring that the lions remain safely inside their open-air exhibit.
Open Pop-up

Tekla / Building Information Modeling (BIM) and Laser Scanning

Virtual construction technology was particularly useful to deliver the key design and exhibit features while ensuring animal and guest safety.
A 2D parabola representing a lion's jump radius was provided in the design documents as a general requirement to be applied to all design features.  Although this is a typical requirement for zoo exhibits, it can be difficult to verify until construction is complete.
3D modeling allowed us to coordinate a variety of design and construction scopes during preconstruction, identify issues early and provide proactive solutions.
By laser scanning a clay model of the faux rockwork, we were able to clip, scale, rotate and re-align different portions in Tekla.
We also modeled features such as fences, trees and topography that the lions could potentially use for climbing.
By combining all the models and scans, we were able to create a complete exhibit review and make necessary adjustments.
An honor, a privilege…and a legacy
Helping to bring lions back to Lincoln Park Zoo in a way that blends the institution's past with its future has been a privilege. Before Richard Pepper, our long-term President, CEO and Chairman, passed away in January 2021, he and his wife, Roxy, made a significant donation to Lincoln Park Zoo to fund the Pepper Family Wildlife Center. They also made a contribution to support a lion conservation fund.
As a result of this commitment, the lion house has been renamed Pepper Family Wildlife Center. We are extremely proud of our relationship with Lincoln Park Zoo that led to this opportunity and honored to have been part of bringing this legacy project to life.  
We see the gift as an opportunity to give back to the city that's given so much to us with its natural, cultural and business landscapes. We want to build a legacy that ensures its historic institutions are sustained while modernizing with the times.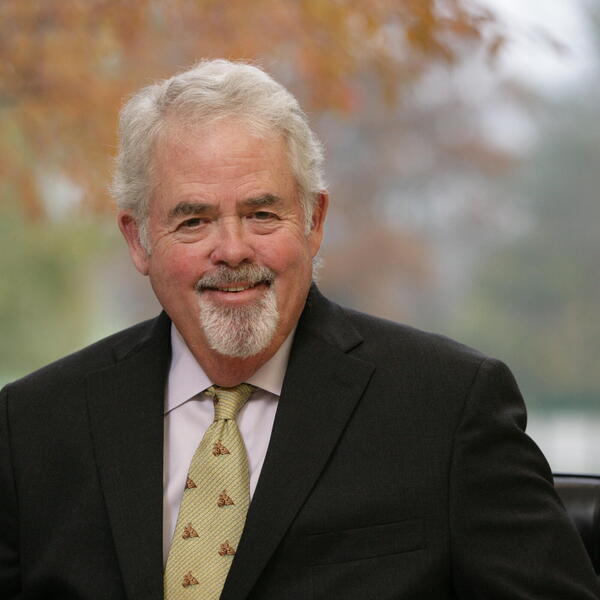 Although it was a year full of challenges, 2021 also presented moments of opportunity.