1920s: Laying a quiet foundation of integrity during the Roaring '20s

In 1920, Arthur Pepper joins Marshall Field's as a new superintendent in the carpentry shop. His third son, Stanley F. Pepper, soon joins him and finds construction work to be a natural fit. 

In 1927, Stanley forms Pepper Construction Company and begins building small garages for families to house their new automobiles. His motto: "Do quality work and always pay cash." prepares his business for the Great Depression.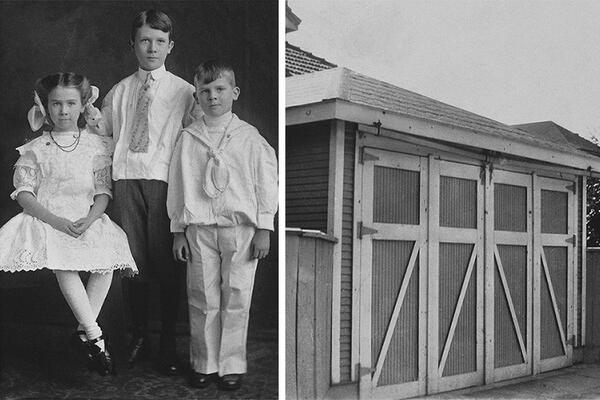 1930s: Reaching beyond projects to build relationships

In a momentous break during the Depression, Stanley lands a job managing Marshall Field's move into the new Merchandise Mart on the banks of the Chicago River. They remain a client for 75 years until they are purchased by Macy's, and the relationship continues today.

In 1937, Pepper begins building homes for developer A.T. McIntosh. This partnership includes economy homes as well as the exclusive Iverness subdivision, south of Barrington, Illinois, that opens in 1940.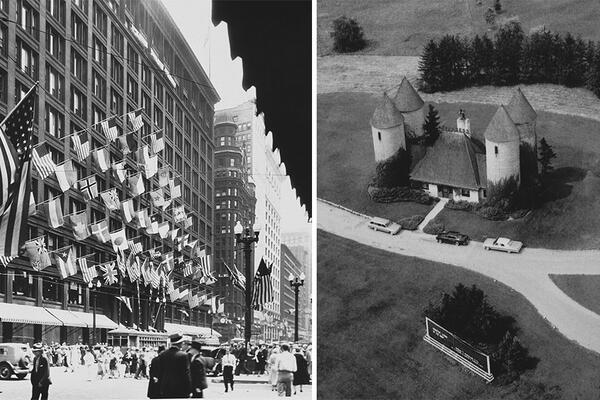 1940s: Serving the community and clients fosters post-war growth

In 1944, Stanley Pepper and A.T. McIntosh open the Palatine National Bank together, serving a city that lost two banks in the Depression. Long-term clients rely on Pepper during these difficult years, including the Kroch's and Brentano's bookstore chain, which leads to a 40-year relationship.

In 1956, as GIs return to the workforce following the war, Pepper is ready to hire and capitalize on the housing boom. The company also builds several service stations to keep up with the need for gas and repairs as more people purchase cars.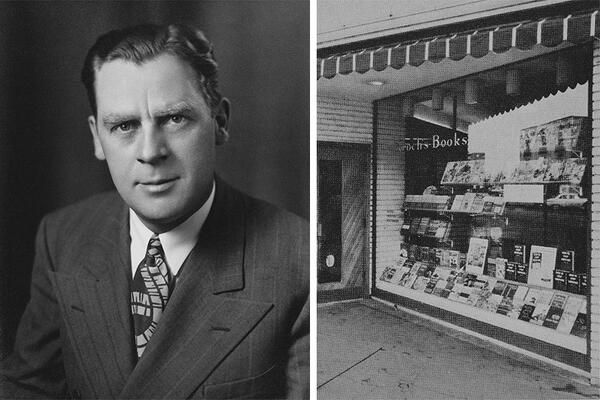 1950s: : Embracing a new age with new leadership and opportunities

In 1957, Richard takes over as president of Pepper Construction just 23 days after Stanley's death at the age of 53. While some wonder if, at the age of 27, he has the maturity and experience to succeed, he manages the transition without losing a single client and brings a new management style to the company.

In 1958, Pepper builds Illinois Bell Telephone's headquarters, which later leads to construction of Ameritech Corporation's headquarters. The 1950s also brought growth in new sectors, like hospitality. Pepper renovates the Palmer House, foreshadowing a renovation Pepper will complete 50 years later.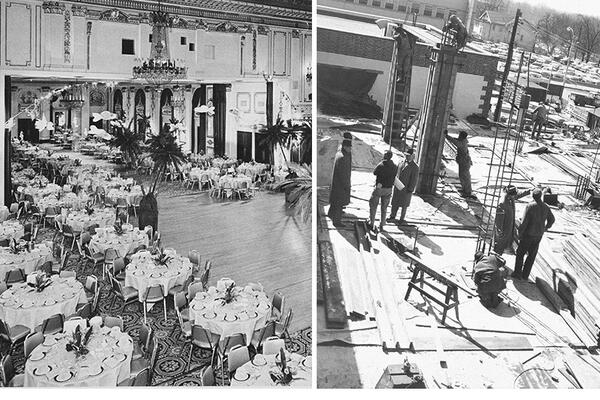 1960s: Establishing a solid presence amid changing times
In 1960, Pepper relocates its headquarters to 643 North Orleans Street in Chicago. The former coffee warehouse is eventually replaced by a P-shaped structure designed by SOM in the 1980s.
Pepper uses 30-ton concrete slabs to construct a large warehouse for the California Packing Corporation in Rochelle, IL. As a leading concrete contractor, Pepper is still leading innovation with vertical concrete.
In 1963, Pepper starts working with Northwestern University, building the Vogelback Computing Center (1965), the Lindheimer Astronomical Research Center (1966) and later the Norris Library (1969).
At age 15, J. Stanley Pepper becomes the first member of the third generation of Peppers to go on the company payroll for the summer.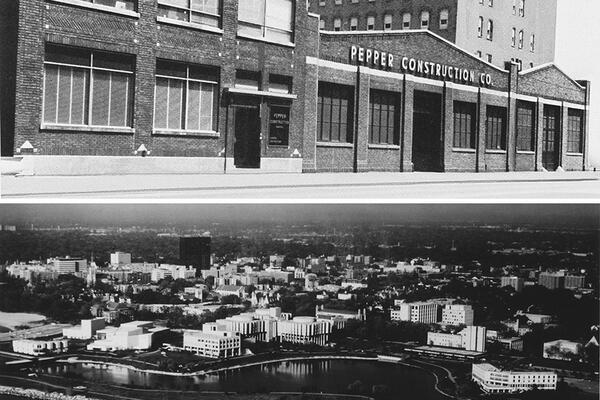 1970s: In the glow of a Golden Anniversary, seeing a future twice as bright
The 1970s become a retail era for Pepper with the construction of several shopping malls including Jefferson Square Mall, North Riverside Plaza, White Oaks Mall and Lincoln Mall. 
On Northwestern University's campus, Pepper completes the architecturally-complex Pick-Staiger concert hall in 1975 - "shimmering like a jewel on the shores of Lake Michigan."
Pepper celebrates its Golden Anniversary in 1977 with record revenue, a diverse portfolio and long-term relationships with companies such as Allstate, where work continues today.
In 1979, Pepper is tapped to build the outdoor alter for Pope John Paul II's visit to Chicago, where more than 1 million people gathered.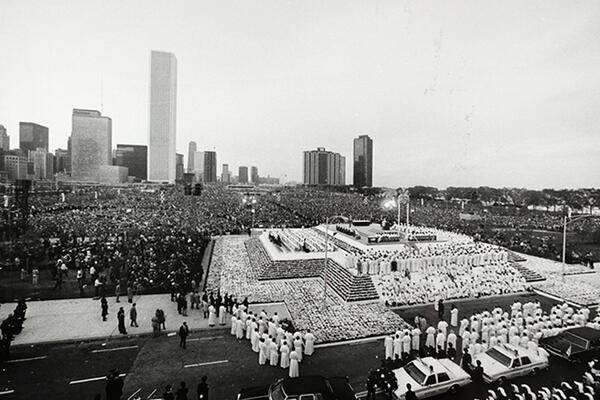 1980s: Furthering a reputation as complex problem solvers
In 1981, construction of Prudential's Woodfield Corporate Center in Schaumburg, Illinois, elevates Pepper to a new level.
Traveling to Florida in 1982, Pepper constructs the Canada and United Kingdom Pavilions at Walt Disney World's new Epcot Center. 
In 1984, the Conrad Hilton Hotel, the world's largest hotel in 1927, is restored and renamed the Chicago Hilton and Towers. In the process, the crew builds a set for the film, "The Fugitive."
Pepper also renovates the historic Chicago Railway Exchange Building for the Santa Fe Railway, which remained operational.
Building on this success, in 1986 Pepper begins renovation of the 1914 Federal Reserve Building with a 16-story addition. 
In 1988, Pepper begins an on-going relationship with Central DuPage Hospital covering 1.5 million square feet of work. It's the first in a series of large healthcare campus projects. 
1990s: Offering new services to clients from new locations
The 1990s saw construction of the first LEED® Platinum building in Illinois - the Evelyn Pease Tyner Interpretive Center, which is located on the former Glenview Naval Air Station and promotes the principles of ecology, native landscape and sustainable design.
In 1992, a flood cascades through downtown Chicago completely filling Marshall Fields' basements. The Pepper team provides temporary ComEd vaults and generator trucks to provide enough power to make the store operational in just two-and-a-half days. The full clean-up and renovation efforts lasts several weeks and involves scuba divers and hazmat conditions.
Also in 1992, Pepper completes corporate headquarters for Speigel Catalog in Downers Grove and Kraft in Northfield, Illinois, and begins a long-standing relationship with the Art Institute of Chicago. Other cultural projects include moving an airplane into the Museum of Science and Industry in 1994, the world's first Oceanarium at Chicago's Shedd Aquarium and expansion of the Adler Planetarium.
In a decade of continued growth and expansion, Pepper Environmental Technologies is formed. In 1995, Pepper Construction of Indiana is officially incorporated and opens an office. Pepper Indiana relocates to its current location in 1996.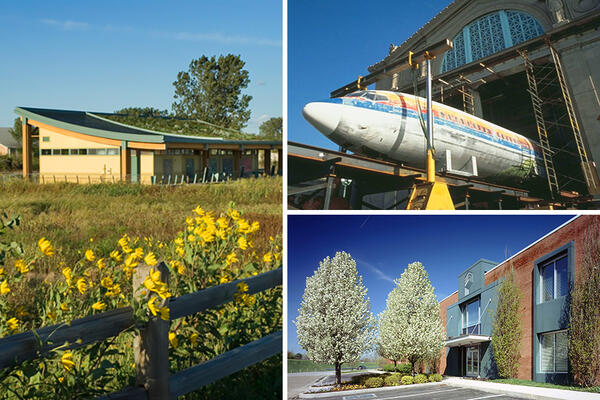 2000s: Winning awards and new business continues expansion
Pepper Indiana is listed among the Top Indianapolis Contractors in IBJ's Book of Lists, with projects including Indiana University Health North Medical Center, Purdue University Birck Nanotechnology Center and lifestyle center projects for Simon Property Group. The company is also recognized with multiple awards for its industrial work. 
In 2007, Pepper expands again with a new offices in Columbus and Cincinnati, Ohio.
Built to house the expanding collections of Iowa's Davenport Museum of Art, The Figge's dual wall of fritted glass uses European systems and materials seldom encountered in the US. In 2007, the Grand Rapids Art Museum is the first in the world to achieve LEED® Gold status, a particularly challenging feat due to the exacting climate standards required for art preservation.
After forming Pepper Construction Group at the beginning of the decade, Pepper celebrates 75 years in business.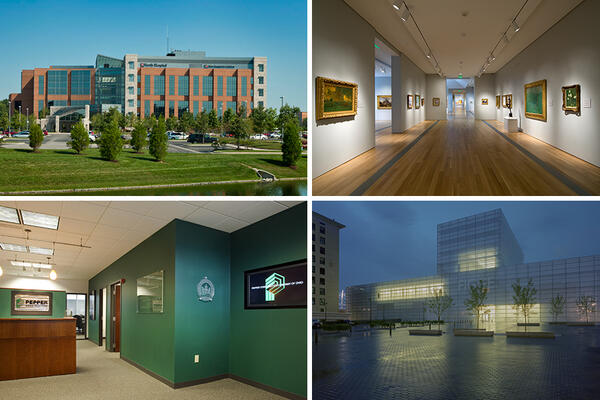 2010s: Leading with new technologies and methodologies
Pepper began using BIM in the previous decade, but it's not until the current decade that it becomes part of our business. Today, we're using it for preconstruction planning, modeling underground utilities and exploring augmented and virtual reality.
In 2010, Pepper manages the Sidney & Louis Eskenazi Hospital and Health Campus project. It's the first LEED Gold healthcare campus in the country and is renowned for its Sky Farm, which provides fresh produce to the hospital and local community. 
The country's first LEED v4 Gold data center project is completed at Grainger's headquarters in 2014. That same year, Pepper takes on one of its largest and most iconic projects with the renovation of Wrigley Field. The multi-year, multi-phase plan includes structural upgrades, improved player facilities, new fan amenities, outfield signage and much more.
Situated at the corner of Lake Street and Michigan Avenue, the 42-story MILA apartment tower is Pepper's first high-rise residential building in downtown Chicago.