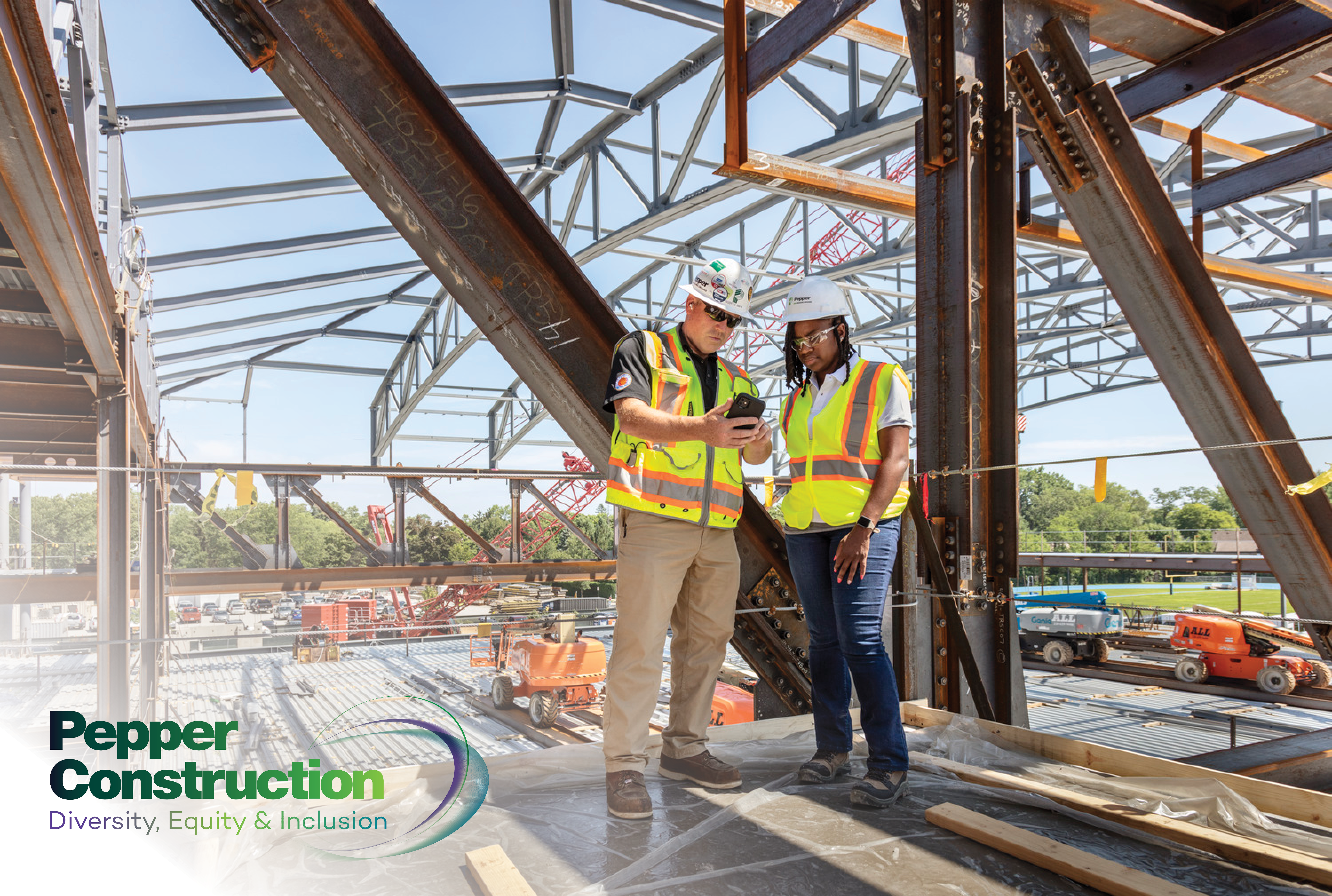 Transforming Tomorrow One Student at a Time
Pepper Construction was built on the principles of respect and dignity. It's what we are known for and core to how we treat each other. As we pursue our mission to improve quality of life through the built world, we feel a great responsibility to foster diversity, equity and inclusion throughout our organization and our industry.
With that in mind, we are pleased to announce a new scholarship and internship program that provides financial assistance for students working on an undergraduate degree in a field related to construction and includes a paid internship for the summer of 2024.
While helping to attract people to the broad range of professional options in the construction industry, the Pepper Construction Scholarship and Internship also helps close the equity gap among marginalized and underrepresented communities seeking to achieve higher education degrees and advance their careers.
About the Scholarship
Scholarships are for $1,500 per student per year and may be renewable for up to two years of undergraduate study in a field related to construction. Scholarship checks will be sent directly to the recipients' college or university.
All scholarships are merit based as judged by Pepper Construction's Diversity, Equity and Inclusion workgroup leaders.
The scholarship includes a paid internship or co-op with Pepper Construction in 2024.

2024 programs in Illinois and Indiana will begin in May, extend into August and last 12 weeks.
2024 programs in Ohio must be completed between May and December and last a minimum of 12 weeks. 

Participation in the intern or co-op program is required to receive the scholarship.
The intern pay scale is based on graduation year and ranges between $18 - $21 per hour.
The application process includes an essay of up to 500 words and an optional video of two minutes or less.
All applicants selected as finalists will be invited to a personal online interview with Pepper Construction.
For more information, contact pccdei@pepperconstruction.com.
Timeline
The application process opens September 1, 2023 and closes October 6, 2023 (11:59 pm Central Standard Time / 12:59 pm Eastern Standard Time).
________________________________________________________________________________________________________
 Illinois 
Finalists will be notified on October 10, 2023
Finalists will be interviewed via Microsoft Teams on October 12, 2023
 Indiana 
Finalists will be notified on October 12, 2023
Finalists will be interviewed via Microsoft Teams on October 14, 2023
 Ohio 
Finalists will be notified on October 12, 2023
Finalists will be interviewed via Microsoft Teams on October 16, 2023
________________________________________________________________________________________________________
All scholarships will be awarded on October 18, 2023
Paid 12-week internships begin May 2024, after Memorial Day
Awarded scholars must complete all internal documentation and accept the internship offer by October 20, 2023
Eligibility Requirements
All applicants must meet the following criteria:
Full-time emerging college sophomore or junior for the 2024-2025 school year
Maintain a minimum 3.0 GPA evidenced by a valid educational institution transcript
Currently pursuing a bachelor's degree in construction management, engineering or a related field as a full-time student
Exhibit leadership ability in and out of the classroom
Participate in community service and school activities
Complete a paid internship with Pepper Construction
To be considered for the renewal of annual award installments, the scholarship recipient is required to show continued enrollment and academic good standing (minimum 3.0 GPA). Transcripts and upcoming class schedules must be submitted at the conclusion of each academic period.
Application Process
Individuals interested in being considered for the Pepper Construction Scholarship and Internship must apply through the online application process available at the bottom of this page. The application requires an essay about the steps the applicant has taken to actively explore the construction industry and the major they have chosen. Whether the experience was formal or self-directed, the candidate should consider something that inspired them to move forward on their chosen path. Consider the prompts below for additional inspiration:  
Was there someone who influenced your interest in the construction industry?
What is one thing you've learned about the construction industry that surprised you or caused you to think differently about your future?
What career do you see yourself entering within the construction industry?
Is there any additional information you think the selection committee might benefit from knowing?
Application Materials
Please consider the following before beginning work on the application form below.
Upload transcripts from the applicant's current college or university. Transcripts that have been downloaded, screenshot or printed and scanned directly from the applicant's college or university website are acceptable for the submission of the scholarship application. However, Pepper may request official transcripts directly from the student's university before scholarship funds are released. 
Please complete the application forms and provide all supporting materials in English.
The essay (up to 500 words) must be typed or copied and pasted directly onto the application form below. Please do not attempt to upload the essay as a separate document.
Optional Video — In addition to the required essay, if applicants would like to add their voice to this application, they have the option to submit up to a two-minute video presentation. Please consider the following topic: What is one of your personal passions and how has it influenced the person you've become. How do you think it might continue to influence your values and your work in the construction industry as you start your career?
Please note: The optional video is not expected to have high production values. A simple mobile phone recording is acceptable. Videos must be uploaded in .mov or mp4 file formats. 
Offer for Optional Coaching
If you are not accustomed to video interviews or would like to take advantage of some coaching with a Pepper employee who will not be involved in awarding the scholarships and internships, please contact Alma Rodriguez at ARodriguez@pepperconstruction.com and we will arrange up to 30 minutes of complimentary instruction and support.
Application Form
Please complete all required fields in the form below. Optional fields do not need to be completed. Please only type or copy / paste your essay into the appropriate field below. Do not attempt to upload or attach your essay as a separate document.