Back to top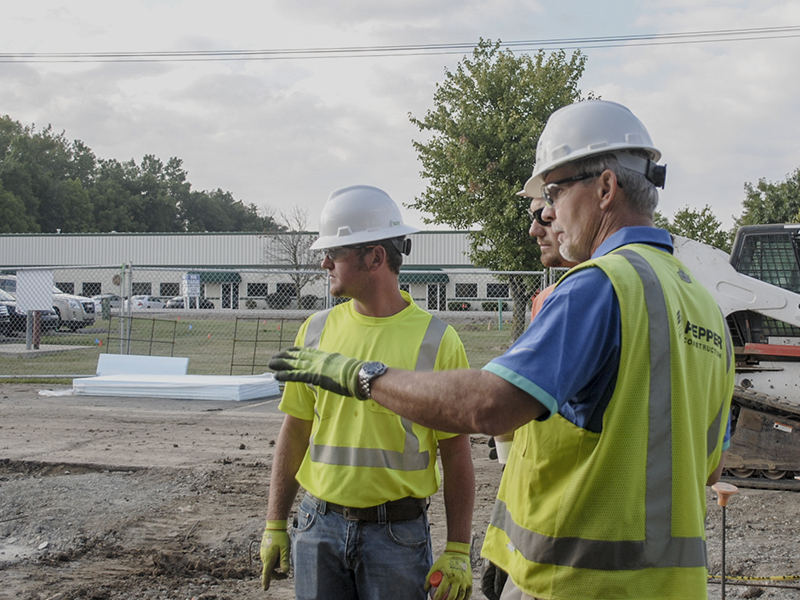 Pepper Indiana leads the industry with ideas and action that are breaking ground. We offer the peace of mind that comes from working with a partner dedicated to the highest standards and customer service. Our insight and drive to achieve excellence result in safer projects, better buildings and stronger relationships. You'll see the impact of our leadership in everything we do - from the way we plan and communicate, to the guidance we offer, to the decisions we make in the field.
As a subsidiary of Pepper Construction Group, Pepper Indiana provides construction management, general contracting, design-build and self-perform services for projects ranging in size from $10,000 to $750 million. With in-house preconstruction, safety, quality, lean, virtual construction, MEP, and self-perform departments, we offer the full-range of services of a national company delivered through a local, hands-on approach.
More Information
History
Pepper Construction established an Indiana office 25 years ago. Our first project was the $100 million main campus redevelopment and expansion for St. Vincent Hospital and Health Care Services in Indianapolis. Since then, we have worked on more than 500 projects totaling over $3 billion in the state of Indiana. Our team has grown to more than 200 employees, and we are ranked among the top 10 largest Indianapolis-area contractors by the IBJ.
Pepper's success is attributed to the dedication of our people and the partnerships we create with clients, design firms and trade partners – to improve the communities we serve. We are fortunate to work with companies and organizations that have a direct impact on the quality of life within Indiana, like Community Health Network, Simon Property Group and Rolls Royce. We don't take lightly the work that we do and what it means to the people who live, work and play in the buildings and spaces we create.
Culture
As a family-owned business, Pepper respects family time and encourages activities that maintain healthy relationships inside and outside of work. Our employees describe our Indiana office culture as friendly-professional. There's a natural camaraderie among our staff, and relationships are based on mutual respect.
Throughout the year, we offer events and programs designed to encourage fun learning, a healthy lifestyle and giving back to our community. Examples include our annual year-end all-employee team-building events and holiday parties, gym reimbursements and involvement in the Corporate Challenge.
Community Engagement
Since establishing an office in Indianapolis, we've made it a priority to immerse ourselves in the community - from serving as a founding member of Rebuilding Together Indianapolis and supporting the United Way of Central Indiana, to our involvement in developing the Indiana Construction Roundtable Diversity Initiative. Over the years, we have invested financially and voluntarily in approximately 100 different community organizations, in an effort to make the Indianapolis area a better place to live and work. These are just a few of the organizations we support today.
Ace Mentor Program
Hear Indiana
Indy Reads
Rebuilding Together
Star Fish Initiative
United Way of central Indiana
Self-perform Services
Pepper Indiana self performs work when in the best interest of the project. Our self-perform group consists of a separate group of estimators, project managers, field superintendents and tradespeople who perform trade-specific construction. Our self-perform tradespeople are hard-working and experienced carpenters, laborers and operating engineers who are committed to the safety and quality standards you expect working with us. We self-perform the following work:
Acoustical ceilings
Architectural millwork
Concrete
Demolition
Doors & hardware
Drywall
Finish carpentry
Wood and metal framing