Advancements in technology are bringing new innovations to the construction site everyday – one of those being photogrammetry for drone mapping. This technology uses aerial imagery to track earthwork progress on a jobsite and can be applied to other use cases as well. Below is an example of how one of our teams in Fairfield, Ohio used it to benefit the project.
As a part of a larger 137-acre master planned Fairfield Commerce park, our team is currently completing two speculative industrial buildings totaling 547,000 square feet for Ambrose Property Group – set to complete this spring. The earthwork package for this project consisted of over 400,000 cubic yards of soil, making this project a perfect opportunity to employ drone mapping software.
How does drone mapping software work?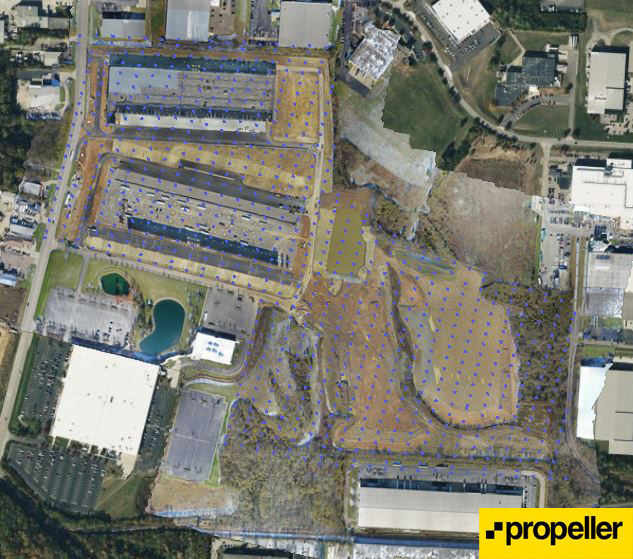 The drone mapping software we used on this project uses aerial imagery to document, measure, analyze, and generate point cloud data and 3D models of the site. While not always required, ground control points (GCPs) can be placed throughout the site to improve accuracy and precision of data location points, which are collected to a known coordinate system. Depending on the software platform, this can be done during processing or in some cases, used concurrently with the drone's internal GPS system. Multiple drone images are then stitched together through advanced software to create a cohesive visual of the site. Once the drone images and civil engineer drawings are uploaded into the software, several topographical views and reports are available within 24 hours of uploading into the database. Below are some examples of the reports that were generated for the Fairfield Commerce Park project.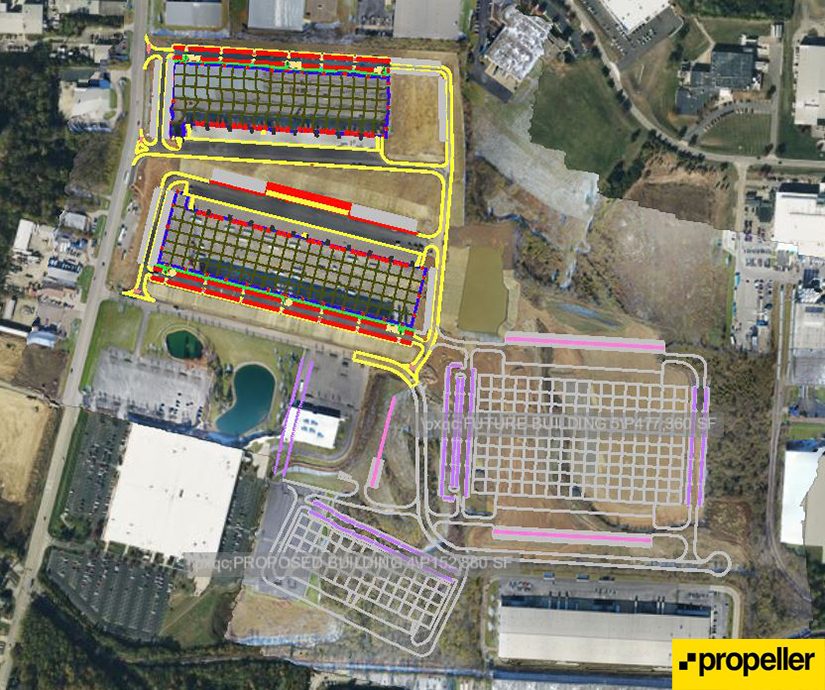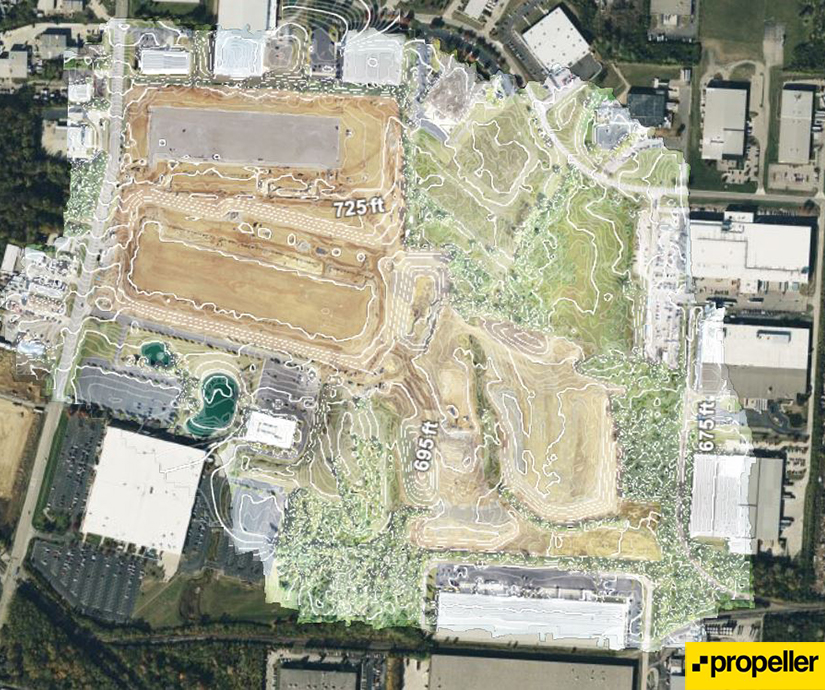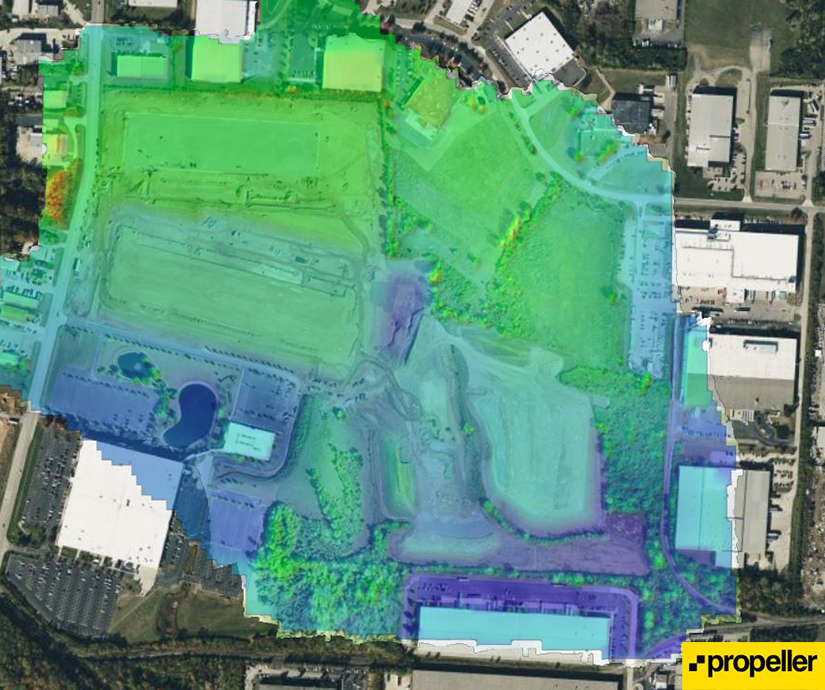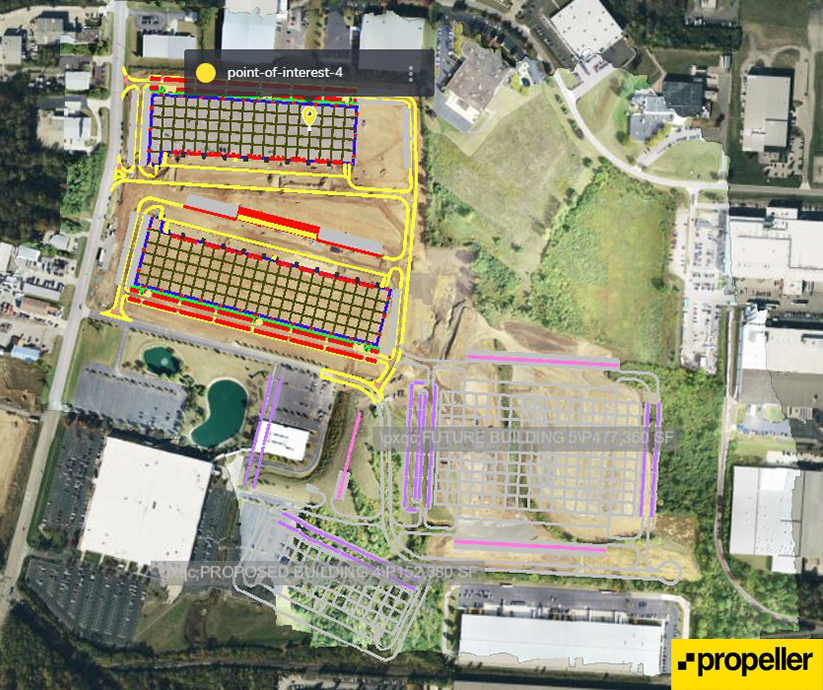 How did drone mapping software help our team?
Traditionally, earthwork progress is tracked by the earthwork contractor, either through calculations based on the number of trucks or through the GPS systems built into their excavation equipment, both leaving room for potential error. Tracking through the GPS system requires the contractor to run that piece of equipment at each specific location being monitored, which can at times be difficult to replicate based on construction. Progress is then reported back to the field superintendent. A survey can also be completed to ensure accuracy of the reported progress.
By using drone mapping software, our team was able to increase accuracy and reliability of the data points, in addition to presenting significant cost and time savings by cutting out several steps from the traditional method. Field leaders can view the automated drone mapping software reports and make adjustments in the field, while also ensuring contractors are adhering to schedules. The drone data also provides a visual snapshot in time that can be easily referenced throughout the project.

This was key for the Fairfield Commerce Park project because of the expansive scope of this project's earthwork package. It was essential that our team prevent any costly re-work to ensure the building pad was complete before winter conditions became a factor. This software gave our team the tool we needed to enhance communication between our field superintendent and earthwork contractor, while also providing an easier method for performance monitoring and for communicating progress updates with the owner.
Navigating the future with new technology
Drone mapping software is just one way Pepper is using technology to facilitate progress. In our blog post Catalyzing construction efficiencies with the tools we have today we discuss more ways technology can increase collaboration - especially when project stakeholders can't physically be onsite. Pepper continues to explore new technologies and methods to better support the visions of our clients - so that together, we can transform our tomorrow.