Pepper's Healthy Materials library is a resource guide containing information on a variety of certified products and materials that help reduce environmental impact and enhance indoor air quality and provide a record of what has worked well on previous projects.
The need developed a few years ago when we were looking for a way to track materials that we had used successfully as part of LEED and other building certification processes. Using in-house resources, we developed a single-source database system to search through materials and products that have undergone third-party-verified emissions testing to prove that they have low VOCs compared to industry standards. "VOC" refers to volatile organic compounds, and low VOCs are those that are not harmful to the environment, humans and other living organisms.
Lower VOCs result in better air quality for occupants of a space. In addition, our library includes material Environmental Product Declarations, or EPDs, that manufacturers use to disclose the environmental impact of products from the extraction of raw materials required to produce them through the manufacturing process. These disclosures include information such as embodied carbon, recycled content and reusability.
How do we use the Healthy Materials Library?
The library is organized based on the 50 divisions created by the Construction Specifications Institute (CSI), the founding institution for establishing and coding specifications related to construction projects. Pepper's High Performance team has used the almost 2,000 materials – from concrete and metal to paint, sealants and hardware – currently included in our library when collaborating with design teams.
The Healthy Materials Library is often most beneficial when Pepper is involved early in the design process. We can highlight specific options that have a proven track record on similar projects, including contributing to LEED and other building certification efforts. EPDs can also be used to contribute to a building's lifecycle assessment.
Establishing Credits for UI Health's Specialty Care Building
One project where we were fortunate to be involved early with the Shive-Hattery architecture team is University of Illinois Health's new Specialty Care Building in Chicago. With a goal of LEED Gold certification, Pepper prepared a spreadsheet of potential products that could contribute to the process, specifically focused on those that are low-VOC emitting, certified and readily available. Options in this category are somewhat limited, which poses an additional challenge when selecting materials such as paint, adhesive and sealants, wall panels, ceilings and flooring.
Working with Shive-Hattery and the Healthy Materials Library not only were we able to find many acceptable material options, we also were able to secure additional credits for both EPDs and material ingredients.
EPDs

To earn a credit for including products with certified EPDs, a project must include at least 20 products. An Exemplary Performance point is available for 40, double the requirement; the Specialty Care Building includes 70.
An additional point can be earned if a manufacturer has plans to lower emissions as part of a product's manufacturing process. Pepper and Shive-Hattery were able to incorporate five of these products, so the Specialty Care Building also received this credit.

Material Ingredients

Similarly, to earn this credit, a project must include at least 20 products with certified material ingredients. The Specialty Care Building includes 42.
An additional point can be earned for including at least five products that have third-party manufacturer disclosures of ingredients in their products. The inventory of ingredients must be at least 0.01% by weight. Among the standards for disclosure are the Living Building Challenge Red List, a list of ingredients including chemicals and elements that are harmful to human health and the environment. Pepper and Shive-Hattery identified five of these products and the project qualified for the credit.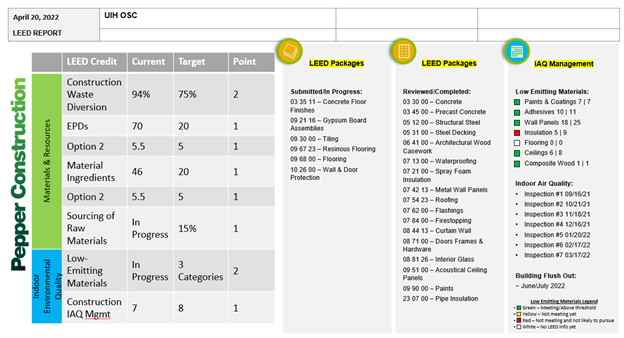 As demonstrated by a portion of the UI Health Specialty Care Building LEED Scorecard above, the Healthy Materials Library played a key role in earning additional points in two critical categories.
Beyond informing a collaborative process with architects, the Healthy Materials Library can also be a resource for trade partners who need a product within a certain division. When every credit counts, these additional points can make a big difference to a project's level of certification – or whether it is certified at all.