Concrete – the most versatile, widely used and carbon-intensive building material worldwide, is a rising star in sustainable development. Driven by market demand and concern for the environment, technologies to reduce the carbon impact of concrete are coming to the market. In a historically conservative sector, the challenge is in finding savvy leaders willing to champion change for the industry and our future. Pepper and Ozinga are partnering to pave a positive way forward with innovative carbon dioxide (CO2) technology.
The International Energy Agency estimates that getting on track to net-zero carbon building by 2050 will require direct building CO2 emissions to decrease by 50 percent by 2030. In its roadmap, the Global Cement and Concrete Association (GCCA) announced recently that 40 of the world's top cement and concrete manufacturers have committed to cut carbon dioxide emissions by a quarter by 2030. Tapping into carbon-capture strategies, Pepper and Ozinga are demonstrating the right mix on the right project can enhance the future of our built environment, and with it our quality of life.
Carbon-capture strategies emerge as viable contenders in the sprint to ensure a sustainable future for cement and concrete – one that also considers the impact on our environment and future generations. Pepper and Ozinga are utilizing the strategies, along with existing methodologies in cement replacement, to make concrete gains.
Making Concrete Gains
Ozinga has been providing leading-edge concrete solutions for more than 90 years, while quality innovative, high-performance construction solutions are sum and substance of Pepper's century-long history. The combined expertise and experience between this premier supplier and top builder of sustainable projects is delivering proven applications of next-generation concrete.
"We take our responsibility to make a transformative difference seriously," says Stan Pepper, CEO of The Pepper Companies, which owns Pepper Construction Group, self-performs concrete work and also serves as a concrete subcontractor, "which is why we elevated carbon drawdown as a priority protocol. Given the urgency, we need to mainstream carbon drawdown benefits by making them financially and logistically accessible. This will help us to accelerate the positive change we need to meet the decarbonization challenge."
Building Differently
Creating a more sustainable built environment may depend more on how, instead of what, we choose to build. Partnering to build differently, Pepper and Ozinga are aligned in showing that strategic changes to how we build make a considerable impact on CO2 emissions.
Ozinga's new product line of concrete fits hand in glove with Pepper's mission to create higher performing structures that are healthier for the planet and people who use them. In its AASHTO/CCRL certified research and development lab, Ozinga has developed CarbonSenseTM, a series of products and solutions specially designed for a variety of specified strengths and tested to reduce carbon emissions and reach net-zero targets. The CarbonSenseTM mix designs incorporate CarbonCureTM technology, which traps CO2 in concrete forever.
The CO2, harvested from the United Ethanol plant in Wisconsin, is injected into concrete as it's being made. Because the CO2 chemically bonds into the concrete, it will never re-enter the atmosphere, even when the concrete is under demolition. This also allows Ozinga to reduce the cement content – the main culprit in emissions – and provide a more sustainable concrete. The added benefit: the process actually increases the compressive strength of the concrete.
In carbon-accounting terms: for every cubic yard of concrete produced with this technology, roughly 25 pounds of CO2 are removed and offset – without compromising quality. The approach is reducing the environmental impact of building materials and enabling clients to reach their own carbon reduction goals. It can also contribute to LEED v4 Materials and Resources credits.
Validating this carbon reduction, Ozinga provides product specific Environmental Product Declarations (EPDs) in accordance with strict international standards certified by the American Society for Testing and Materials (ASTM). As third-party verified documents that quantify the environmental information for the lifecycle of a product, the EPDs allow for comparisons of other products with the same function. By evaluating these EPDs, designers and builders can determine the long-term environmental impact of products, while contributing to additional LEED points.
Using proprietary machine-learning technology in conjunction with these mix designs, Ozinga can predict strengths and performance without numerous iterations of mortar and concrete trials. The result: shorter time to market.
Applying carbon-capture technology in the right project not only advances sustainability, it optimizes performance.
We've intentionally engaged with Ozinga in direct communication at the start of projects to discuss...what will work best based on durability, as well as Greenhouse Gas (GHG) emissions."
"Cement and concrete suppliers typically interact with contractors or sub-contractors when material specifications have already been decided," explains Scott Kennedy, Senior Vice President of Pepper's Self-Performed Labor Group. "We've intentionally engaged with Ozinga in direct communication at the start of projects to discuss the range of concrete products available and select what will work best based on durability, as well as Greenhouse Gas (GHG) emissions."
Cost figures prominently in any project discussion. From the start, Ozinga clearly demonstrated an increase in carbon reduction from the National Ready Mix Concrete Association baseline for each of its specified mix strengths, as well as the effect on set time, shrinkage and price premium.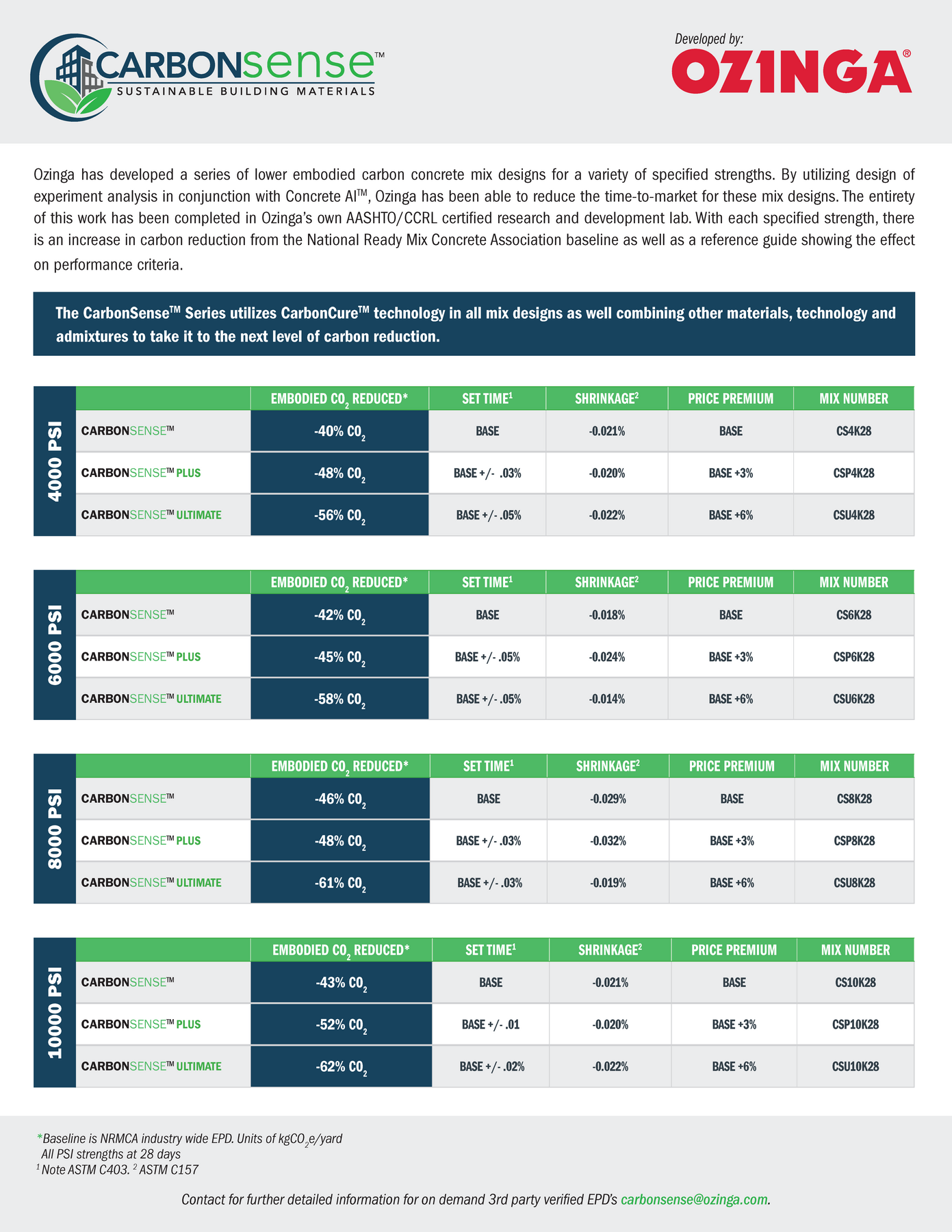 With a focus on realizing stronger results and value, the partnership recognizes that the price premium is measured not in product cost alone, but also in the cost of a product's carbon footprint.
A Concrete Example
Fulton East, a new 12-story development in the heart of Chicago's Fulton District, shows that we can dramatically improve the way we build toward net zero emissions. Located at 215 N. Peoria Street, this boutique office building is the nation's first next-generation office building designed to address health, safety and wellness across eight floors of office space, three levels of parking, as well as ground-floor retail and lobby space.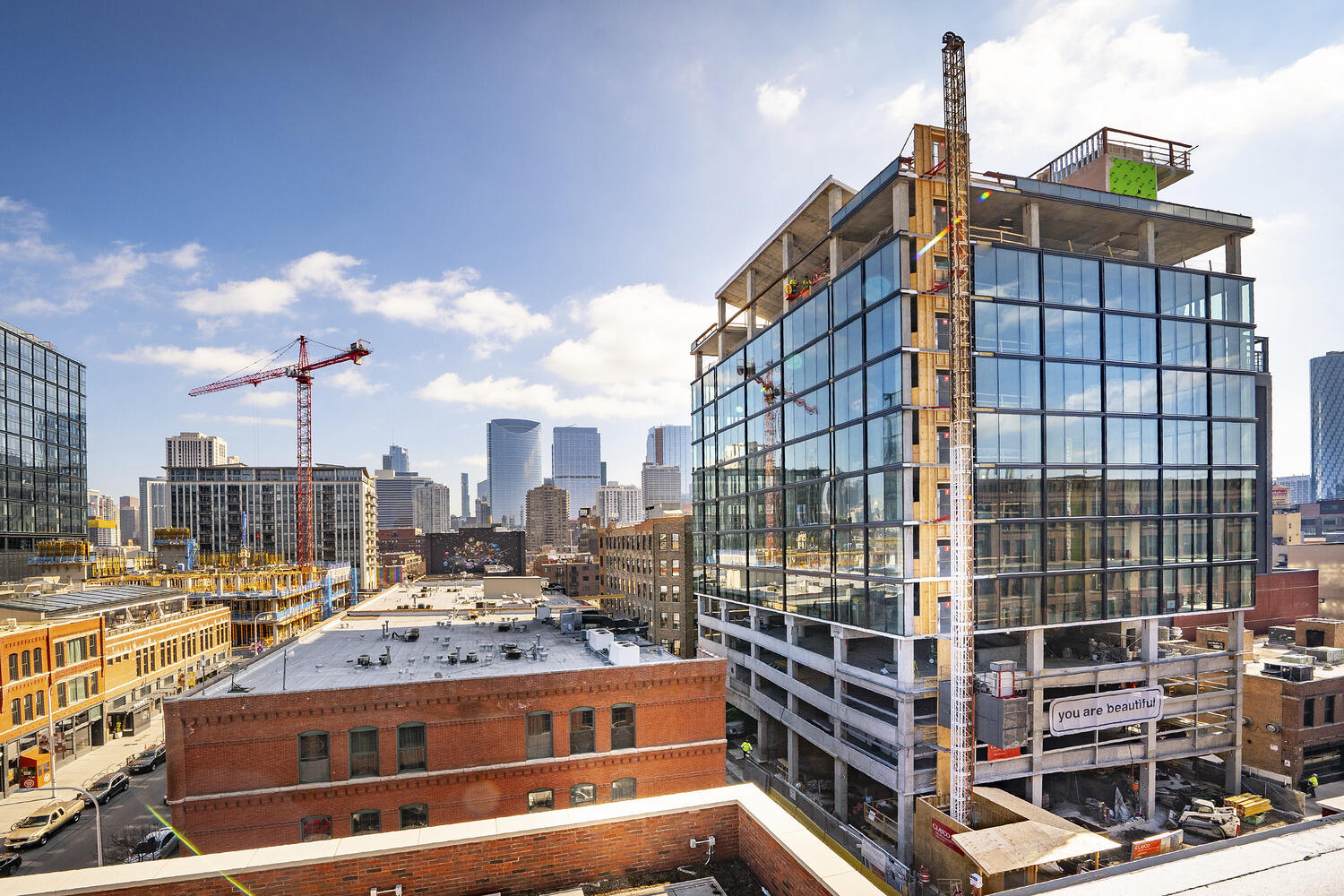 Pepper served as the concrete subcontractor on the 215 N Peoria Street project. Clayco was the general contractor, and the design received a 2021 award from the Chicago chapter of the American Institute of Architects.
When Pepper met with Ozinga to discuss concrete for the project, communication began before the specifications were out. Discussions centered on data-driven, evidence-based decision making toward the common goal of reducing the carbon footprint without compromising performance. Measures included capitalizing on opportunities available in the early stage when changes are easier and less costly. For example, Ozinga conducted test batches to model how mixes performed in different conditions. As a result, specifications were customized to the project conditions and needs with added green benefit. Ozinga CarbonCureTM mixes contributed to the maximum points the project achieved in the Materials and Resources Building Life-Cycle Impact Reduction Option 2: Whole Building Life-Cycle Assessment credit, capturing 23,700 kg of CO2 and generating a 50 percent reduction in CO2 emissions from baseline rates, as measured by the National Ready Mix Concrete Association Great Lakes Midwest Regional Lifecycle Assessment.
Part of the first meeting with Ozinga that introduced CarbonCureTM to the project, Bob Lachman, a superintendent with Pepper's Self Perform Group, admits he was anxious to see if it would compromise the overall quality of the concrete work and jeopardize the project.
"Our concrete crew found that the only difference was that the initial setting time was a little longer than what we typically see. Once it set, we were able to move quickly through the finishing work with no issues," Bob says. "I'm happy to say that it's consistent with the performance we've seen from standard mixes, and I'm proud that our concrete work has become part of our carbon drawdown solutions."
Leading Momentum
The Global Cement and Concrete Association (GCCA) roadmap is the first big push on concrete to achieve the 2050 neutrality target. Pioneering partnerships like Pepper and Ozinga show that innovative carbon-reduction practices can be solid options at commercial scale. While technologies, such as those that attempt to absorb CO2, are yet to be substantially vetted, significant potential is ready to be unlocked as the science of building a carbon-free future continues to evolve.
As the need to accommodate a growing global population looms large, the industry faces pivotal choices in changing the ways it has traditionally operated. Designing concrete intelligently for performance and preservation is one step forward in promising zero-carbon and resiliency strategies.
"As leaders of our industry, we have to connect our vision with courage to embrace opportunities that provide value for the industry and our world. We're building more than structures," says Stan. "We're building important momentum toward a better future for all."