In an effort to continuously improve, Pepper Indiana hosts an employee event each year to share innovative ideas and lessons learned – and to have a great time along the way. Now in its 12th year, the Quality Concept of the Year (QCOTY) has become a staple event highlighting progressive thinking and problem-solving on our jobsites. 
Anyone can submit an idea they put into action on their project to be considered for Quality Concept of the Year. Then we host a fun event with a theme – like this year's "DRAFT DAY," which was modeled after the NFL draft format – where we ate and QCOTY contenders took turns sharing their quality ideas. After narrowing the field to the "top picks," we surveyed our people for their No. 1 "Quality Concept." 
Enthusiasm for the program has grown over the years, and we've seen some of the most participation over the last several events – especially from the field. In fact, this year I was happy to see a field person win for the second year in a row!  (Congrats to Carpenter Foreman James Casteel!) 
No matter how big or seemingly small an idea may be, it could make a great Quality Concept. The important thing is that our people are finding ways to work smarter and better, together. Here are a few of my favorite concepts from this year: 
Our winner!  Mall ceiling panel prefabrication 
We had to construct a series of twelve drywall "clouds" that would hang above an escalator in a mall.  The clouds were curved in two dimensions and would be tough to construct in place. Our carpenter foreman on site, James Casteel, found a better way. He worked with his team to prefabricate the panels, which saved time on site and was done more safely.  
Solar Powered Temp Site Lighting
During construction, our client required their employees enter at a different location. The walk path they needed to travel was not illuminated, as it was not usually a path for entering the building. Rather than use expensive light stands that require refueling and turning on/off at specific times or install permanent power and parking lot light fixtures, we installed two solar-powered blinking stop signs and mounted a few solar-powered lights to the fence posts to help illuminate the walk path.
Embedded Safety Hooks
During construction of a concrete frame structure, our team embedded tie-off points in the concrete columns of the new building as they poured. This provided a safe, easy way for people working on the leading edge to tie off their fall protection harnesses. The safety hooks were installed at all columns that would have a fall hazard adjacent to them during construction.
Putting the AR in ART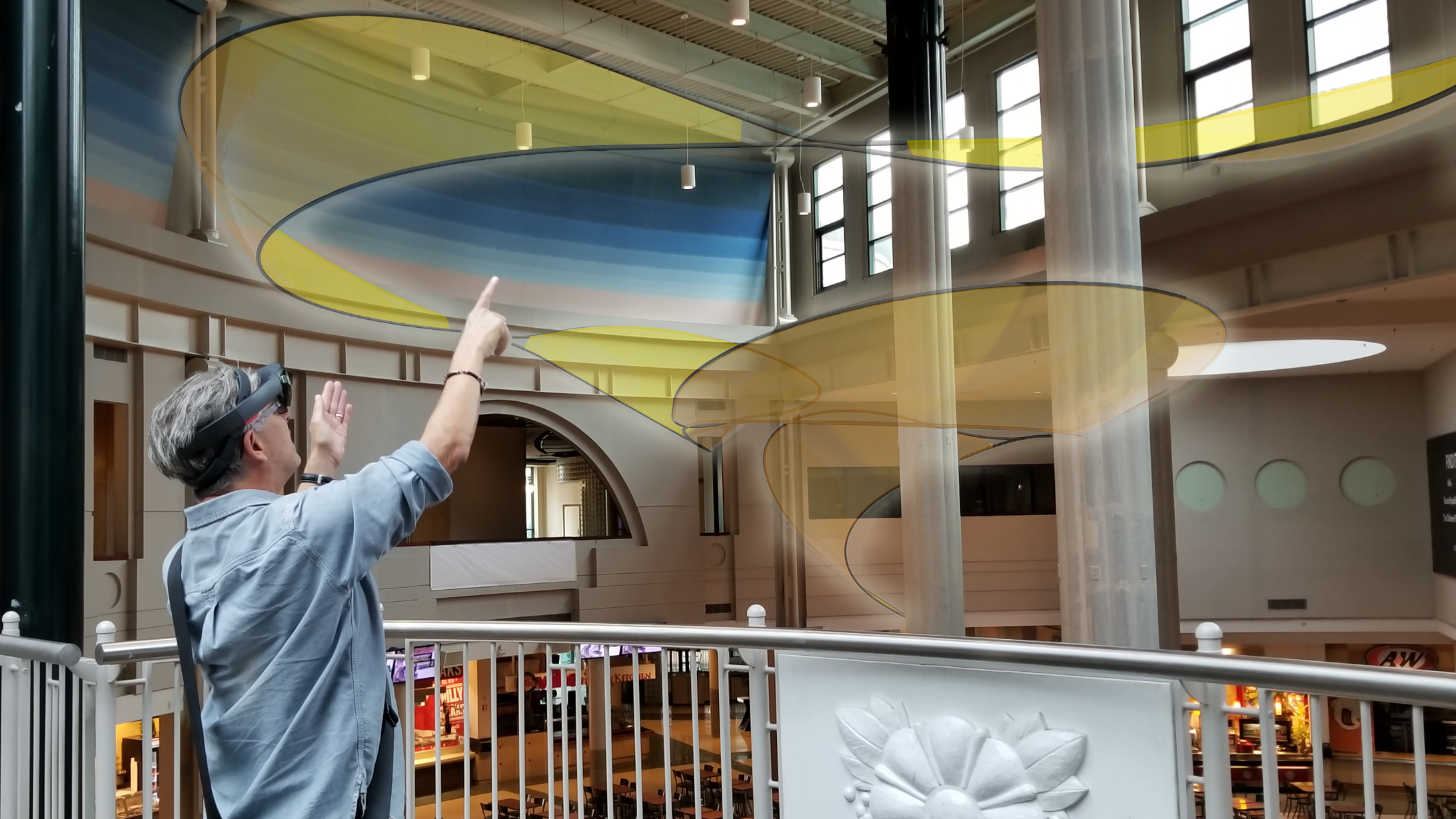 Our client commissioned a local artist to create a custom sculpture to hang above their renovated food court. But our client wanted to visualize the sculpture prior to final approval of the creation. Our project team called our virtual construction department for help.
They laser scanned the food court and then placed the CAD file of the art into the model. This allowed the artist to make adjustments to the 400-foot-long structure without hitting any existing walls or columns. Our team then allowed the owner, artist and architect to visualize the model of the art projected in the space using Augmented Reality (AR) goggles. Our client really appreciated the project team's creative application of the technology to help them see the artwork before approving its creation.  
Shiver Shack
The exterior and interior framing on one project began in early January with a steady stream of below-average temperatures and wind conditions. As you can imagine, the tradespeople needed a warm space to take breaks, and by the time they walked to their vehicles and the cars warmed up, the breaks were over. Batteries for drills and saws also wouldn't hold a charge if left in job boxes in the cold. 
The framing contractor foreman found a better way. He built a temporary insulated shelter and added a small heater. This gave the employees a space to warm up, charge and store batteries, and it's even a place to review drawings and details out of the cold temperatures and wind conditions. The room was utilized for several cold months and earned the nickname "The Shiver Shack" on the jobsite while the building was enclosed.