5 expectations to consider when setting up your Lean, IPD project for success
The results of using Lean Construction principles coupled with an Integrated Project Delivery (IPD) framework are undeniable. I've seen dramatic schedule and cost savings that would seem too good to be true for those who haven't experienced it: several weeks or months shaved off the schedule and 10-20 percent in returned savings and added value. We all want that kind of performance, but first it requires a leap of faith to move out of our comfort zones and away from how we've always done construction.
I've also seen Lean, IPD projects fail. They get off to a slow start, team members draw their lines, retreat to a traditional mindset and miscommunication ensues. Success or failure of any project, and particularly those following a Lean, IPD approach, is established at the very beginning. When team members maintain their traditional ways of thinking, the best ideas, and thus the best results, never even have a chance.
As a contractor, there is a lot we can do on our own to implement Lean principles and facilitate collaboration. We don't need an IPD structure to produce high quality results. But left on our own, we can only do so much. So, what's the difference maker in the projects you hear about? It's you, the owner, and specifically how you set up the project at the beginning.
The upfront differences are often unexpected, and thus, can derail the process or bring it to a halt.  Success on Lean, IPD projects requires an owner and their project team to look at the bigger picture - to step back, exercise patience and stay the course. Many of the benefits are most evident as the project moves through construction, and if team members revert to legacy thinking early in the process, progress is thwarted.
If you're new to Lean or IPD, or if you're interested in improving your results, here are five expectations top adopters of Lean and IPD have when setting up their projects for success:
01. They select their team based on an expectation of collaboration and innovation.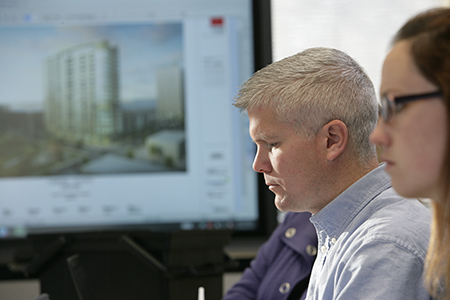 Team selection is the first, crucial step in setting up the project for success. Owners who are motivated to improve outcomes consider how the individual members will work together as much as the experience and expertise they bring to the table. While not every team member needs to have experience with Lean or IPD methodologies, they should have a collaborative mindset – open to a different approach and willing to listen to others' ideas.
Lean, IPD projects are organized as a fluid team structure, which includes the owner, contractor, architect, engineer and the major trades. The owner is key to preparing the team for intense planning and early engagement. Since Lean projects use a collaborative, open book process, the entire team needs to be on board early to assist with planning. They understand that the cost influences the design and work toward the common goal of designing and building to budget.
The most effective technique I've seen for choosing the team is a process focused on evaluating team members' willingness to collaborate and innovate in a fully transparent setting with partners of like mind.  One weak team member can sabotage the entire process. 
02. They expect to be highly engaged.
Probably one of the most unexpected aspects of a Lean, IPD project is the rigor of the process for the owner. It's always a good idea to establish rules of engagement upfront, and to set goals, expectations and key performance indicators (KPIs) to measure how the team is performing along the way.
Additionally, the owner shares in the responsibility for communication, collaboration and innovation. They come prepared to meetings with information and decisions to keep the project moving forward.
03. They are not surprised when they spend more time and money in preconstruction and planning.
This is where Lean and IPD are often misunderstood, and as a result, there is a tendency to fall back to a traditional model or for the project to stall. The owner sees the team spending more time on the design and planning the project - taking longer to get to construction. Preconstruction costs are slightly higher than traditional projects.
Based on past projects, they grow concerned about how much they are investing in the front end, knowing that the bulk of the cost is yet to come. At this point, it may be perceived as more expensive. However, this process is identifying and removing waste early, generating ideas through full team collaboration and innovation, and it will end in significantly higher value for the owner during construction – lower cost, faster delivery and better quality.
Directors of facilities and construction departments are more aware of the benefits and requirements of Lean and IPD and are starting to request these collaborative approaches. As they advocate for the implementation of Lean and IPD, there still exists an internal learning curve within the rest of their organizations about what to expect.
When other stakeholders see additional time and cost being spent in the planning phase, particularly from a distance, they experience a disconnect between what was sold and what is being delivered. Facilities and construction managers are learning to anticipate this gap and communicate expectations ahead of time.
05. They believe in sharing the results.
Under a Lean, IPD model, a fully Integrated Form of Agreement (where risks and incentives are shared) has shown to be most effective. This aligns at-risk partners with the commercial terms of the contract and gives them a stake in decisions that are made. While it is proven to be highly effective, few owners choose to take this step. It's important to note that any project can be successful without an integrated form of contract, but the most collaborative projects tend to utilize some form of a multi-party agreement.   
How your contractor can help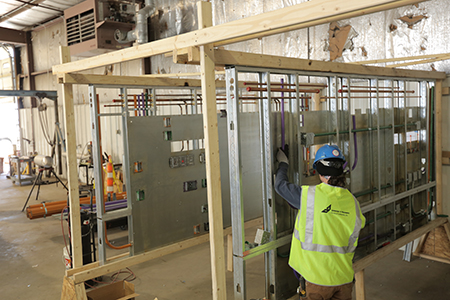 Despite documented industry successes and research from the Lean Construction Institute showing significant improvement in performance , Lean, IPD still is not widely used in the Midwest. And while we've seen aspects of Lean Construction become more commonly adopted, like pull planning and prefabrication, implementation across our industry remains inconsistent.
For owners who want to try a new approach, what can we, as contractors, do to help? Explaining upfront what you can expect will help your team members anticipate the differences before they experience them. Sharing positive examples, measuring results and engaging partners who are collaborative and supportive will also set you up for success.
Over our 90-year history, Pepper Construction has focused on producing the very best results for our customers. Every project we execute is concentrated on understanding where there are opportunities to grow, learn and innovate. We strongly believe the principles of Lean Construction bring greater value to our customers so we seek to apply them at every level, regardless of project requirements.
We have experience in delivering projects under all contracting methods with great success, and we continue to see strong results through the application of Lean and IPD models.  Team members who are focused on the same end goal, who use lean tools and processes to eliminate waste and increase value and who work together in a fully transparent environment set up the project to end in success for all stakeholders. Please reach out to us at Pepper for more information on how we can help support you on your Lean journey.