Pepper Construction is using its offices to explore how to improve indoor air quality in the spaces we build
Among the many lessons learned from the COVID-19 pandemic is the fact that indoor air quality matters. Like drinking water, outdoor air pollution and the food we eat, the quality of indoor air is now being closely watched and considered for future guidance and regulation.
With the understanding that better air quality improves the health and well-being of our office-based team members and an increase in outside air has also been recommended to prevent the spread of COVID and other viruses, Pepper has invested in mechanical system upgrades in our Chicago and Barrington, Illinois offices to improve air quality. We have also taken advantage of this opportunity to collect data that helps us demonstrate to clients how they too can determine the current health of their spaces, improve how much outside air is brought in and use filtering to result in less airborne pollutants in their offices.  
Understandably, the level of interest in this topic continues to increase. Many of the recent proposal requests that Pepper has received for new projects inquire about strategies to improve indoor air quality. One of the ways in which we are addressing these concerns is by suggesting use of the RESET Air standard, which is focused solely on indoor air quality and can complement other high-performance strategies. The RESET Standard is a sensor-based and performance-driven data standard and certification program for the built environment that creates a structure for data quality, continuous monitoring and benchmarking.
Using the Pepper Chicago and Barrington offices as our "living lab," we worked with DLR Group, a global design, architecture, engineering and planning firm that is an advocate for sustainable design. DLR Group gave us access to their Sonrai IAQ, an indoor air monitoring and analytics platform and monitor that was developed to meet the RESET Air certification standard. As an early adopter and proponent of the RESET Air Standard in North America, they have also been using the Sonrai IAQ platform to monitor their own offices globally. The RESET Standard was started in Shanghai out of concern for the high concentrations of air pollution.
Air monitoring in multiple locations throughout Pepper's Chicago and Barrington offices revealed that – after making system upgrades – we now have consistently healthy air. According to the data collected, we consistently scored around 10 -15 on a scale of 1-300, with 1 being the best score for air quality. A score is determined based on monitoring several factors, including carbon dioxide, VOC content and PM 2.5. PM 2.5 is an air pollutant of fine particles that can travel through the air we breath and enter the lungs, potentially leading to respiratory and cardiovascular diseases.  
Having this information available provides an opportunity for building owners to be transparent about the air quality within their space. To continuously share this information with building occupants or visitors, information from the Sonrai IAQ is intended to stream live on a dashboard and can also be accessed through an app. As companies bring employees back into common workspaces, having this information readily available at all times can be reassuring. In addition, with long-term continuous monitoring, this information helps to better operate and maintain built environments by optimizing air quality, improving occupant comfort and reducing energy use. 
The charts below demonstrate the different data points that are measured and analyzed to help determine a building's overall health. They show examples of data collected in Pepper's offices.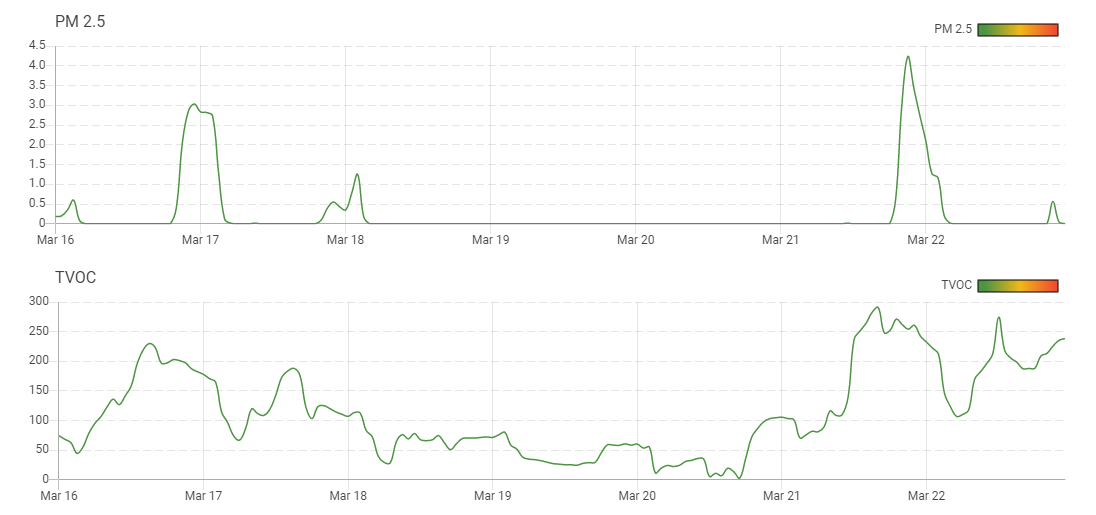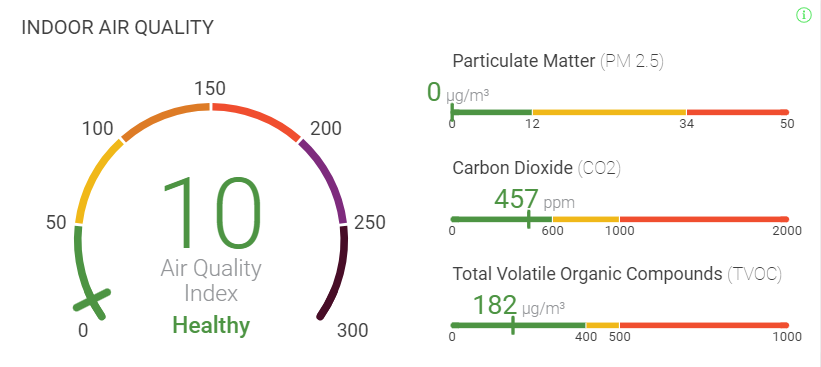 As part of our effort to better understand and evaluate how indoor air quality can be measured and the impact that different systems and upgrade can have within a space, Pepper has developed educational white papers that explore these topics in more detail. To learn more, visit here.