Back to top
In 2013, Harbor Group International, LLC began a major renovation to re-position One South Wacker Drive. OSW was one of the earlier modern high-rises developed on Wacker Drive; however, the building's appearance had become dated causing its position to slip relative to more recently developed Wacker Drive properties. To re-establish OSW among the other properties on Wacker Drive, significant improvements were made to the 23,000-square-foot mezzanine, a 6,450-square-foot atrium and plaza, and a 12,800-square-foot lobby, elevators and common areas, as well as the addition of a state-of-the-art amenity level. The facilities remained open during all phases of construction.
Mezzanine included demolition of existing finishes and construction of a new fitness center, lounge and concierge desk, with new A/V systems throughout.
Atrium and plaza included removal of existing curtain wall, and the installation of new entry doors, new landscaping features and a new monument sign.
Lobby included new terrazzo flooring throughout, replacement of existing lighting, ceiling upgrades, replacement of column enclosures and installation of a new reception desk, interior planters. 
Infrastructure for security access control and camera systems.
State-of-the-art amenity floor includes a professionally managed tenant lounge with various conference rooms, cafeteria style seating, and a pool table with a game area.
100+ person conference center, seating areas in the open corridors and a 24-hour fitness center, which are key selling points for the leasing team, Avison & Young.
The end result is a re-imagined plaza, main entry and lobby, which improved the street presence and functionality of the building's lobby. One of the key phases of this project was the lobby renovation. The existing lobby was an extremely underutilized space, and an area where people traveled through, but never lingered. The space itself was dimly lit and lacked seating. The design, materials and color scheme also needed a refresh. Harbor Group's goal was to brighten up the lobby and make it a higher functioning area that can be used by tenants and visitors as they travel through the space. The finished lobby & mezzanine space are certified LEED Gold EB.
---
Team
Owner
Harbor Group International, LLC
Architect
Wright Heerema Architects
Project Location
Chicago, Illinois
Maintaining access & full functionality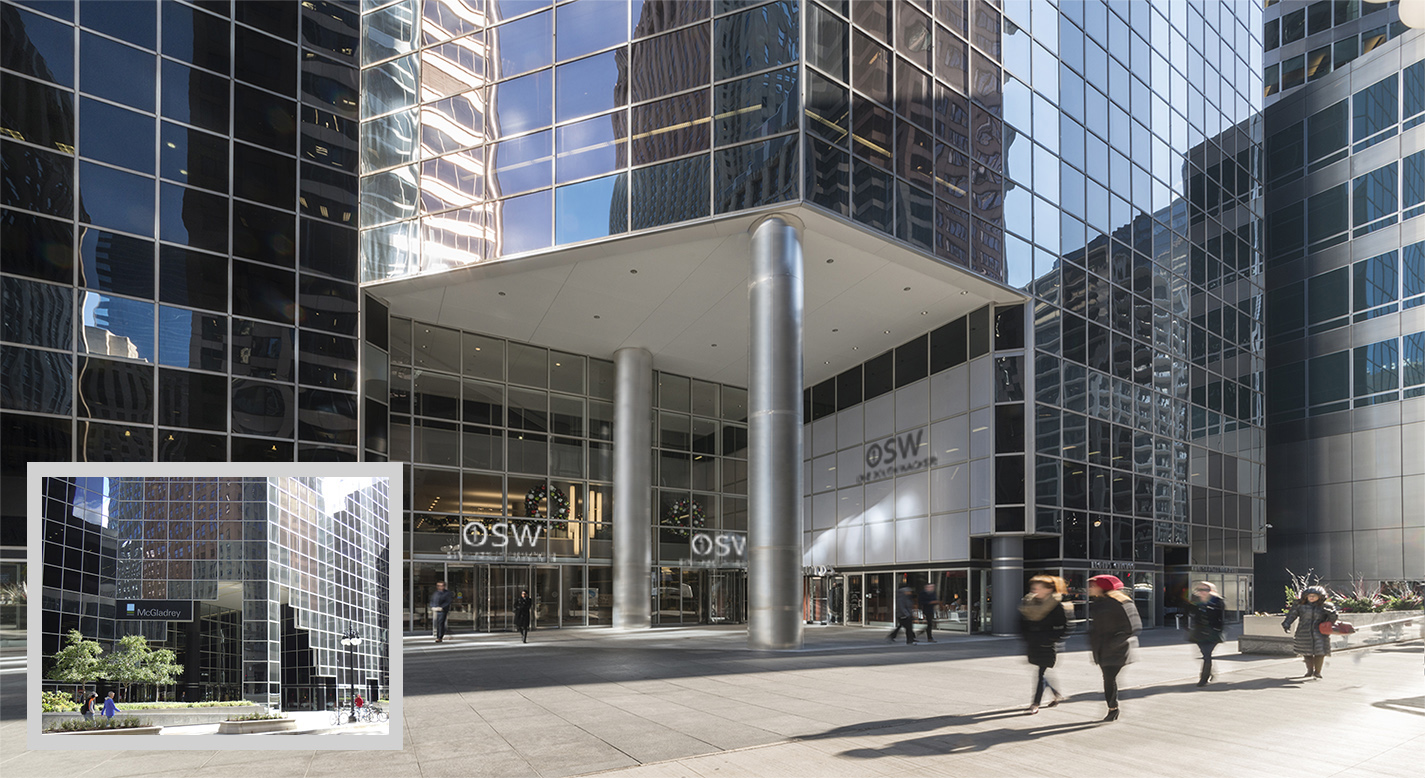 One South Wacker remained open and fully functional throughout the duration of the project. Aside from the building's tenants, the public often uses the lobby as a cut-through, particularly during Chicago's cold winters. To maintain accessibility and the safety of the general public, each portion of the project was carefully phased. The team worked together to create a unique construction schedule to minimize disturbances to tenants during work hours.