Back to top
Pepper redeveloped the landmark Northwest Tower, the Hollander Fireproof Warehouse Building and two parcels of the Hollander Building into The Robey Chicago Hotel and The Robey Hall.
Built in 1929, the art deco, 203-foot tall Northwest Tower was the first high-rise constructed outside Chicago's downtown area. It was originally designed as an office building, and the transformed Robey now features 69 guest rooms, while The Robey Hall, built in 1905 as a furniture storage warehouse, offers a mix of 20 private and shared rooms. Both offer restaurant and gathering spaces throughout.
The exterior work included restoration of the facade with rooftop enclosures and a rooftop pool on The Robey Hall.
Pepper self-performed demolition, drywall and carpentry work on this project.
---
Team
Owner
Convexity Properties
Owner's Representative
Mark Development Advisors, Inc.
Architect of Record
Antunovich Associates
Design Architect
Nicolas Schuybroek Architects and Marc Merckx Interiors
Design Architect
Delordinaire
Project Location
Chicago, Illinois
Checking out solutions so guests can check in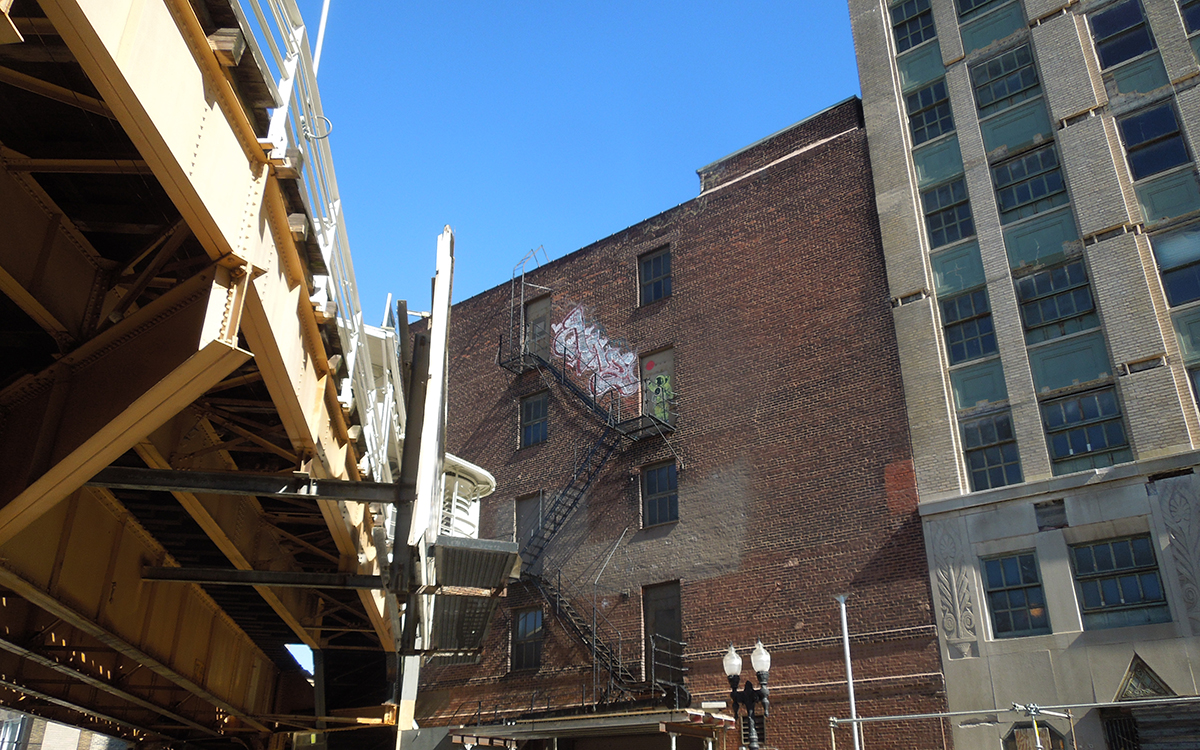 Located five feet from the building is the Chicago Transit Authority's Blue Line elevated train, which is convenient for hotel guests but presented challenges for the renovation. The swing stage that was used for the façade restoration extends out from the building by up to seven feet, so trades working on the façade would be suspended directly above the L.
Since the train runs every five minutes, it would have to be shut down to complete the façade work adjacent to it. Pepper coordinated with the CTA and leveraged a previously scheduled shut down for track maintenance to complete the work.
Salvaging a work of art

The exterior storefront is a showpiece, made of cast iron with oversize glass, decorative mullions, and detailed designs. It was falling apart and had no longevity of life in it. Additionally, building codes had changed, and the original materials and design were not installed to withstand the elements or adjust for expansion. Faced with a complete re-fabrication, Pepper brought our trade partner in to work with the engineering team. The team re-used some of the original spandrel panels and profiles and then cast new aluminum pieces to replicate the original design. The new storefront is now weather tight and properly designed for expansion.
Today, The Robey and The Robey Hall provide 89 hotel rooms, countless social and gathering spaces, a rooftop swimming pool and additional retail space. But what makes it so special is the extensive historical preservation that creates a vintage vibe and provides a unique vantage point of the Chicago skyline. As visitors and residents of Chicago enjoy the new venue, we think about the careful effort it took to bring it back to life. It's our work of art.