Back to top
From Shakespearean dramas to contemporary Broadway musicals, the world's stages have always featured characters who evolve and grow with new purpose. Behind the scenes, the evolution of the stage itself with its supporting spaces can be just as dramatic.
The new home of the Chicago Children's Theatre represents the lives of those who inhabit the space. And for the team who oversaw the transformation, it was more than another project. It was an investment in the future - a commitment that led them to go beyond the original goal of seeking LEED Silver to achieving LEED Gold – and at no additional cost.
Setting the stage
Since its inaugural production of A Year with Frog and Toad in 2006, the Chicago Children's Theatre has established a national reputation for talent. With professional-level productions, Chicago Children's Theatre showcases the best Chicago has to offer, while maintaining an equally-strong commitment to low-income families and children with special needs. Through the Red Kite Project, it provides an immersive theatre experience for children in the autism spectrum, and most recently Chicago Children's Theatre expanded programming to the hearing and visually impaired, as well as children with Down's syndrome.
The vision of Chicago Children's Theatre is to be Chicago's premier professional theatre company dedicated to creating awe-inspiring theatrical productions and programs for our communities through inclusion and accessibility inspiring young people and families to lead lives of adventure, courage, and curiosity.
Despite a program that has continued to grow year over year, Chicago Children's Theatre bounced around from venue to venue, lacking a place to call home. That is, until they found an abandoned building whose previous life served a very different purpose.

Originally constructed in 1948, the spaces that now foster creativity and hope once served as the holding cells, judge's chambers and a shooting range for the District 12 police. After the Near West District police relocated to a new facility in 2012, the building became a filming site for the television series Chicago Fire – giving a nod to the past while unknowingly foreshadowing what was to come.
Located in the West Loop, "The Station," as it is called today, is perfectly situated in an area accessible to all of Chicago, both current students and the under-served.
A new Third Act for a forgotten character
The building had been shuttered for a couple of years, and a lot of work had to be done to transition it for its new purpose. While the structure was solid, inside the finishes were dated and paint was peeling off the walls. The adaptive reuse took creativity and ingenuity to salvage some materials while completely changing the function and feel of the space.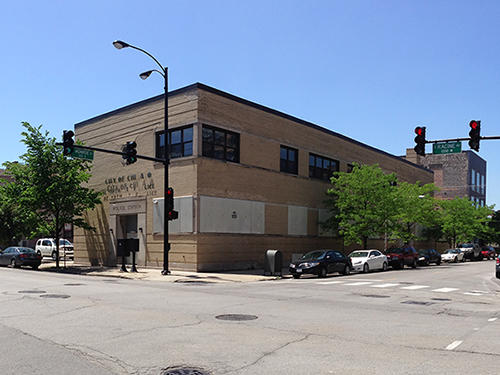 Before housing the Chicago Children's Theatre, this building served as a police station.
Putting the spotlight on LEED certification
Once Chicago Children's Theatre found a permanent home, they made a commitment to build out their space for the long-term. Wanting a building that would last and that would be efficient and healthy for its occupants and the surrounding community, they established the goal of achieving LEED Silver certification.
Pepper was brought on board when the design was done, and immediately Vice President of High Performance and Sustainability Susan Heinking saw opportunities to take them from silver to gold, with no added cost.
Together, the team identified opportunities with recycled content, regional materials, increasing Construction Waste Management, all-LED low-mercury lamping and Thermal Comfort Verification, among others.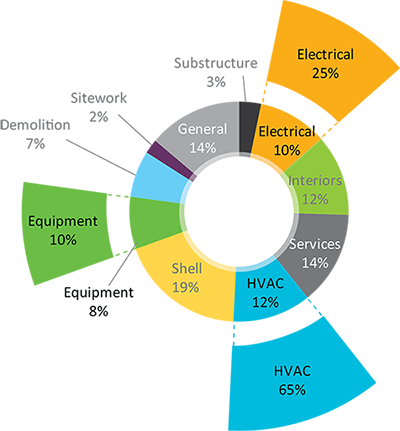 An analysis was done to show the initial construction investment next to ongoing operating costs. 
We worked closely as a team – Chicago Children's Theatre, Mark Development Advisors, SUMAC, Wheeler Kearns Architects and Pepper Construction – meeting on a weekly basis. Everyone was on board and committed to making it happen.
One of the most unique credits was earned from making the building itself an educational opportunity. A script and signage were created for Chicago Children's Theatre to provide guided tours and share the sustainable features of the building. Below is an example of the top floor.
Click on the green dots to learn about the sustainable features.
Even after the final bow, the show goes on
While the renovated building continues to shine with its LEED Gold status and the many ways in which it supports the Chicago Children's Theatre's vision, the true stars will always be the generations of children who pass through its doors. Exposure to the arts, supported by ongoing education and training, helps to build skills that can be used in any career. Providing activities that foster collaboration and creativity, encourage expression and movement and build confidence in a young person's ability to be seen, heard and perhaps even acknowledged with applause, have a positive ripple effect throughout the community.
Within the safe harbor of its new home, Chicago Children's Theatre offers this and so much more – all with the joy of inclusion. As Frank Maugeri, Chicago Children's Theatre's community programs artistic director says:
"Police stations are often places that contain the human spirit, and now we've transformed that into a place that unleashes the human spirit."