Back to top
From concept to reality
Net Zero Trailers can now be customized and purchased through our partner, Craftsmen Industries, Inc. To request information, click here. 
Since we rolled out our Net Zero trailer at GreenBuild in 2018, we've received inquiries from the media wanting to know the motivation behind it and from peers wanting tours and information to change their own fleet. When we decided to build our Net Zero office, we weren't thinking globally. We just wanted to improve ourselves. In fact, the idea for the trailer started with a conversation about a more efficient power strip.
"We were inspired when Pepper came to us with their Net Zero concept," Mark Steele, Co-Owner and CEO of Craftsmen said. "The marriage of Pepper's industry knowledge and Craftsmen's experience in the creation of one-of-a-kind mobile solutions brings the Net Zero Trailer from concept to reality. To make a positive impact on the physical and mental wellbeing of thousands of people, and exponentially reduce environmental hazards throughout the world is a huge step in the right direction. The potential to build several of these sustainable trailers each year could lead to permanent changes within the construction and manufacturing industries."
The impetus
Construction trailers are typically built with cheap materials, no insulation and rigid surfaces. They're considered temporary. We move them from one job to the next, and we hold onto them for 30 years. So their lifespan can be as long as the buildings we construct.
A few years ago we held Green Advantage training at a jobsite in Louisville, Kentucky. It was one of those outrageously cold winter days. The meeting was held inside the jobsite trailer, and though indoors, our team wore their coats, hats and gloves. Vice President of High Performance and Sustainable Construction Susan Heinking took notice.
"It was so cold, people were having a hard time concentrating. If it was affecting their ability to learn that day, imagine how that environment impacted their ability to do their daily jobs - not to mention their health."

Susan Heinking, Vice President, High Performance and Sustainable Construction
Later that year, our high performance team was researching simple solutions to make the jobsite office more operationally efficient. They came across a new energy-efficient power strip. Then, they started questioning what we were really trying to achieve. A power strip would impact electricity use, but shouldn't we be looking at the environment as a whole?
Rather than upgrade a few features, what would it take to provide the optimum environment – where the trailer produces as much energy as it consumes and provides better thermal comfort?
That's when the conversation turned to asking: "What if?" And the solution went from a power strip >> to multiple features >> to building a Net Zero trailer.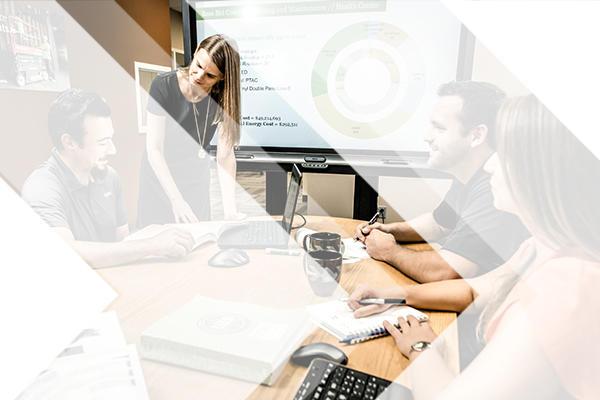 If we were going to proceed with this big idea, we had to do it the right way. This wasn't just a prototype. It needed to be practical for our jobsites. That meant it needed to incorporate the right technology to make our people efficient and to be cost competitive with our current fleet.
The design process
To plan our Net Zero trailer, we turned to the expertise of our Integrated Construction Services (ICS) team. Together, the team would collaborate on a design that maximized the high-performance and sustainable systems and products, construction techniques and technology, while considering the costs and quality of the end product.
We also tapped the knowledge of our trade partners to provide suggestions regarding materials and methods that would improve performance and keep costs down.
Finding the right formula
The first step in creating the trailer was to determine the energy load that needed to be offset. The trailer should support 12 people, including their computers, cell phones and other necessary office equipment, such as large monitors. Lights, hot water (tankless water heater), a refrigerator and a microwave were also factored into the equation.
The result: conservatively, we would need to generate 34.71 kwh per day.
Once we had that baseline, we could determine how many photovoltaic panels would be required. Based on a "worst day" scenario, we would get a maximum of 4.5 hours of sunlight a day in the winter.
We knew the numbers, but we weren't finding the right mix of solutions to make the math work. After multiple adjustments, we were about to give up on our goal of Net Zero. 
Then, we hit on the right combination:
27 SunPower® E-Series Commercial Solar Panels x 327 watts each = 37.7 kwh per day.
That's enough to generate
108.7

percent of our power daily, making the trailer

Net Positive

.  

 
Features that make a difference
The photovoltaic panels and selected lighting system were critical to the trailer's success.
We knew that our energy supply is limited and we would need to manage our supply proactively with daily restrictions. For example, using the Eaton Lighting & Controls WaveLinx system, we are able to shut the power off to certain outlets, such as the microwave, and limit the amount of energy drain when we know that we're going to need it elsewhere. All can be controlled right from an app on our phone.
The same system and phone app also control the low-consumption lighting. Our strategic placement of smaller LED lighting fixtures (2x2) in areas with more daylight and larger fixtures (2x4) in larger, darker work areas is enhanced by occupancy and daylight sensors. 
In addition, the lights can be reconfigured in the future without rewiring. While these features are commonly used in regular buildings, they have never been considered for use in "temporary" trailers. 
An opportunity to test technology's limits
It was important to us that the Net Zero trailer be constructed in a sustainable way, and we were committed to a paperless process. We typically create 3D models to both estimate and build our projects. In doing so, installers in the field reference digital plans on centrally-placed screens and handheld tablets instead of paper plans.
Microsoft's HoloLens mixed reality headset is taking paperless to the next level by allowing us to transpose the design over the real environment. So far, we've used it to visualize, problem-solve and confirm installations.
"The HoloLens has been used for installation in a test environment, and we wanted to try using it on a real project. The small project size of the Net Zero trailer and safety of building inside a warehouse allowed us to push the limits of this new technology on a portion of the construction."

Jennifer Suerth, Vice President of Technical Services
Technology-based installation
After building our framing model for the trailer with BIM, we loaded it in the HoloLens. Our tradespeople virtually laid out the frames and piping on the trailer base, essentially eliminating the need for field measuring.
The HoloLens also gave us "x-ray vision." The HoloLens helped identify where wires and studs were placed, as well as other critical elements hidden behind the walls, floor and ceiling after they were closed. If modifications are needed in the future, the HoloLens will help us know exactly where to look, cut and correct, saving both time and money.  
Watch how we used the HoloLens.
Watch a time lapse of the Net Zero trailer construction.
Bringing it all together
Nine months after our initial conversation about the power strip, GreenBuild contacted us about displaying the trailer at their conference, and we were ready. We spent the next three weeks planning, followed by seven weeks building it. Our self perform team constructed it in our own warehouse, which provided a safer and cleaner environment and prevented potential weather impacts.
The final results
The Net Zero Jobsite Trailer has been recognized with the multiple awards for its use of technology and impact on the environment. The diagram below breaks down the features and stats of our new jobsite environment.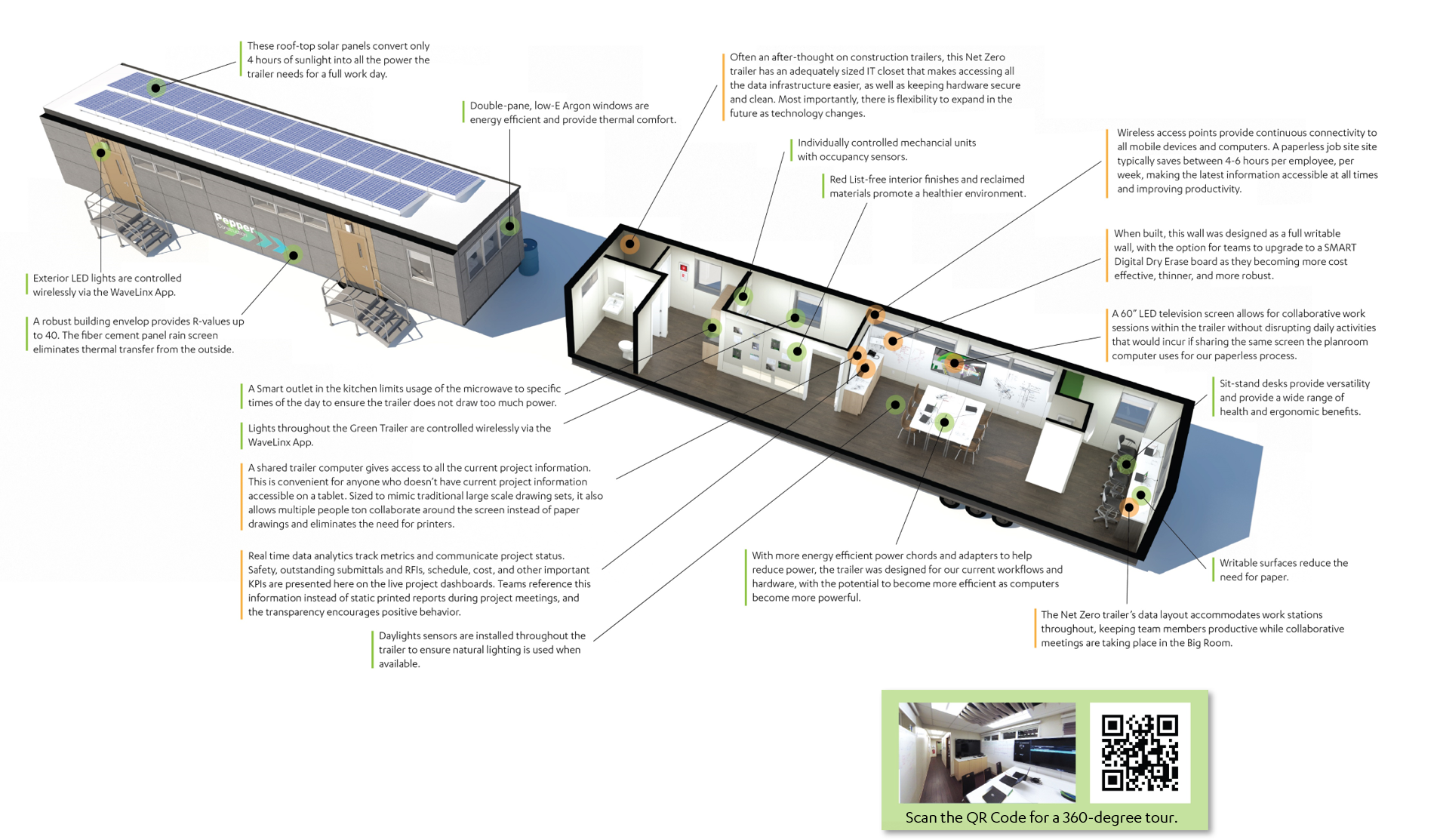 Credits
Pepper's Net Zero Trailer has been recognized nationally with the following awards:
2020 CoreNet Global H. Bruce Russell Global Innovators Award
2020 CoreNet Global National Sustainable Leadership Award
2020 Illinois Green Alliance Limelight - Emerald Award for Green Building Innovation 
2020 SXSW Place by Design Finalist
2020 AGC, Autodesk Innovation Awards Finalist
2019 Construtech Vision Award
2019 CoreNet Global Chicago Chapter, Real Awards, Sustainable Leadership Award