Pepper Indiana has provided construction management, general contracting and design-build services to Indiana for 30 years. After more than 800 projects, our team has grown to 200+ employees, and we are ranked among the top 10 largest Indianapolis-area contractors by the IBJ. Our success is attributed to the dedication of our people and the partnerships we create with clients, design firms and trade partners – to improve the communities we serve. We are fortunate to work with companies and organizations that have a direct impact on the quality of life within Indiana, like BWI on multiple K-12 projects. 
Established in 2005, BWI Contractors  is one of Indianapolis' fastest-growing MBE firms. Focused on the education, healthcare and multi-family sectors, they have built a reputation for providing professional, customer-centric project management through the entire life-cycle of the project. In addition to design-build, general contracting and construction management services, they also self-perform electrical installation. Pepper and BWI have a lot in common, from the clients we share and the service we provide, to our commitment to quality and the environment, and to our passion for building a stronger, more diverse community. Explore BWI's website.
We are excited about the opportunity your project presents - to reach diverse learners and to improve diversity within our construction community. Our diversity efforts will be led in partnership with MBE General Contractor BWI. Our team brings synergy from other successful projects, and we are eager to grow our collaboration with Matchbook Learning.
As we pursue our mission to improve quality of life through the built world, we feel a great responsibility to foster diversity, equity and inclusion throughout our organization and our industry. Our approach to maximize diversity participation goals is a people-first plan to push traditional boundaries. We don't want to simply meet the project's goals – we intend to exceed them, positively impacting people's lives and the trajectory of our communities in the process. Learn more about Pepper's DEI commitment.
Through our team's partnership, we have averaged 30% XBE participation across all our projects for Indianapolis Public Schools!
Education and Community Center Projects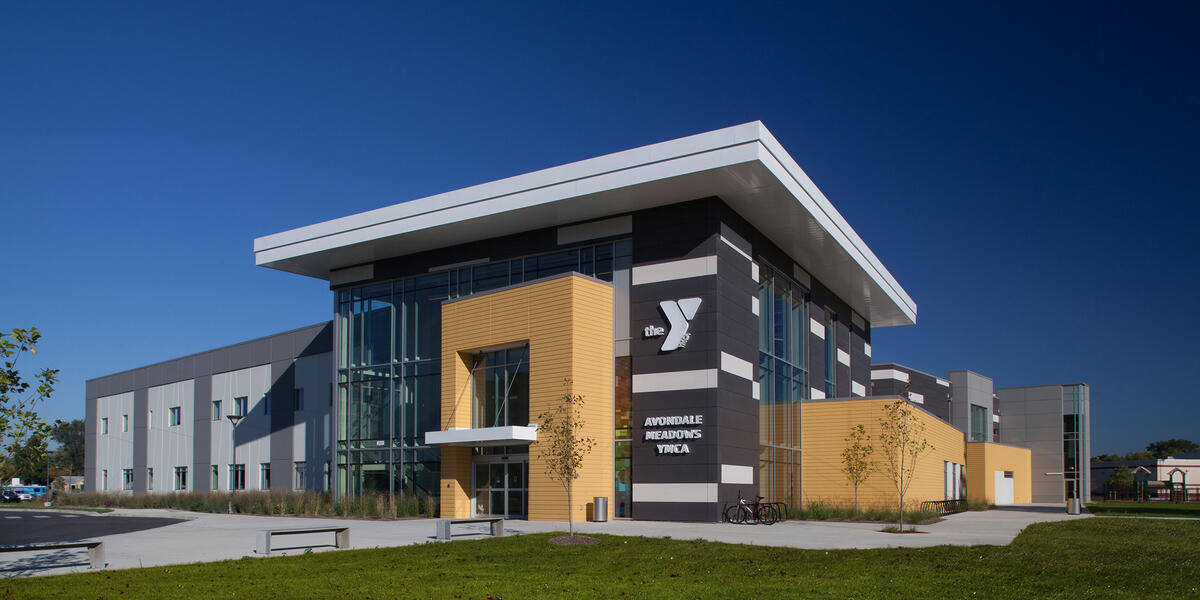 Avondale Meadows Health & Wellness Center
The Avondale Meadows neighborhood is designated a Medically Underserved Area (MUA). The Health & Wellness center was created as part of a collaboration between the Meadows Community Foundation, the YMCA of Greater Indianapolis and HealthNet with the goal of making health care and fitness more accessible to the neighborhood's residents. Built on an old, abandoned parking lot, it not only gives the land a new purpose but it also provides a renewed foundation to the community.
The 70,000-square-foot YMCA, health clinic and community center features a wellness and exercise area, gymnasium, multi-purpose room, locker rooms, and child watch and nursery areas.
It is surrounded by ball fields, community gardens and walking/biking trails.
The center offers personal physicians and social and recreational programming for under-served neighborhood residents and youth, and promotes Paths to Quality childcare.
The project incorporated environmentally sustainable features, such as Heat Island Effect for roofing, water efficient landscaping, Thermal Comfort Verification and Exemplary Performance in Construction Waste Management, to achieve LEED Silver certification.  
Project team worked to incorporate local community and diversity involvement into the project. 
---
Team
Owners
Meadows Community Foundation, YMCA of Greater Indianapolis, HealthNet
Developer
Strategic Capital Partners
Architect
A2SO4 Architecture
Joint Venture Partner
SMS Associates
Project Location
Indianapolis, Indiana
Awards & Certifications
Monumental Award - Neighborhood Revitalization
LEED Silver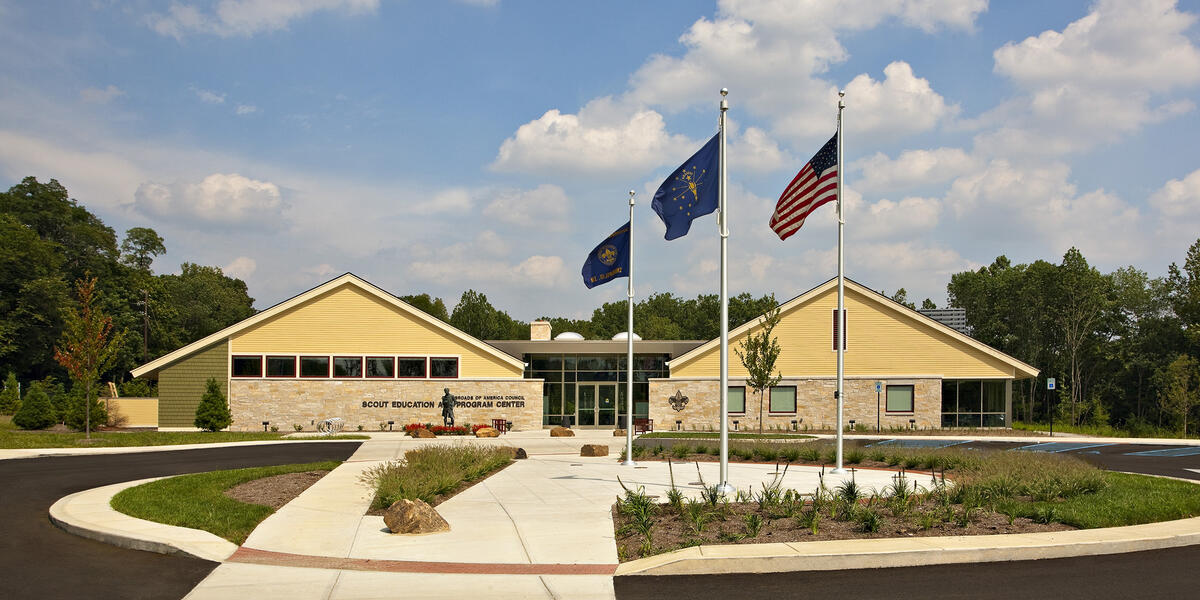 Boy Scouts of America Program Education Center
Since its inception in 1910, the Boy Scouts of America has been serving communities across the country by providing youth development programs. The facility now serves the central Indiana Scouting community, which includes nearly 11,000 volunteers and more than 34,500 Scouts and their families.
The Scout Education and Program Center is the operational headquarters for the Crossroads of America Council. The building includes the program facility, scout executive offices, a scout retail store, large gathering rooms and indoor and outdoor training areas. The land required extensive site work, including working around existing wetlands, selectively clearing a heavily-wooded lot and installing an acre retention pond.
Sustainable project features include native landscaping, waterless urinals, motion sensing faucets and flush valves, natural lighting, occupancy sensor lights, eco-friendly insulation, passive solar heating and daylight windows. 
---
Team
Owner
Crossroads of America Council
Architect
Browning Day Mullins Dierdorf Architects
Project Location
Indianapolis, Indiana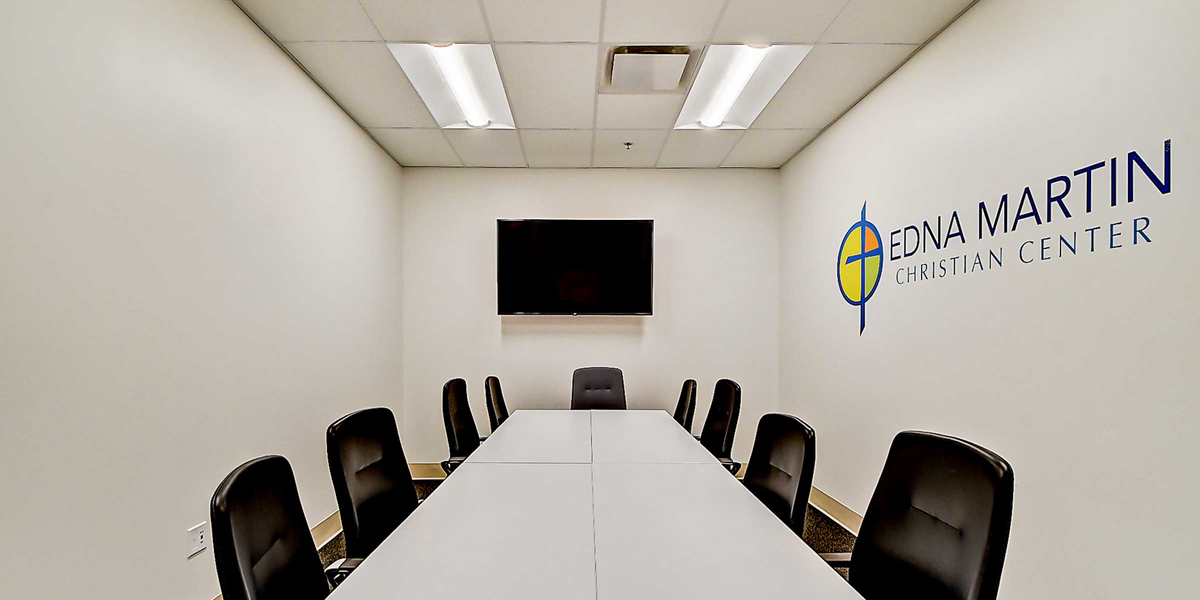 Edna Martin Christian Center Additions and Renovations
A staple in the Martindale-Brightwood neighborhood in Indianapolis, the Edna Martin Christian Center is a resource for food, learning and community activities. The center will remain operational throughout the additions and renovations, which include a new entry walkway and doors, gathering spaces, an early learning space, a new greenhouse and sitework.  
Team
Owner
Edna Martin Christian Center
Architect
Halstead Architects
Project Location
Indianapolis, Indiana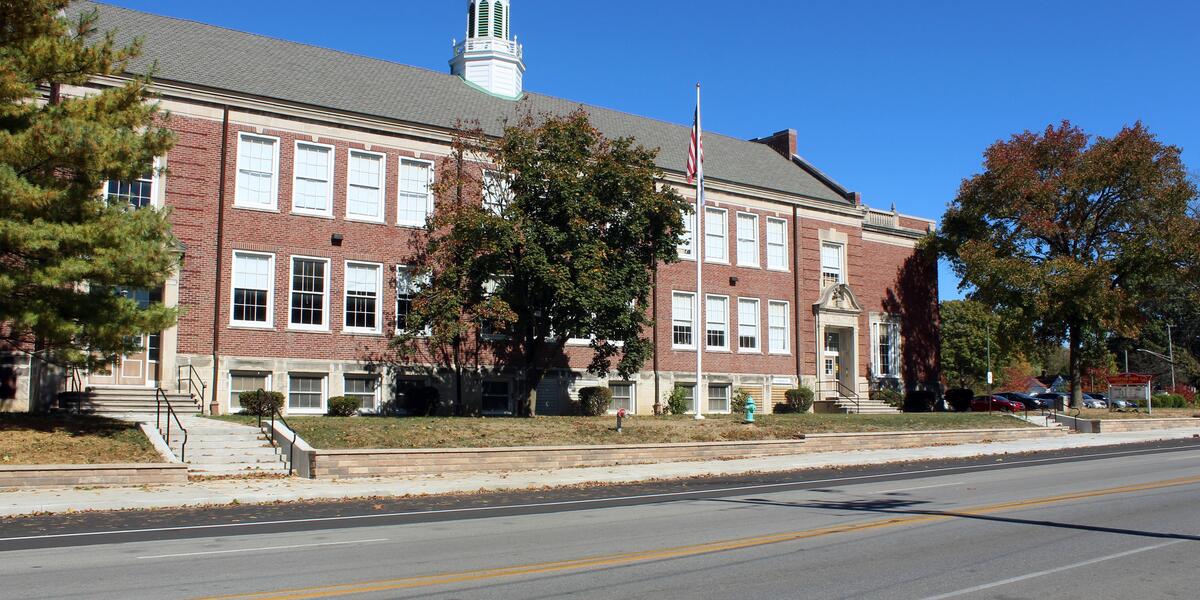 Indianapolis Public Schools Safety and Modernization Efforts
Indianapolis Public Schools chose Pepper to complete safety and modernization renovations at 60 schools in the Indianapolis area over a four-year period. The scope of work included the hardening of exteriors with shatterproof glass, concrete filled bollards and fencing, along with upgrades to exterior LED lighting. Select schools also received upgrades to fire suppression systems and fire alarms, and one school received an updated bus drive for pickups and drop offs. 
Team
Owner
Indianapolis Public Schools
Minority Partner
BWI, LLC
Project Location
Indianapolis, Indiana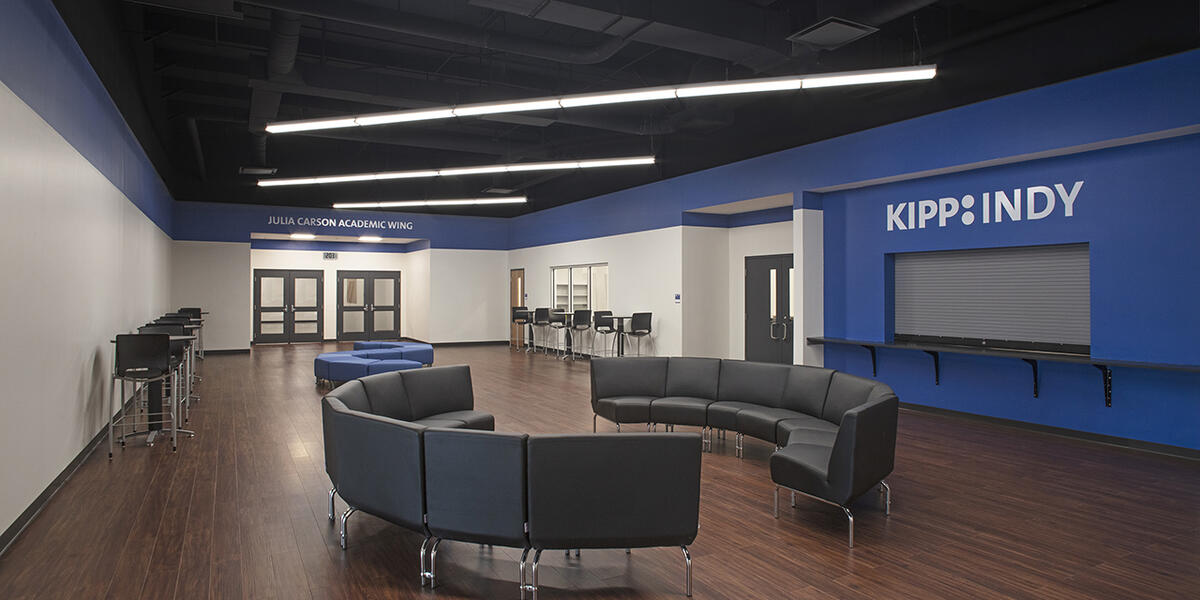 KIPP Indy Legacy High
The construction of KIPP Indy Legacy High introduced the next step in expansion for KIPP Indy schools, while also bringing a much-needed high school to Indianapolis' Martindale-Brightwood neighborhood. The new 60,000-square-foot, design-build school is located on six acres and includes modern classrooms, a gymnasium, weight room and outdoor athletic fields. 
Team
Owner
KIPP Indy Public Schools
Architect
Halstead Architects
Project Location
Indianapolis, Indiana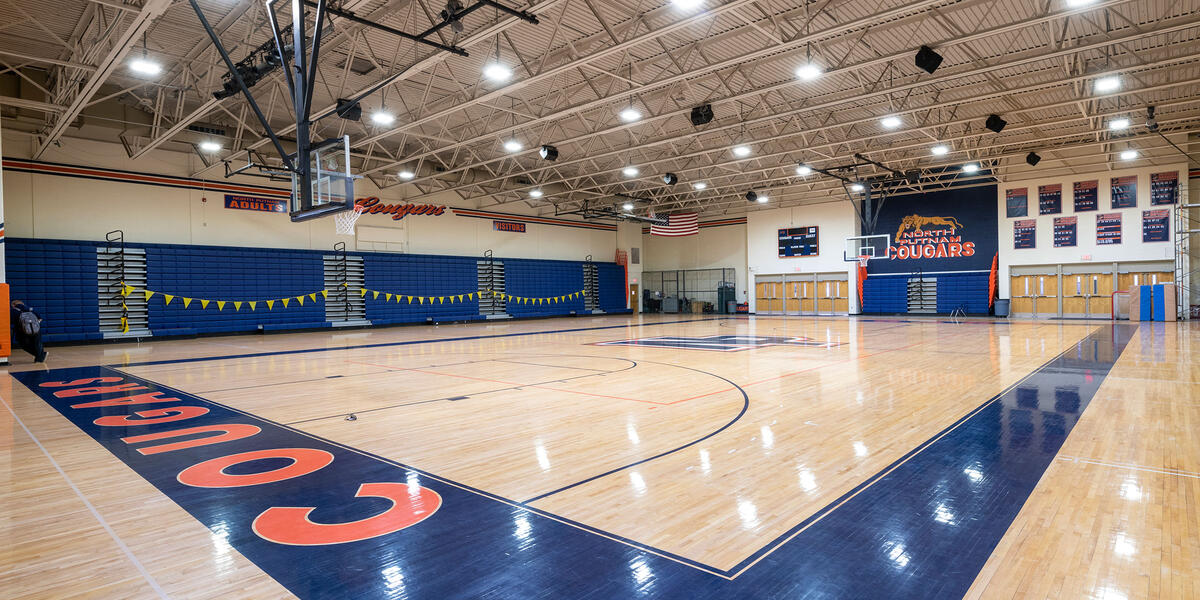 North Putnam Community Schools Elementary, Middle and High School Renovations
Pepper extensively phased renovations to Roachdale and Bainbridge Elementary Schools and North Putnam Middle and High Schools. Work varies across the schools and consists of demolition followed by finish upgrades of ceilings, paint and flooring, security improvements, locker replacements, new bollards, roof repairs or replacement, mechanical system replacement, new concession, locker room and press box buildings by athletic fields and renovation of administrative, classroom, cafeteria, kitchen, locker room,  library and resource center areas. 
Team
Owner
North Putnam Community Schools
Architect
Odle McGuire & Shook Corporation
Project Location
Bainbridge, Indiana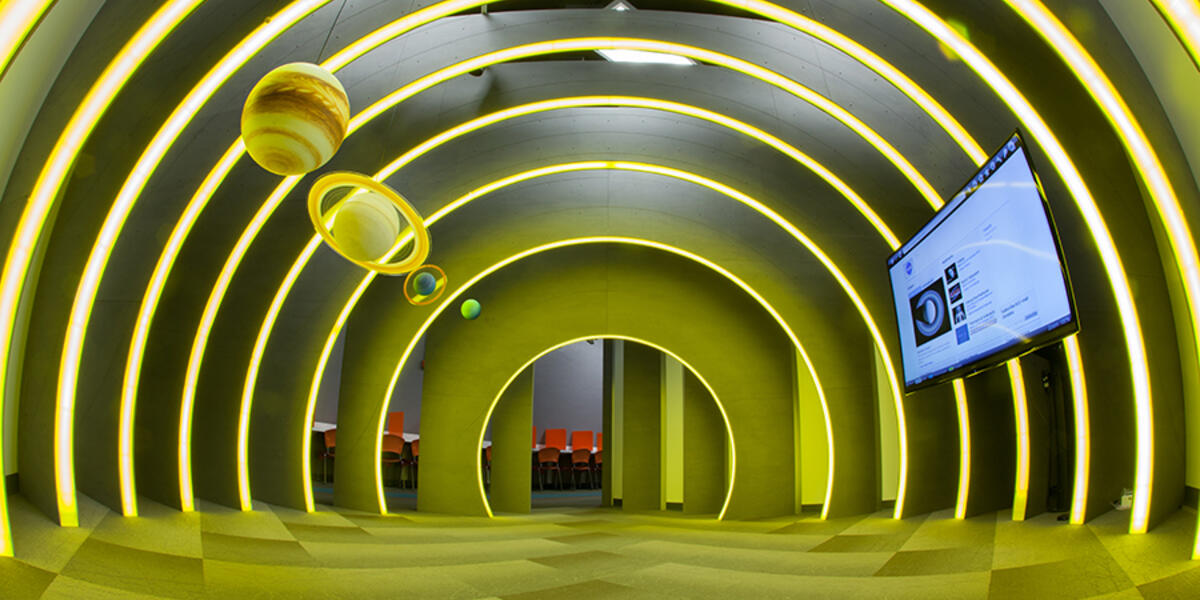 Paramount School of Excellence Time and Space Discovery Center
The Paramount School of Excellence is an inner-city K-8 charter school in Indianapolis that prepares students for real-world problem solving. The school's new Time and Space Discovery Center brings space to life with a scaled replica of the solar system and a planetarium representing innovations in time and space. This design-build space includes teaching and research space, digital projection, surround sound, high-definition LED monitors with Apple Air Play interactivity, live NASA HDTV and a life-sized astronaut display, which allow students to experience a museum-like atmosphere as classes enjoy lessons designed for interacting with the physical space. 
Team
Owner
Paramount School of Excellence
Project Location
Indianapolis, Indiana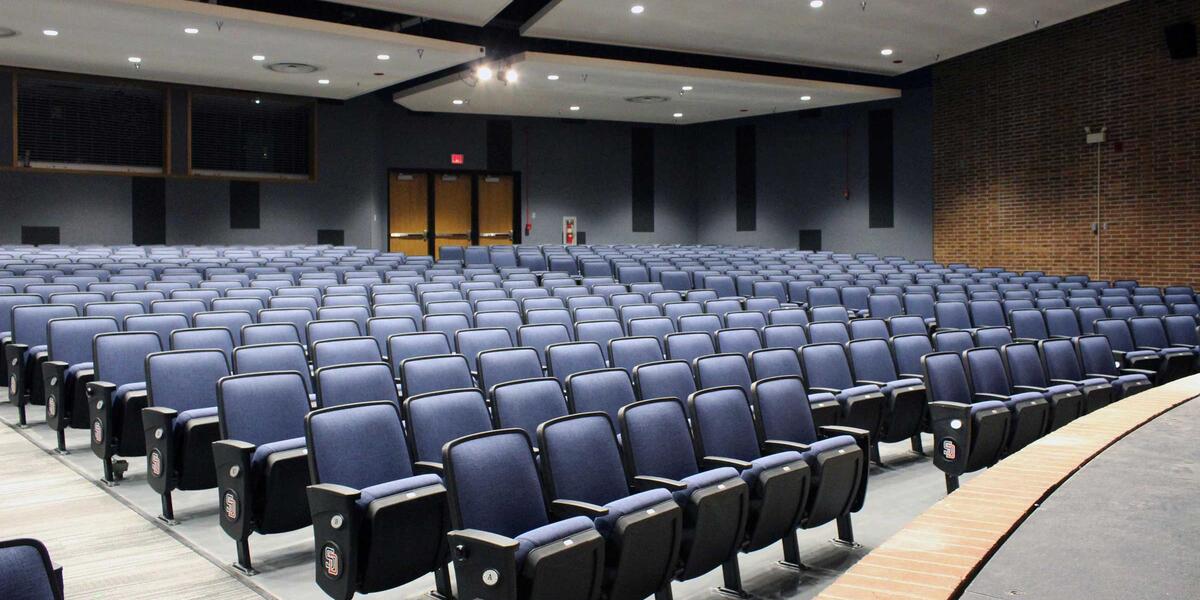 South Dearborn High School Addition and Renovation
Pepper completed a 20,000-square-foot renovation to the existing music and auditorium areas and a 1,000-square-foot choir room addition for South Dearborn Community High School. Athletic upgrades included work on the natatorium, tennis court and track, in addition to site improvements featuring a new access road. 
Team
Owner
South Dearborn Community School Corporation
Project Location
Aurora, Indiana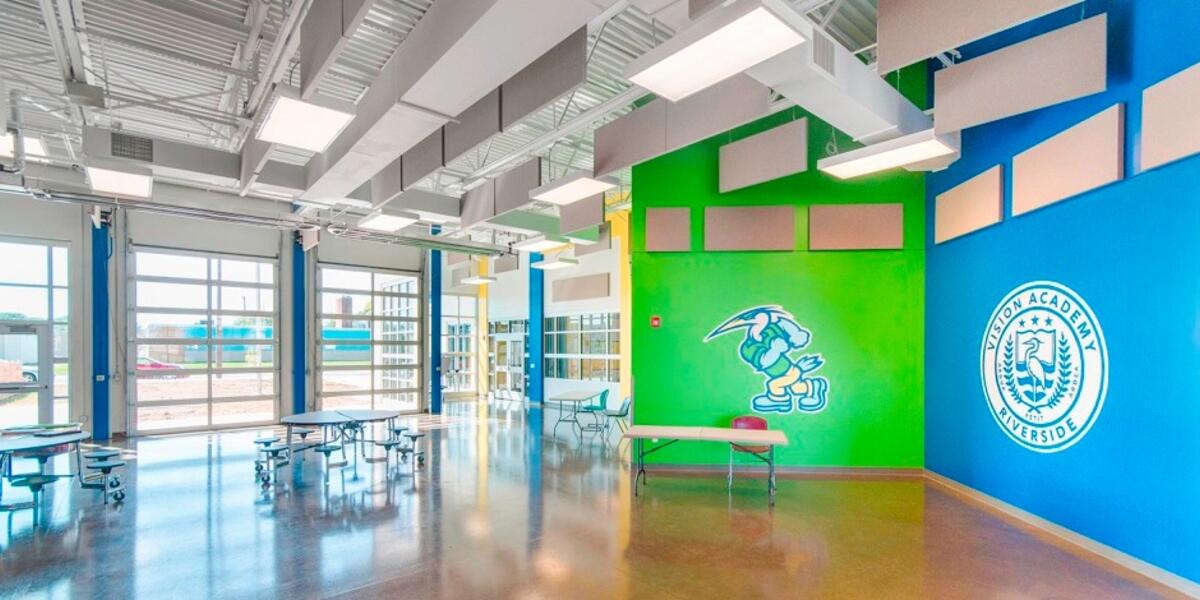 Vision Academy at Riverside
Located at 18th Street and Riverside Drive, Vision Academy is the closest project to the Pepper Indiana office ever built. The 50,000-square-foot, two-story facility is a tuition-free K-6 public charter school. It is open to all students in Indianapolis and will provide college-preparatory education for grades K-8 by the year 2020. It features classrooms, cafeteria, gymnasium and two outdoor playgrounds. The school opened in August 2014 and is sponsored by the Mayor's office. It builds on the successful educational program of its affiliate, the Challenge Foundation Academy.
Team
Owner
CA Indianapolis 1751 ERD LLC
Architect
Schmidt Associates, Inc.
Project Location
Indianapolis, Indiana
Back to Top
integrated construction services [ICS]
Unique, In-house Capabilities and Services
Back to Top
Our approach begins by establishing an environment that encourages transparency, open communication and collaboration, where everyone on the team is each other's advocate. We do this by involving the right people and listening to each others' ideas. When it comes to your project, our services are delivered under one plan, one model and one integrated team. Why? Over the years, we have learned that success depends not only on the services we offer but also in how they are delivered.
Our Integrated Construction Services are designed to augment the budgeting and planning process by thinking about all aspects of the project. With in-house experts in preconstruction, high performance/sustainability, MEPs, quality, safety and virtual design and construction, our team is able to problem-solve and develop creative solutions, to help you make informed decisions that go beyond first costs to lifecycle and total-cost-of-ownership and deliver high performing spaces that meets your needs.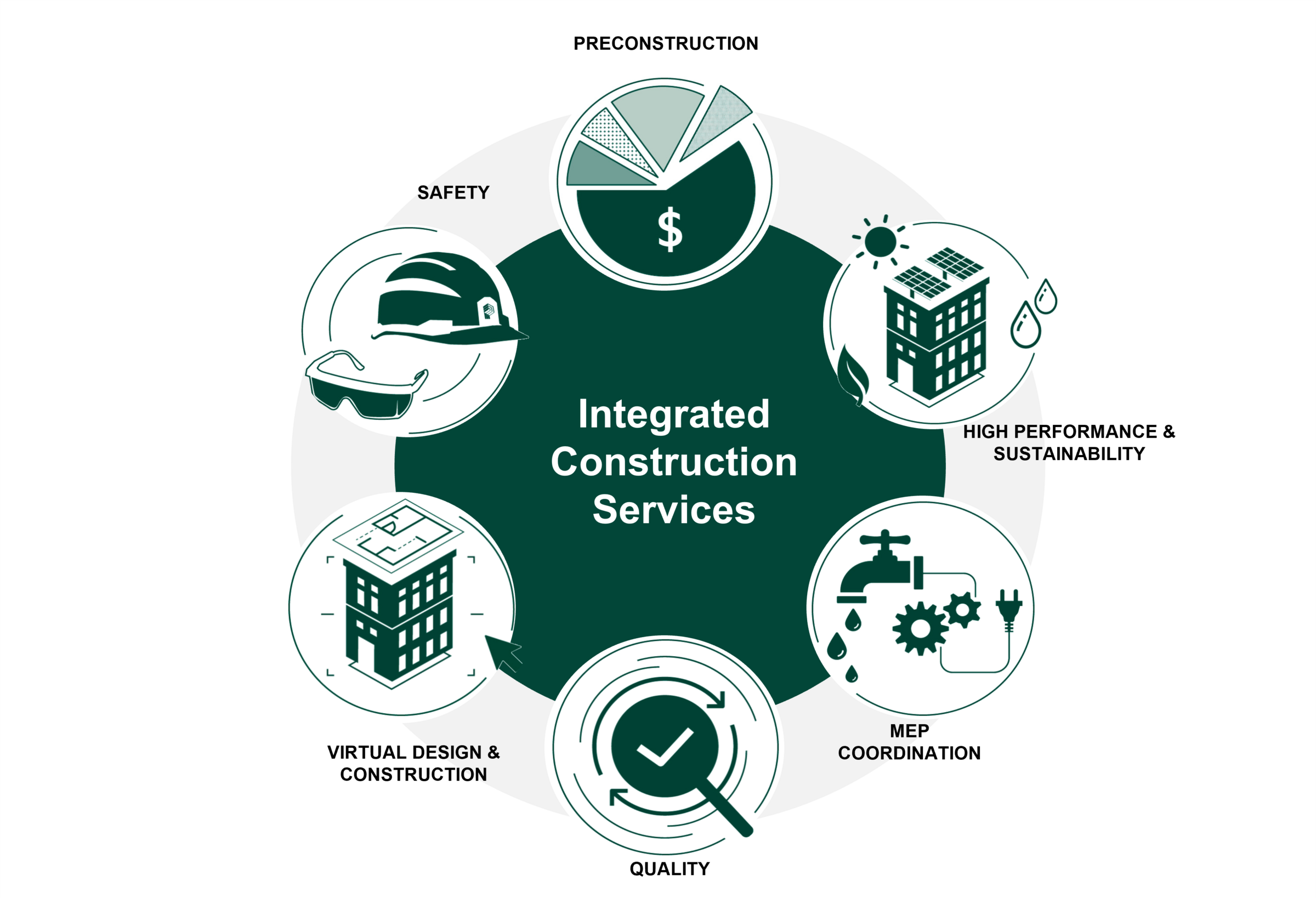 Examples:
The following project examples demonstrate how we apply our technology and ICS capabilities to problem solve and engage stakeholders. Click on the bars on the right-hand side of the image to view all the stories. After clicking into the story, click on the Back arrow at the top of the page to return to this page.
Quality
Focusing on a tight enclosure

While all buildings leak air to an extent, our goal is to build the enclosure as tightly as possible to avoid the risks associated with air and moisture leakage. During preconstruction, we review the documents with the design team for continuity of the building enclosure control layers and assist with constructability input on the details. After the trades have been awarded and before they start work, we host a Building Enclosure Coordination meeting with all of the enclosure contractors to walk through sequencing, continuity and compatibility of critical details. We then meet with each contractor individually in a preinstallation meeting to review their submittals and trade-specific details. Once construction begins, we conduct bi-weekly site visits to observe the work in place and identify potential issues. Upon completion, we have the equipment and in-house expertise to use thermography to assess buildings, and we can also engage a third-party to conduct a whole-building air leakage test.
Safety
Preventing Underground Utility Strikes
Pepper's underground utility damage prevention (UUDP) process locates and clearly documents the location of existing underground utilities and how they affect construction. This process adds surveying to the traditional potholing process and the development of a 3D model of both existing and new utilities for coordination. These visuals are then distributed in the field and used to execute construction activities. Our UUDP process provides more accurate, detailed plans, improves accuracy of the utility design, enhances coordination, prevents shutdowns from accidental utility strikes and serves as an accurate 3D as-built deliverable for future projects at the school.
Contact Us
How can we help?
Please don't hesitate to reach out!
Rob Held


rheld@pepperconstruction.com
317-681-5237
Back to Top