As one of the largest, most established commercial construction firms in the Midwest, Pepper is rising to the challenge of going beyond "net zero." The built environment represents 40% of the world's carbon emissions, and we believe the construction industry has a responsibility to shape a brighter future by creating structures healthier for people and our planet.
Working proactively with our partners, we're bringing more skills, resources, and people to help the world reach drawdown – the point in time when levels of greenhouse gases start to steadily decline. With a history of innovative High-Performance construction leadership, Pepper's drawdown solutions are cost efficient and delivering real return on investment for our clients and communities.
Building cleaner, smarter and healthier brings value to our owners, occupants and the environment.
"We fold drawdown into our environmental, social and good governance goals (ESG)," Heinking continues, "which means every client, every project benefits from drawdown analysis that presents scalable high-performance and sustainable building strategies."  
Pepper aims to raise awareness about the positive impact buildings can actually have on the environment, which is why every project undergoes our internal Drawdown Analysis. Every analysis identifies value and savings across five categories: 
solar energy: we provide a layout and estimate that capitalize on applicable incentives;
next-generation refrigerants: we share more environmentally friendly options compatible with future mechanical systems even before these will be required;
insulation: we suggest alternate insulation products that increase R-values without impacting the depth of the building's envelope with potential energy cost savings for each;
water savings: we include low-flow/flush rates for domestic water use, potential gallons to be saved, and amount of rainwater that can be collected to drive down water use and protect a shared natural resource for us all;
carbon-infused concrete: we calculate the exact amount of carbon reduced by using CO2 infused concrete to decrease a building's overall carbon footprint.  
Pepper's intentionality raises awareness about sustainability that empowers clients and the industry to affect realistic change. A look at qualitative results, published annually, demonstrates the powerful impact of our approach. Data collected for Fiscal Year 2022 and shared on Our Commitment page shows the change made real in just one year.  [Insert graphic and link to Commitment page FY22 Drawdown stats]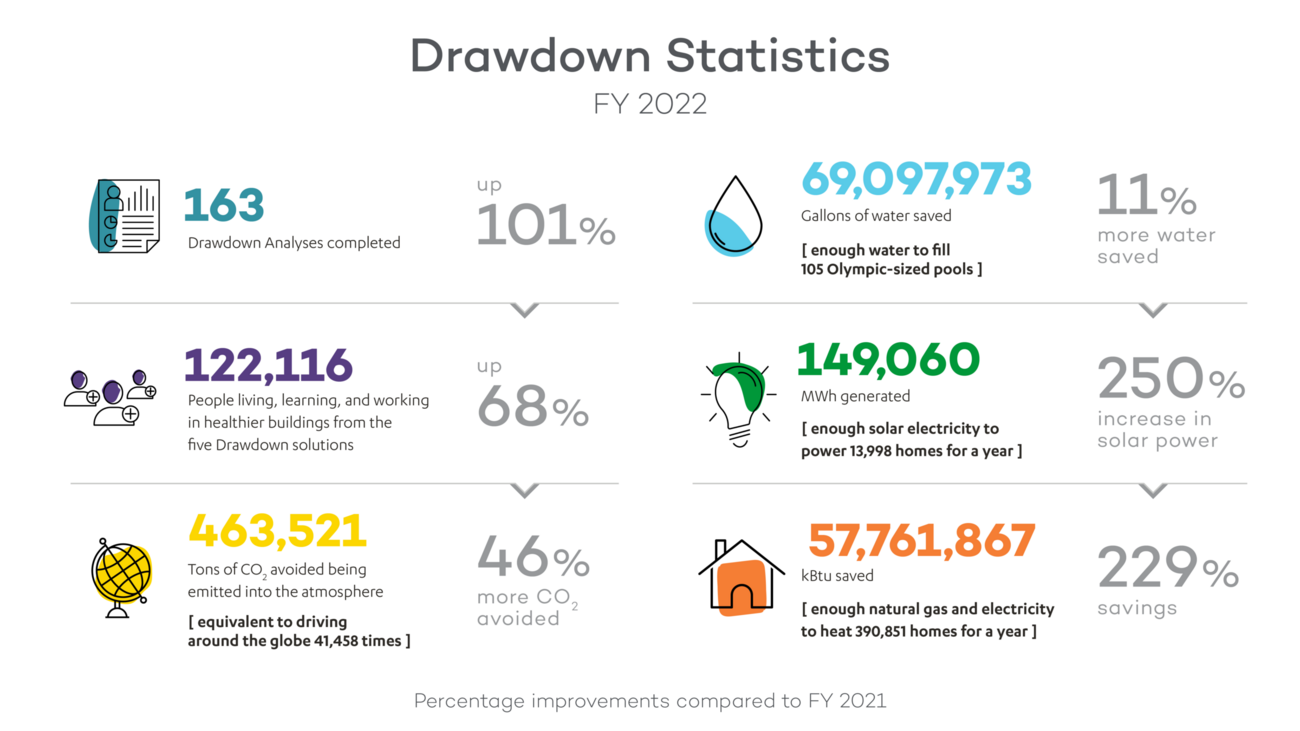 Inspired by Paul Hawkins' book Drawdown, Pepper kick-started the conversation in the construction industry by launching an environmental initiative in 2019 to address operational, as well as embodied carbon. "The percentage improvements tracked over one fiscal year for both, carbon which a building emits during use and emissions associated with materials and processes, shows that the industry can accelerate drawdown by making the best use of our solutions," says Susan.
To ensure the built world continues to deliver returns that improve peoples' quality of life, Pepper launched Pepper Energy in 2022. This new business, dedicated to renewable energy projects, puts our expert, fully integrated engineer-procure-construct (EPC) team to further action on our promise of a brighter future for generations to come.
Looking ahead, our objective is clear: From forward-thinking strategies to exploring solutions that tackle waste diversion and mass timber, Pepper will continue to level up drawdown leadership in construction for more effective, meaningful and long-term impact.