Meet Susan!
The youngest LEED Fellow (representing <1% of AEC professionals worldwide), Susan leads $2.4 billion in high-performance work for Pepper Construction.  Her passion for sustainability was developed in college, where she envisioned a world no longer dependent on the grid. That vision has become a career ambition, and she's already taking measures to make it happen.
Susan's vision for Pepper expands the high-performance perspective to create greater value through building performance and human performance. This includes enhancing existing efforts with energy modeling, ROI analysis and local utility incentives, as well as building on Pepper's healthy jobsite initiative "Nothing Hits the Floor" program and promoting the use of healthy building materials and construction practices to protect the long-term health of construction workers. Her work at Pepper enables her to put design into action, provide decision-making tools that determine investment paybacks and reduced operating costs, lead Pepper's projects to their sustainability goals, assist clients with their corporate environmental compliance during construction and put existing buildings on a path to net zero. Susan has received a sustainability leadership certificate from the Harvard T.H. Chan School of Public Health.
Learn more about Susan's vision for high performance construction.
Industry and community contributions
Susan's involvement in local organizations has played a key role in making Chicago a LEED Platinum city. Her ideas have the potential to affect global change. Below are some of the innovative accomplishments she has helped to lead while at Pepper.
Building Performance Tool
The Building Performance Tool is an application that analyzes building systems, presents different options and instantly calculates costs and payback - so owners can make more informed decisions about building performance early in design. The app provides a common language between design and construction, enabling everyone to understand expectations.
Net Zero Jobsite Office
The Net Zero trailer was unveiled at Green Build 2018. As interest and requests have poured in, we are now exploring options to mass produce them on a global scale. Click on the image to view a slideshow. You can also learn more about it on our blog.
Nothing Hits the Floor
Susan regularly partners with Pepper's safety department to create a safer and healthier environment for our workers. She helped establish Pepper's Nothing Hits the Floor program, which promotes an organized, clean and healthy jobsite. This year, she also partnered with Pepper Environmental Technologies and our safety department to analyze the air quality during construction, with the goal of taking more proactive measures to create a healthier environment for our workforce.
Green Advantage Training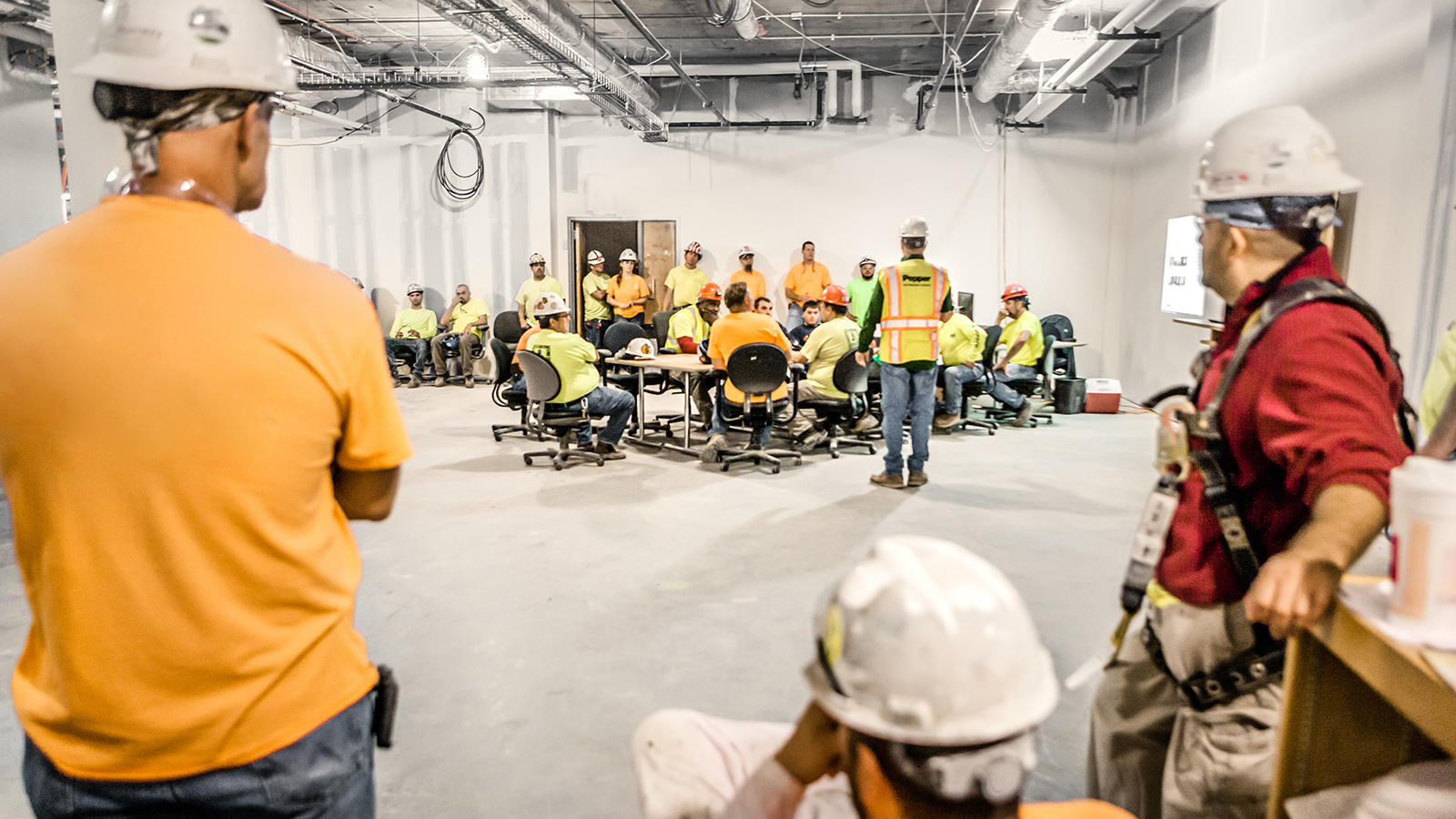 Green Advantage covers the "green gap" between standard trade skills and the new awareness required to successfully implement sustainable building practices. Pepper is a certified Green Advantage Training Provider, which is given to subcontractors, building engineers and owners on all Pepper LEED jobs. To date we have trained hundreds of individuals around the Chicagoland area, including 50 of our own team members.
Project Experience
Susan has touched 65+ million square feet of LEED-certified space, impacting the spaces where nearly 10 million people live, work and learn.
Below are a few noteworthy projects. Click on the bars in the bottom right-hand corner to see more projects.
Her career encompasses many firsts:
World's first LEED Platinum dormitory - Warren Wilson College, Swannanoa, NC
Only triple-certified building (LEED v4, Living Building Challenge, WELL) - Google's Chicago headquarters
First biophilic Walgreens flagship store (at Northwestern Hospital), Chicago
Susan is a regular contributor to Pepper's blog. Her articles answer questions about high performance, share the latest thinking and challenge the global AEC industry toward a proactive sustainability approach. 
To see more Pepper Construction content authored by Susan, visit our media hub and filter by Susan Heinking.
Additional publications
"Mindful Materials," AIA Chicago Architect Magazine, March / April 2016

"Bringing the Outside In," Green Building and Design Magazine, March / April 2015

"Bio-what? Biophilia's Impact on Architecture and Design," Builtworlds E-Magazine, April 2015

"Sensors and Sensibility," AIA Chicago Architect Magazine, January / February 2015

"Walgreens Health System Pharmacy at Northwestern Memorial Hospital's Galter Pavilion;" Drug Store News, November 2014

"SXSW Eco 10 Hot Topics," Built Worlds E-Magazine, November 2014

"40 Under 40," VOA External Blog, October 2014

"Tech Tools Are Great, but No Substitute for Design Basics," Built Worlds E-Magazine, October 2014

"What's in that chair?," VOA External Blog, September 2014

"+ Impacts Sustainable Strategies," VOA Design Publication, August 2014

"Chicago Firms Report Progress toward AIA 2030 Commitment," AIA Chicago Architect Magazine, July/August 2013
SPEAKING ENGAGEMENTS
Susan has spoken at 100+ local, national and international conferences.
2020
2019
Construction Sites are Workplaces Too: Considering the Health of Those Who Occupy Buildings Before Turnover, Living Future unConference - International Living Future Institute, Seattle,  WA

Using Advanced Tech To Battle Hidden Costs, BD+C Accelerate Live, New York
2018
MATERIALIZE: A Contractors Perspective - mindful MATERIALS and Sustainable Product Accessibility, GreenBuild, Chicago

Net Zero: Reaching this Pinnacle Achievement, Aquarium and Zoo Facilities Association - AZFA Annual Conference, Washington, D.C.

District 214 Share the Success Panel, IASBO Joint Annual Conference, Illinois
2017
LEED and the Living Building Challenge in Construction, AGC Environmental Conference, Washington D.C.

Canada @Greenbuild Keynote Panel, GreenBuild, Boston, MA

Chicago Women Leaders in Green Panel, Women Building Green Leadership Breakfast, Chicago
2016
Mindful Materials Program, Neocon, Chicago

WELL Building and Tenant Spaces: What you need to know, BOMA, Chicago

Mindful Materials: Education and Advocacy, AIA Chicago, Chicago

Material Health and Transparency, AIA Chicago, Chicago
2015
Why LEED is Good for Business, USGBC–IL  and Sebert Landscaping

Where History and High Performance Meet, USGBC IL Chapter and Landmarks, Illinois

How to Develop the Mind-set of an AEC Firm Leader, BD+C 40 Under 40 Conference

Urban Ecosystems Panel Moderator, SmartWorlds, Chicago
Material Health and Transparency, Neocon, Chicago

Bio-What?, AIA Chicago

Quantifying User Experience, Living Future UnConference, Seattle 
2014
A Spirit of a Healthy Place: Aligning Mission, Purpose & Place to Create Beauty, Building Chicago

Warning TOXIC! Demystifying the Living Building Challenge Red List, Building Chicago
2013
Critical Path to Net Zero, Low Carbon Energy Summit, Energy, Xi'an China

A New Post-occupancy Evaluation Process at Advocate BroMenn Medical Center, USGBC–IL Greening the Heartland, Normal, IL
Additional speaking engagements
2013
The Chicago Commercial Building Retrofit in Action, USGBC–IL Greening the Heartland

AIA2030 Chicago Success Stories, AIA Chicago Pecha Kucha

Collaborative Green Leasing Process, Building Smarter Buildings, Chicago

Need a POE…STAT!, USGBC–IL  Spring Credential Maintenance Blitz

The Chicago Commercial Building: Retrofit in Action, USGBC–IL , Spring Credential Maintenance Blitz
2012
CHA Green Assessment, ARRA Competitive Grant Funding & The Chicago Housing Authority Green Property Assessment, HUD Green Conference, Boston, MA
2011
Greening the CHA, USGBC Emerging Professionals, Chicago

LEED EBOM and the CHA,  IIT ASHRAE, Student Chapter, Chicago
2010
Sustainable Office Operations, South Suburban College, South Holland, 2010