Back to top
Located on the near east side of Indianapolis, the 7-story Indiana NeuroDiagnostic Institute and Advanced Treatment Center fills out the Community Hospital East campus. The vertical orientation maximizes the space in its urban location.
The modern glass façade and muted colors are designed to foster a sense of calm. Inside, a new approach to treating behavioral health is bringing hope to patients across the state of Indiana.
A national crisis and a local need
Across the country, states are wrangling to address mental health issues:
1 in 5 adults experience mental illness.
Suicide is the 10th leading cause of death.
Rates for youth depression are on the rise.
Communities are battling an opioid crisis.
The state of Indiana was having a hard time addressing this need with aging facilities, an average 90 percent occupancy rate and inefficient workflows. It needed to change its operational paradigm for its goal of increased access to be achieved.
"The main goal for the NeuroDiagnostic Institute was to provide a better diagnostic impression, lowering the average length of stay, and thereby, increasing access for Hoosiers that need this level of care."

Jerry Sheward, MD

Chief Medical Officer, Family and Social Services Administration
The vision for NDI
Gaining approval for a new behavioral health model was just the first step in opening the new $118 million hospital.
NDI abandons the one-size-fits-all approach and serves a diverse group of patients with a variety of risk levels, ages and afflictions, such as post-traumatic stress disorder, autism, dementia and opioid addiction.
It integrates general healthcare and wellness - working with patients on learning to live better in the community.
NDI helps patients over a period of time through true observation, proper diagnosis and, if needed, a long-term plan.
Designing for a new model of care 
Rather than replacing existing clinics, NDI leverages their specialized expertise while addressing some of the most critical and complex cases. To that end, after evaluation, patients are moved more efficiently and effectively into the most appropriate treatment settings within the state's mental health care system.
This new model of care required an innovative and flexible building, while also retaining rigid standards for a controlled, ligature-free environment.
"We wanted to emphasize a holistic approach to treatment - essentially treating body, mind and spirit."

Bryan Sander, Project Architect

BSA LifeStructures
The role of empathy
From design to construction, NDI was approached with empathy and an understanding that every decision could have an impact on patients.
Clinical and facilities management staff were engaged in the design and systems selection.
The layout and design elements address sight lines, material durability and anti-ligature / tamper resistant fixtures and materials.
The team considered ease of maintenance, performance of the MEP systems, and consistency between units and floors to help the NDI staff operate the facility efficiently.
Access to systems through a single panel was provided where possible.
Integrating Biophilic design concepts
The design team leveraged Biophilic design to improve the treatment environment. Biophilic design enhances the therapy environment by allowing patients to better connect with nature through natural lighting, texture and tones.
It also allows the brain to better recognize the daily rhythms of life and creates a stronger perception of reality.
Natural light and lighting concepts connect patients with nature. Lighting replicates the natural sequences, with consideration for Circadian Rhythms and blue light's impact on melatonin secretion.
A restorative color palette was used, drawing on the elements of nature and connecting to five state parks. 
Graphic Wall Protection serves as the canvas for the art, while also maintaining patient safety and facility durability.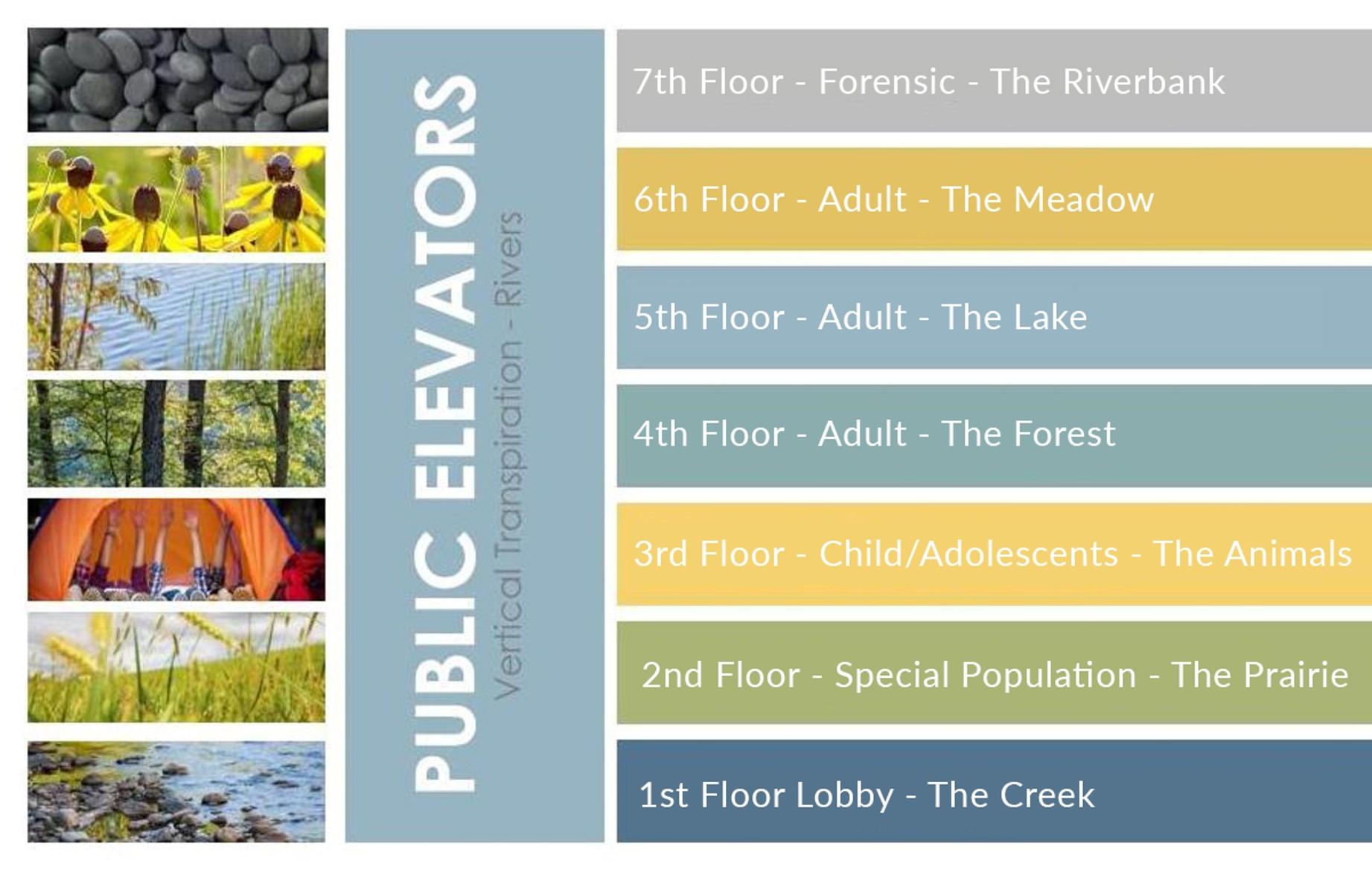 Making the vision reality
The design would only work if appropriately executed, and that's where the construction team came in.
As a state-funded project (CMa), the trade contractors were secured under a public bid process. That meant, the State of Indiana held 34 prime contracts, many of which did not have experience with this type of atypical construction or with following the New York State Behavioral Health Guidelines.
How do you get everyone on the same page and thinking about the future patients and staff as they worked?
The team came up with some creative ideas...