Back to top
Our preconstruction effort began before we decided to be a tenant in the Blazer Parkway building. We were working with VanTrust on the core and shell, and they had a different vision for this project than is typically found in our market.
VanTrust wanted to attract technology and professional companies with modern flex space and 17-foot clear heights, providing options for either a full office or a small warehouse. (Hmmm, sounds like what we need…)
The challenge for us was finding solutions to make the cost per square foot proforma work. It took several iterations before we got them where they needed to be. And then, in the fall of 2017, our preconstruction team found out we would be one of the tenants in the VanTrust building, and we started to price our own space.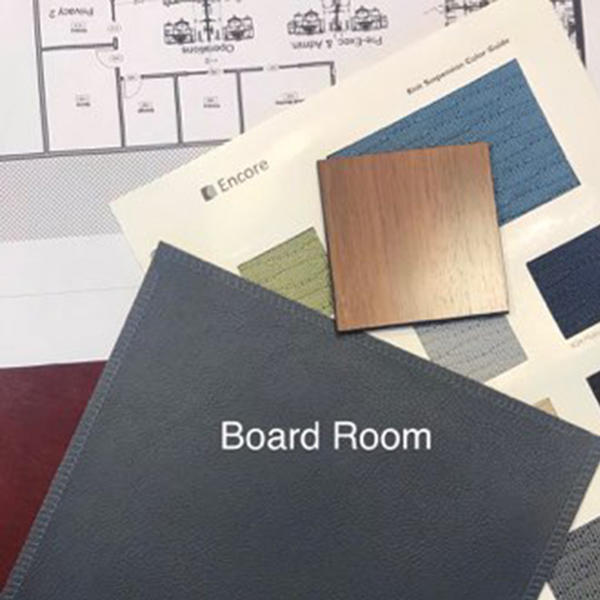 Wearing the owner's hat
As the owner, we had to think about decisions differently. In addition to coordinating the items that owners typically purchase directly, like security, tele-data and furnishings, we were also planning and purchasing them ourselves.
That meant working with our internal marketing team on branding and also working with outside vendors to make sure the fire alarm, electrical and lighting details not only met code, but they were in the correct locations aesthetically.
We went through 10 revisions just on furniture - comparing price, look and feel!
"When it's your space, you look at it from a different angle. 

Since I'll be using the space, I've put myself inside it virtually to help make some of those decisions. Does the space work? If I'm in a war room, do I want idea paint on the walls?

Now, when I'm working on a budget for a client, I understand what it means to put myself in that space and think about the functionality and how I can bring ideas to the table."

Brandon Moore, Senior Preconstruction Manager
Working toward a design that fits our budget
The design we have today ended up pretty close to our first space plan. 
But the number was a different story…
"Our biggest driving factor with the design was getting past the delay to final costing.

If we budgeted the design too early, it would be too conceptual. We also had to account for cost increases during the time that elapsed between budgeting and bidding."

Tanner Nelson, Senior Project Manager
How did we balance the knowns with future decisions?
Target Value Design (TVD) helped us establish the right budget upfront and tweak specific areas to get to the final budget. For some solutions, we selected alternative materials and in other areas we reduced quantities. To identify the right quantities and materials, we turned to technology and our high performance team.
LEVERAGING THE MODEL
We decided to model everything. Through traditional clash detection, we analyzed the duct work and piping that would be exposed in the open ceiling, as well as in-wall rough-ins and placement of electrical panels, structure steel and MEP systems.
One area that presents challenges during construction is the bracing, so we modeled the bar joists to ensure they didn't conflict with the duct work and piping.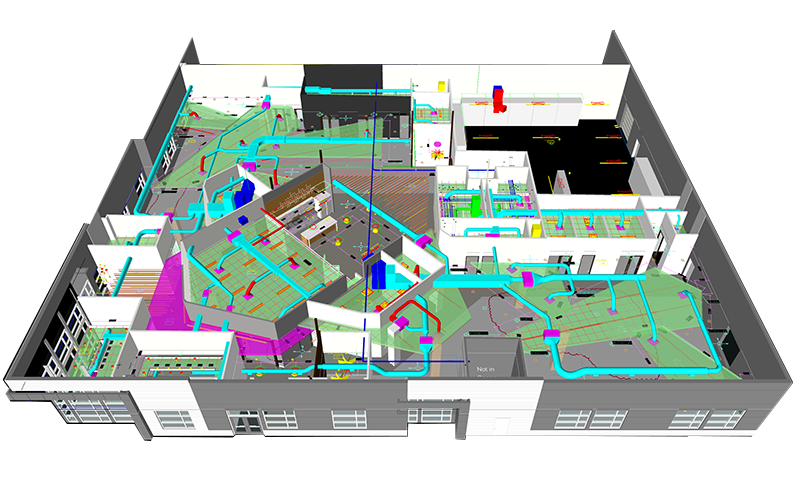 "With the details of the unique ceiling elements and structures, the model was really instrumental in making sure the heights were working with all of the other elements in the space, including potential interferences with the mechanical units. The model helped us determine the correct heights and angles of the ceiling clouds so that they missed the ductwork and also maintained the design integrity."
Planning for WELL
Working with our in-house high performance and sustainability team, we analyzed the value of both LEED and WELL. The costs were very similar, and since WELL focuses on the health of the people in addition to the building, which aligned better with our guiding principles, we decided to pursue WELL Silver certification.
As the specific features were being discussed, you could feel the excitement build throughout the office. All of this was for us!
WELL features
Standing desks and balance boards

Acoustic comforts

Healthy materials

Quiet rooms and focus rooms

Healthy snack options
"From the beginning, one main goal was to take advantage of all the natural daylight and views from the abundance of windows on the south and west sides of the building, meeting the Light precondition and the Mind feature Access to Nature precondition of WELL.

That meant 30% of the workstations would need to be located within 20 feet of the windows."

Debra McLaughlin Weaver, Design Collective
Looking at lifecycle costs 
As we make high performance strategies a priority across our company, it is informing decisions about the materials and systems we put into the space. We're also analyzing lifecycle costs along with first costs.
For example, we used Pepper's Building Performance app to analyze three different mechanical systems for our space. Taking into consideration the comfort, first cost, return on investment and the terms of the lease, with the help of our design-assist partner and this tool, we made an informed decision very early in the design process. 
"There is a misconception that sustainability costs more, but that's not always the case. In fact, some of the analysis that we did for WELL actually helped save money, both immediately and over time."
susan heinking, senior vice president, High Performance & Sustainability
Shining a light on cost savings
Lighting is closely tied to productivity, and as such, has become a major design feature. Like many owners, we wanted a functional lighting design fo our workspace. As part of WELL, we did a photometric study (light fixture foot candle analysis) to evaluate the lighting requirements for each type of space.
Doing the study revealed that our space was over-lit.  So, we were able to reduce the quantity of fixtures, which reduced first costs and operating costs, while also giving the office a more comfortable lighting level throughout.
Lumen requirements in an office space
Corridor (5-10 lumens)
Workstation (30-40 lumens)
Training (40-50 lumens)
Realizing the benefits of design-assist 
Hiring key trade partners to assist with the design (electrical, fire alarm, mechanical, plumbing and fire suppression) eliminated the concern around long-lead items. Because our partners were involved in the design, the system requirements and quantities were established, they got those items released and delivered in time.
 
Planning for growth 
We plan to keep growing, so during preconstruction we thought about our budget in conjunction with our future needs. Working with Design Collective, we identified future locations for floor boxes and plumbing before we placed the slab to avoid the need to saw cut the slab for expansion when the time comes.
 
Has construction been smooth?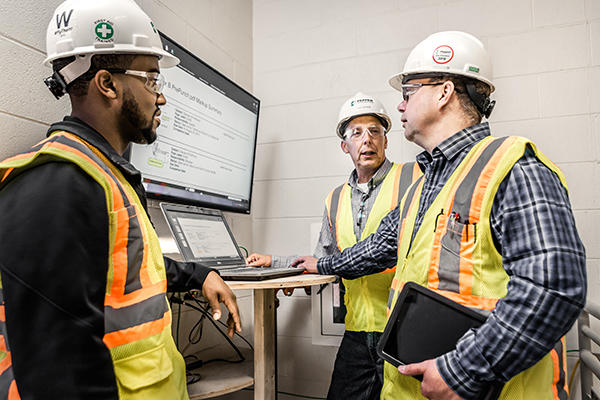 "It's never smooth. It's always a work in progress. But I can tell you it's gone as well as you can expect because of the technology we've used on this project. It's been an opportunity to showcase what we can do."

Tanner Nelson