Back to top
Construction is what we do every day, but we were about to live it. With our own build-out ready to start, we had a number of goals, and we also knew there was a lot at stake for our people.
Once the Blazer Parkway core and shell project commenced, we started to coordinate our own interior buildout. With only six short months before move-in day, we kept a close eye on site progress.
Preparing the team for transition
A new office is exciting, but change can also be unsettling, particularly when going from private offices to an open-office environment. Our goal was to go beyond alleviating anxiety and help our team invest in the change.
Goals for the Dublin office project:
Create a healthy environment during construction.
Push technology as far as we could take it, both during the process and in the space.
Focus on the details and allow our craftsmen to shine.
Keep things positive and collaborative, especially amid challenges.
Engage our entire team and prepare them for the transition before move-in.
In June, a change management team was created and began using the ADKAR change management model, an acronym first introduced to us by one of our clients, OCLC [Online Computer Library Center].
"This project was all about our team, and we wanted them to feel like it was their space, even before they got there."

Amy McNevin, Vice President

An intense start
Even with extensive planning, nothing could have prepared us for the first few weeks. Due to a combination of unsuitable soils, unforeseen conditions and Mother Nature, the underground utility work opened the site up to severe flooding. Our teams were diligent in facing the challenge, fighting tooth and nail to slow the flow of water long enough to excavate and shore up the site. We were thankful to get past this first challenge, but right away we lost four weeks against a move-in date that remained fixed.
---
>>>  How would we gain back the time? And, more importantly, how would we keep up our team's morale?
---
Celebrating our first milestone
After more than a year of planning, waiting and working through challenges, our team deserved a day of celebration! Of course, with an interior build-out, we don't break ground. So instead, we held a panel raising ceremony. On April 10, 2019, team members from both Dublin and Cincinnati gathered on-site to sign the interior side of a precast panel and watch as it was lifted into place.
On-site, top of mind
To keep our team engaged, we offered tours the last Friday of each month starting in June and leading up until two weeks before move-in day. Lunch was provided, and the project team was available to talk about the work and answer questions. We also offered Virtual Reality tours so employees could walk through the finished space before it was complete.
Our biggest challenge
Our team unanimously agrees that being the client was the biggest challenge. This was a much larger scale project than typical, not in size but because we were heavily engaged in the activities typically handled by the client, like furniture selections, branding and low-voltage cabling; there was more to process and coordinate.
Lesson learned in customer service
---
We walked away with deeper insight into specific questions to ask our clients earlier to help them with their purchases - questions related to furniture placement, where branding walls will be located and how they plan to integrate technology. Instead of placing fire alarms per the systems design, we are more cognizant of their location next to brand signage and artwork.
Getting in The Zone
Following with the ADKAR concept and to ensure we were meeting the needs of our employees, we sent out regular surveys starting in July. Our people asked about the full schedule for construction, packing and moving, to which we were able to respond by making the process smoother. Because of the surveys, the change management team created a full-size mockup where people could "practice" working in the new environment. Dubbed "The Zone," new furniture was set up inside for employees to test it out. Since the new workspaces are smaller with less storage space, we knew for some it could be a big adjustment. The sample workspace helped them see how much space they would have and prompted them to start the process of condensing and purging old paper files.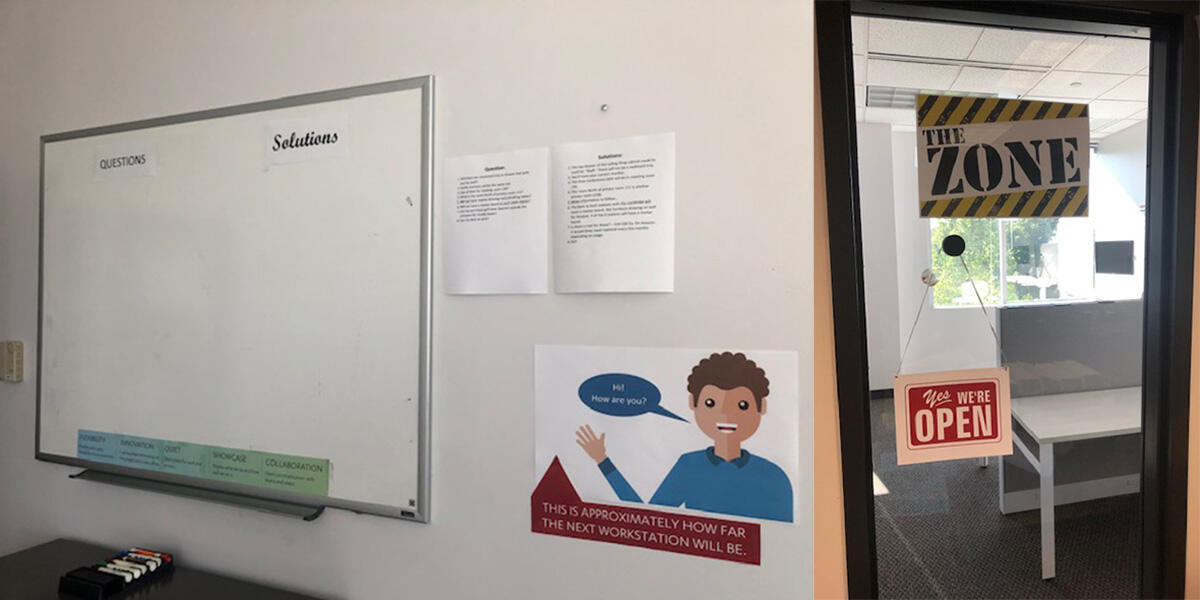 Signs in The Zone gave instructions and a white board allowed our team to ask questions to which leadership would respond.
"Everyone pitched in and wanted to participate. They were excited and gave good feedback. They brought ideas to us that we hadn't thought about."

Amy McNevin, Vice President
Another fun activity to engage our team was a contest to name our collaboration rooms.
Click on the plus signs to see what we named each space.
A healthier jobsite
The construction activities required to achieve WELL align with our own commitment to create healthy environments. Our team reviewed the points that were required and planned for them in the buy-out process. Optional points were also reviewed. Then, during installation we followed up to ensure light fixtures were set at the right level and carbon monoxide detectors and rooftop units were properly placed.
"From the superintendent's perspective it wasn't that different. We took extra measures to cover and seal duct work and drywall and implement measures that kept dust from settling on materials. Then, Evan walked the job and documented it."

Doug Massie, Senior Superintendent
Getting it right the first time
To help our team understand layout regarding user-related details like thermostat placement, we leveraged Virtual Reality and Augmented Reality, along with a few physical mockups.
Putting creativity and craftsmanship on display
Unique features in the office bring in the elements we use to build, like wood, metal and brick, and the design leaves them exposed. Design Collective gave us concepts for these features and allowed our self-perform team to use their creative spirit to determine how to make them a reality. The challenge showed off our team's problem-solving abilities; before we could install the features, we first had to determine the layout and installation method. And we turned to technology for help.
Lesson learned in customer service
---
We developed a rough-in inspection process that we've since taken to other clients. This, and the use of technology, resulted in a handful of items that we adjusted before they were replicated across the building or the walls enclosed, where it would have been a costly change to make in the field.
A custom feature requires a custom installation
When it came to the decorative ceiling, we planned every detail. Preinstallation meetings were held with the architect, structural engineer, electrician and the wood fabricator to ensure the load capacity could support the heavy gauge studs and solid wood elements. We went over all aspects of the installation, from the proper support to the types of fasteners. Then, our technology team modeled the metal studs to the exact dimensions so the exact sizes and quantities could be ordered.
Branding and custom artwork were installed, including a Tool Wall, where different employees contributed their own tools, each with a story to go with it.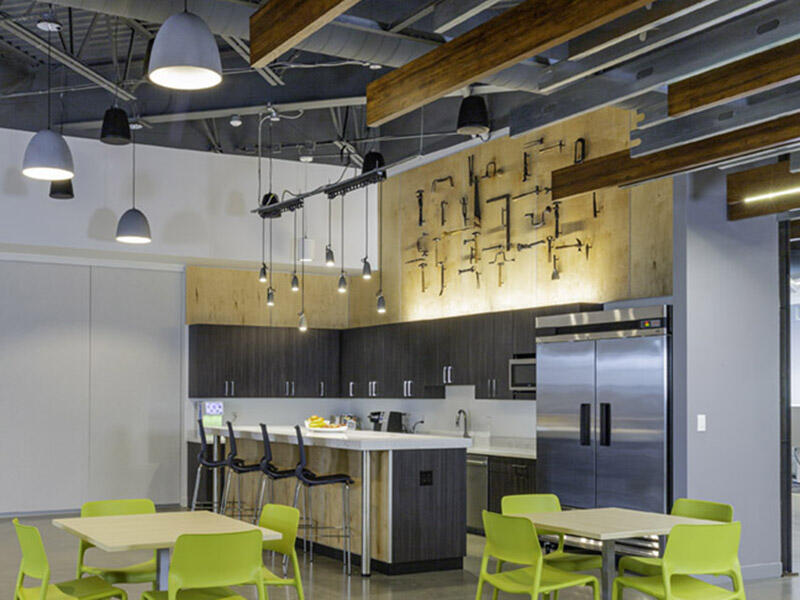 Located on the wall in the café, the tools on display tell the stories of our team.
Click on the plus signs to read the stories.
Space to fabricate
Our self-perform team was also involved in the layout of our warehouse and equipment storage area. They salvaged warehouse racking, cut it and laid it out based on how they would use the space. 
"It was an opportunity for our group managing and installing the work to set up the space based on how the equipment flows in and out and gets used. They planned in advance so we didn't put anchors in the floor where future walkways would go." 

Brian Lensink, Project Director
Lean principles achieve the schedule
The weeks that we lost at the beginning of the project were made up by the end because we used Lean Construction. Look-ahead schedules helped us stay on top of long-lead items, which were diligently tracked to ensure that materials arrived when needed.
Preparing for move-in
While our office was under construction, the change management committee was busy preparing our team for the week of September 23.
Team members were trained on open-office etiquette.
Maps were made of the conference rooms.
A couple of clean-up days helped people consolidate their belongings.
Packing lists were distributed so everyone knew what to take and what to leave behind.
As move-in day drew near, arrangements were made to donate furniture, white boards and appliances to local schools and nonprofit organizations. For the new space, new vendors were vetted and brought on board.  
"Previously our cleaning company and other vendors were part of our lease agreement so it was different to solicit proposals for new vendors. The results were ironic and yet reassuring that the most engaged and competitive vendors were already partners on our construction projects." 

Donna Kellett, human resources assistant

Employee Engagement Committee
Calling our new space home
Fast forward to November... We've been in the space for six weeks. It's the end of our open house, and everyone is congregated around the island, reflecting on the success of the evening. There is a comfortable, at-home feeling in the space.
Kate Holstein helped manage the team through the previous office move and served on the Employee Engagement Committee again this time.
"I couldn't help but notice the difference between this new space and our old office. Before, everyone would have left at the end of the event instead of sticking around to talk. The open spaces have already welcomed a more collaborative culture."

Kate Holstein, Executive Assistant
Credits
Are you interested in learning more about WELL or considering a project of your own? Let us know how we can help! 
Partners:
Developer: VanTrust
Architect: Design Collective
Photography: ©2020 www.MichaelAFoley.com
To hear about the certification, follow us on social media or subscribe to our blog.