The concept of a multi-story, self-storage facility was the first of its kind to Columbus, Ohio. Even more unique was building it on a 1.9-acre site in the middle of a bustling suburb.
From Pepper's first introduction to the Hilliard Self Storage design, our team knew the project was one-of-a-kind. Our team embraced the challenge and quickly got to work on how to deliver this compact, industrial build with maximum efficiency, while also keeping safety top of mind.
Going underground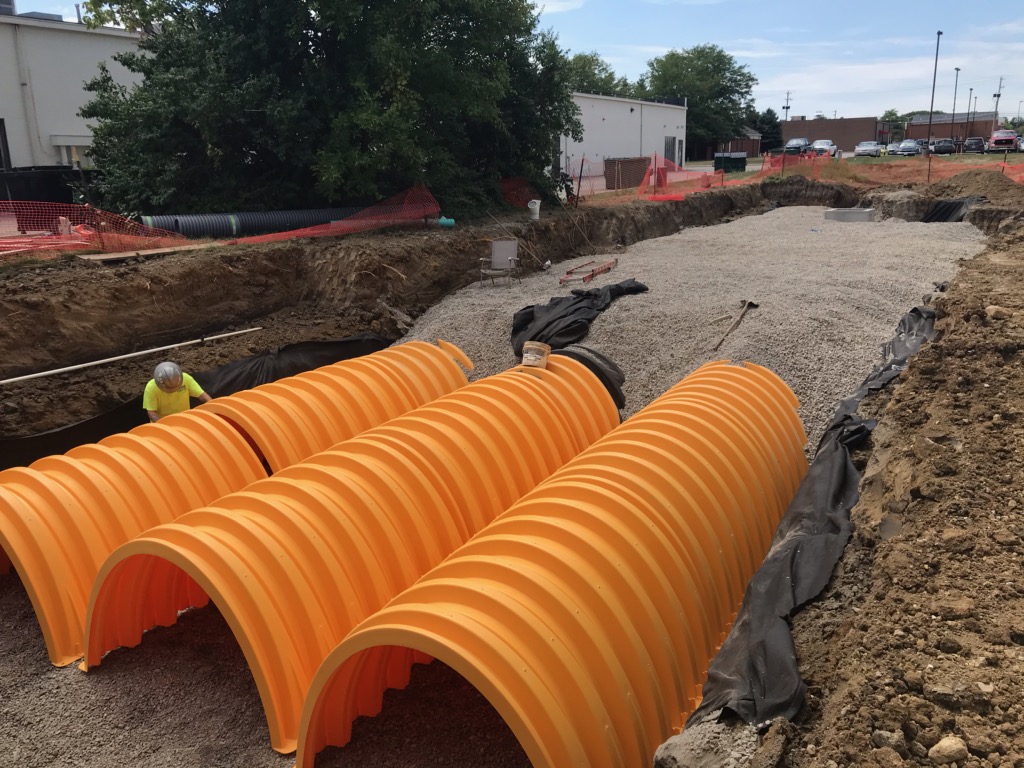 One of the unique scope items of the project was installing an ADS StormTech drainage system instead of the typical retention pond method used for storm drainage on industrial sites. ADS StormTech underground chambers function similarly to how a retention pond provides a controlled holding area for the building's storm drainage water, except with the added benefit of being underground. This was an essential system for this project as the required retention pond size for the building would not have fit on the site.
Bracing from the inside

When evaluating the most efficient sequencing for this project, our team presented the option of precast panels which provided the owner with both schedule and cost benefits. While the precast walls were installed on site, our team had to get creative when it came to bracing the panels. Ideally, panel bracing would have been supported on the outside to not impede steel erection and concrete placement on the building's interior. For this project, this was not an option for every side. On the north side of the building is a neighboring daycare center with an outside play area in very close proximity to the property line. To ensure a safe environment within the space constraints, our team braced the panels from the inside on the north and west elevations and to the outside on the south and east elevations.  This solution allowed for construction to proceed inside.  The onsite superintendent communicated closely with the daycare center staff to ensure the panels were installed while the children were kept safely inside.
Opening their doors
The Hilliard Self-Storage project was successfully completed last month. Our team is proud to have played a part in introducing this innovative self-storage concept to the Columbus area, and we are excited to see this new storage option available to the community. Spanning three floors with elevator access and boasting over 850 climate-controlled units, below is a preview of the new Hilliard Self-Storage facility.