Even as a little girl, Jen was fascinated with architecture. She would tell you it's in her blood, since her great grandfather worked for Frank Lloyd Wright. Back then, the architect was also the master builder, where today we have architects, engineers and contractors. So far during her career, Jen has served in each role.
Jen's story is fascinating, from working on Burj Kahlifa (the tallest building in the world) as an intern, to her first structural engineering project winning AISC's Presidential Award of Excellence, to helping facilitate the industry's adoption of 3D design and construction everywhere she's been. Each step has been deliberate. Every volunteer effort and board position driven from the heart - with the end goal of making a bigger and bigger difference in her home city of Chicago. This motivation led her from design and engineering into construction, where she saw the opportunity to make the biggest impact.
While at Pepper, Jen has applied her engineering knowledge and love for technology to bring people together. For her, technology is a tool that offers transparency and serves as a catalyst for people to create progress and make a difference in our communities. As such, her conversations start with the best situations and solutions and not the technology itself.
Jen's success is a result of the importance she has placed on relationships. Her positive energy and infectious personality are felt across Chicago - and not just when she's performing improv. When reflecting on the two words that best sum up what she's about, Jen is quick to respond with collaboration and diversity. Each of her major accomplishments comes back to these two ideas.
Industry and Community Contributions
Jen is driven to make a difference in the local community and in the broader construction industry. Technology aside, she believes in the idea that diversity is how we will get better. People are innovative, and diversity brings new perspectives and ideas. Technology is just the tool to help us achieve our visions.
Thought Leadership
Technology is a topic that captures attention. It's easy to get lost in the terminology and wow factor that it presents. That's why Jen's articles are written to help our clients and partners understand the benefits and limitations of technology and to cut through the noise of what's available now versus still in development. Of course, she's also looking ahead to what's next (and is likely involved in testing the prototype).  
Additional publications in which Jen has been featured
"Benefits of BIM and VDC: A Contractor's View", AUGIWorld Magazine, February 2015
As a leading voice in the construction industry, Jen has been invited to speak at more than 23 events in the past 9 years.
"The Future of Architectural Technologies" – 2021 Building Performance Symposium – University of Illinois – April 2021
AGC IT Forum, "Accelerating Construction's Digitalization Through Collaboration and Real-World Testing," Chicago, August 2019
VRAR Chicago, "VR/AR Expert Panel," Chicago, August 2019
US Minority Contractors Association, "A Taste of Digital Reality," Panelist, April 2019
US Minority Contractors Association, "What Public and Private Sectors are Expecting from Construction," Panel Moderator, April 2019
Autodesk University, "Why Diversity and Inclusion Is Important for Your Business," Las Vegas, November 2018
ENR Webinar, "Robotic Construction: How Much, How Soon and What's First," October 2018
Constructech Awards Dinner Panelist, July 2018
"SysQue: University  of Chicago Residence Hall," TSI User Group, New Orleans, June 2014
Technology Driving Real Estate, VDC Discussion, Chicago, November 2013
AIC Constructor Conference, "Balancing act – Technology implementation across the contractor community," Florida, May 2018
Procore Empower Series Panel, "Impacting culture as an individual and harnessing the power of your workforce," September 2017
BD+C Accelerate Live, "3D Laser Scanning for The Project Lifecycle," July 2017
AEC Next, "Making It Practical: Existing Buildings & Reality Capture," June 2017
BuiltWorlds Summit, "BIM & Construction Innovation: Museum of the Future," May 2017
ENR Ground Breaking, Women in Technology Panel, May 2017
EUCI - Building Leadership: Women in AEC, "A Realistic Look at the Future of AEC in Technology, Equipment, and Instrumentation," April 2017
Builtworlds – The Future of Project Management Conference, "How BIM is Affecting Project Management," February 2017
Autodesk University, Women in Construction, November 2016
Constructech Technology Day, Keynote Panelist, August 2016
Chicago Building Congress Technology Panelist,  2015, 2016
ENR FutureTech, "Extreme Integrations," Atlanta, December 2014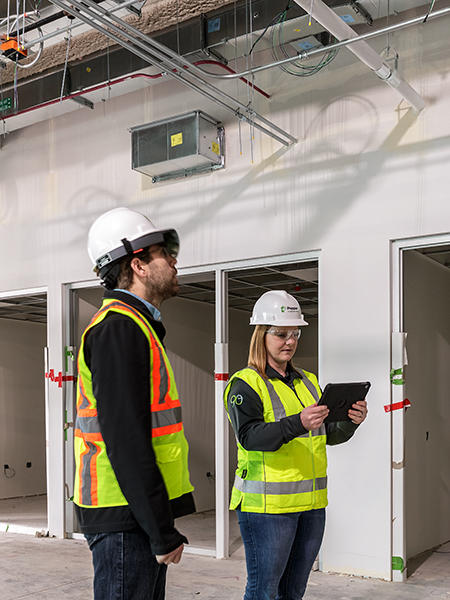 Awards and Credentials
Jen has more than 14 years of experience in architecture, engineering and construction where she has been recognized numerous times for her leadership, including:
Autodesk Executive Council Advisory Board 2020
ACIG VDC/BIM and Technology Focus Group
AXA XL Innovator's Circle
BD+C's 40 Under 40 2017
Builtworlds Top 50 Technology Adoptions Leaders of 2017
Constructech Magazine's Women in Construction 2016
ENR Midwest's Top 20 under 40 2015
Chicago Building Congress Future Leader Award of Honor 2014
ACE Executive Board Member 2008
Jen holds a Bachelor of Science in Architectural Studies and a Master of Architecture, Structures, both from University of Illinois at Urbana-Champaign.